It's hard to believe, since at the time of this writing we are in the grip of a record-setting heatwave, but summer is drawing to a close. Soon it will be time for the Annapolis Powerboat Show. Reports from our shops reflect a good summer and a positive outlook for the upcoming fall season. Lots of good boating weather remains so the season should end on a positive note.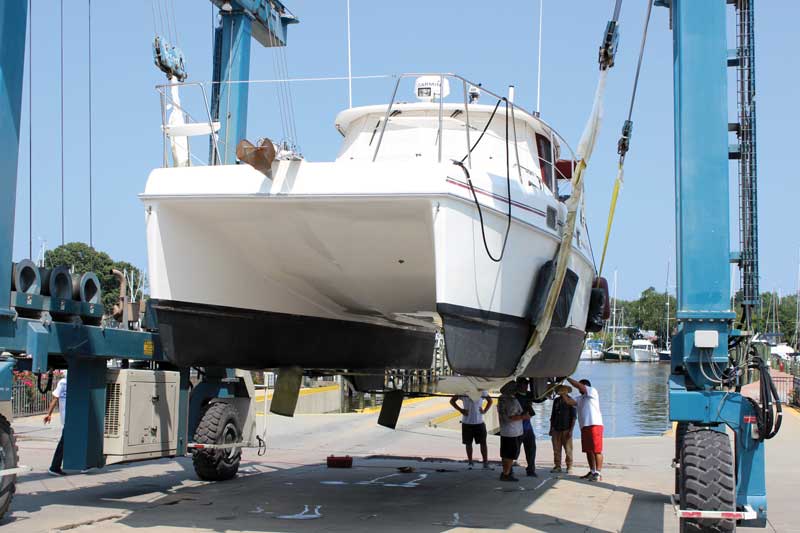 Last month (August 2023 edition) we reported in detail on boatbuilder Richard Hawse in Pasadena, MD, and his backyard project My Way, a 46-foot flybridge sportfish. Richard sends us this update of progress to date. "The cover boards are installed. The aft deck is installed. I'm now working on building the consoles for the mezzanine and the boxes for the bridge. The engines should go in right before Christmas. I have to get the engine room faired and get the afterdeck sealed down and all glassed up and waterproof. Then I will move the boat outside and turn it 90 degrees and point it toward the front yard, because when I put the engines in, I don't want it on the cradle anymore. It will weigh too much. I've got to get the boat blocked up like it would be in a yard so that we can come in with a hydraulic trailer and grab it. Once the boat is all waterproofed, it's a no brainer; it's time to install the engines," he concluded. We'll keep in touch with Richard and give our readers regular updates on progress.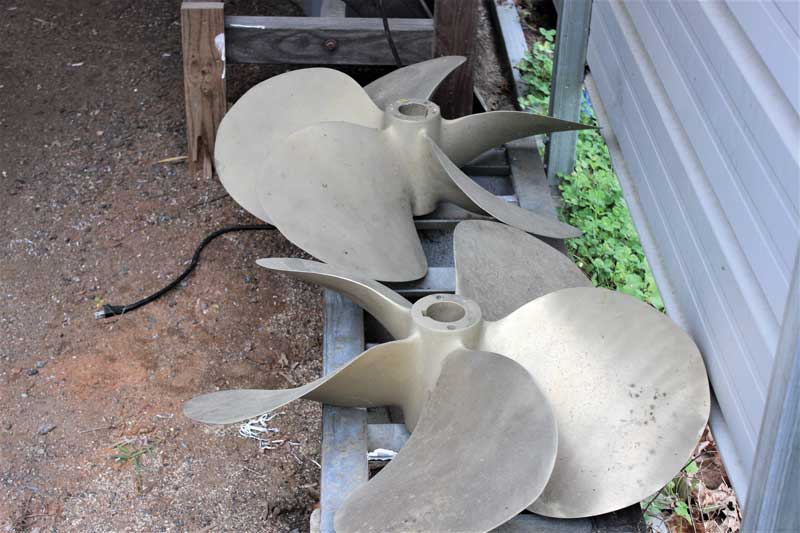 Another work in progress update comes to us from Steve McGee of Chesapeake Ship Building in Salisbury, MD. Last month we reported on the launching of American Eagle, the first of the 12 Project Blue small catamaran cruise ships to be built for American Cruise Lines. Steve reports that her fitting out is now nearly complete, and she will be delivered on July 31. American Eagle will be on her first cruise with passengers by mid-August. The next two boats are under construction and should join their sister ship in early winter.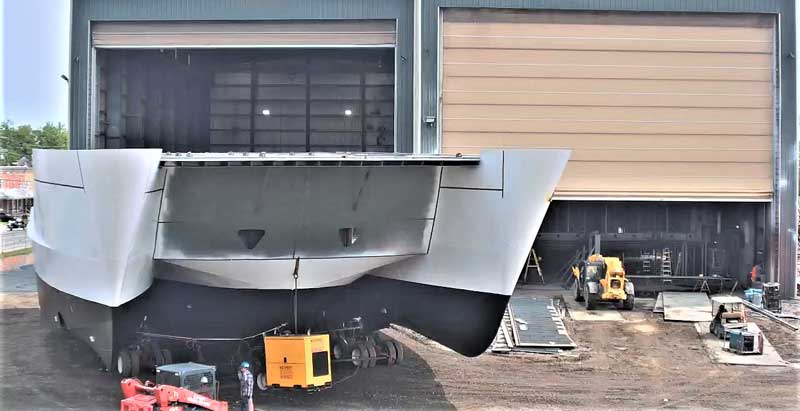 Mike Bickford at Campbell's Boat Yard in Oxford, MD, shares the following. "The crew at Campbell's in Oxford recently completed work on a Dyer 29. The hull and decks were faired, filled, primed, and painted with Awlgrip. The hull is Majestic Blue, and the decks are Oyster White with Moondust on the non-skid pattern. The brightwork was stripped and given a faux teak finish, with clear Awlgrip to protect the artist's work. The engine was removed, serviced, painted, and reinstalled after the engine space was thoroughly cleaned and updated with new sound insulation. The boat has successfully travelled to North Carolina to be introduced to the owner's family."
Nancy Noyes of Chesapeake Light Craft in Annapolis, MD, sends us this interesting story from the CLC newsletter. In 1993, archeologists excavated a boat near the village of Gislinge (GISS-ling-ah), in Denmark. Dendrochronology established that the boat was built around the year 1130. Apparently, the boat saw hard use fishing and hauling cargo before being abandoned in a marsh 50 years later. The Viking Ship Museum in Roskilde, Denmark, reconstructed the Gislinge Boat. In 2015, the museum released the working drawings to the public.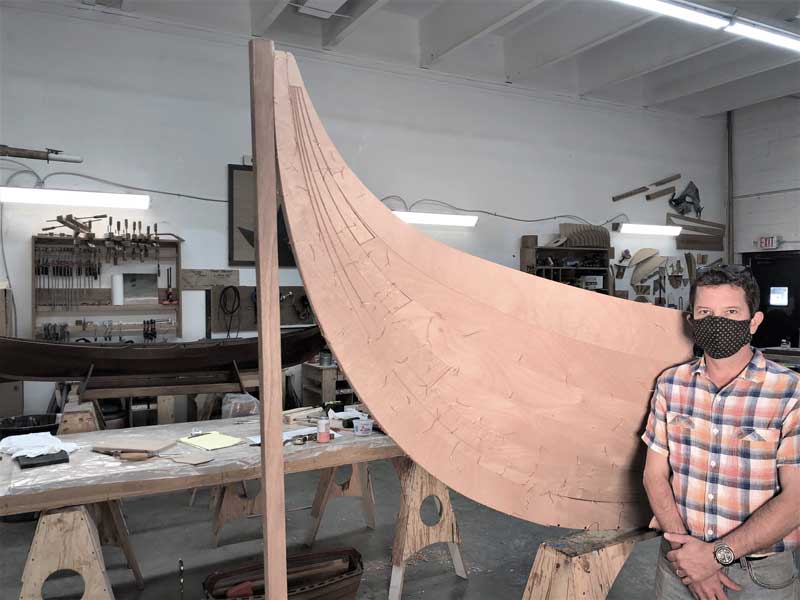 At an overall length of 25 feet, four inches, John Harris and the team at CLC thought that a replica Gislinge Boat was small enough to be an accessible amateur boatbuilding project. But not if they stuck with the 12th-century original's split-oak planks and iron rivets! In 2019, Chesapeake Light Craft began developing a computer-cut, wood-epoxy replica of the Gislinge Boat. CLC's pre-cut marine plywood kit, assembled using ordinary 'stitch and glue' techniques, makes the construction of this ancient design accessible to serious amateur builders and organizations. The structural epoxy coating will ensure durability, keeping upkeep to a minimum. (Fiberglass cloth is used only sparingly in CLC's replica in high-wear spots.) The discreet addition of built-in positive buoyancy will make it much easier to recover from a swamping. CLC designer Jay Hockenberry was responsible for the CAD/CAM engineering and has project-managed this ambitious undertaking.
Preserving the essential elemental beauty of the Gislinge Boat's lines, without making the thing impossible to build, took months of study, iteration, and mock-ups. "Screwing up the lines of this boat was just unthinkable," says Harris. "Other than taking some 'stealers' out of the planking line-off—a planking feature neither necessary nor desirable in stitch-and-glue—you can overlay our lines and the lines of the museum original. The body sections, especially, are very close. It's stitched-and-glue marine plywood, but this boat will have both the look and the feel of the 12th-century original." Covid spoiled plans to assemble Hull #1 in a boatbuilding class during the summer of 2020. Instead, CLC staff in Annapolis began assembly of the full-sized stitch-and-glue Gislinge Boat in November 2020, masks clamped over faces. As of this writing, CLC's kit-built Gislinge Boat prototype has been launched and is undergoing sea trials.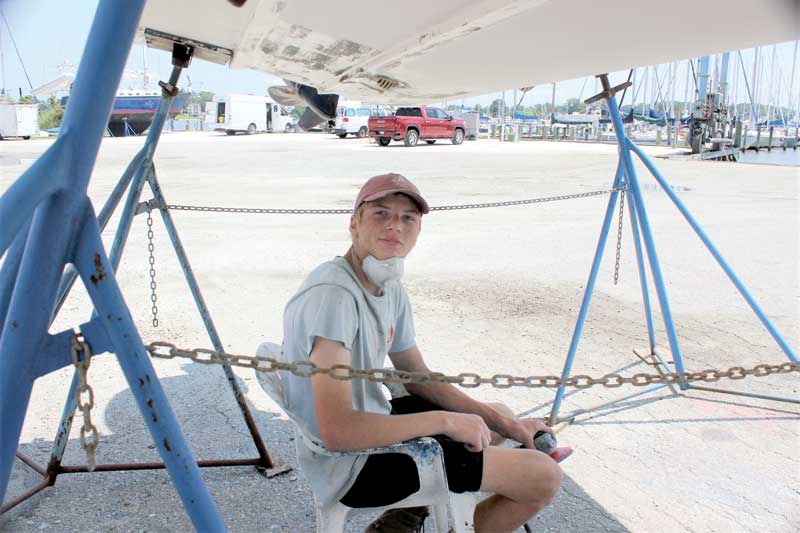 Fred Probst at Phipps Boat Works in Deale, MD, explains why he built the eight-foot pram he recently featured on Facebook. "I guess you could say it was a labor of love. I built it in my spare time because I love building things, especially beautiful things. A small rowing and sailing tender is always a useful thing to have around. And I guess I hope that my son, who is now just two years old, will use it as he grows and will come to love fishing, crabbing, and boating like I do."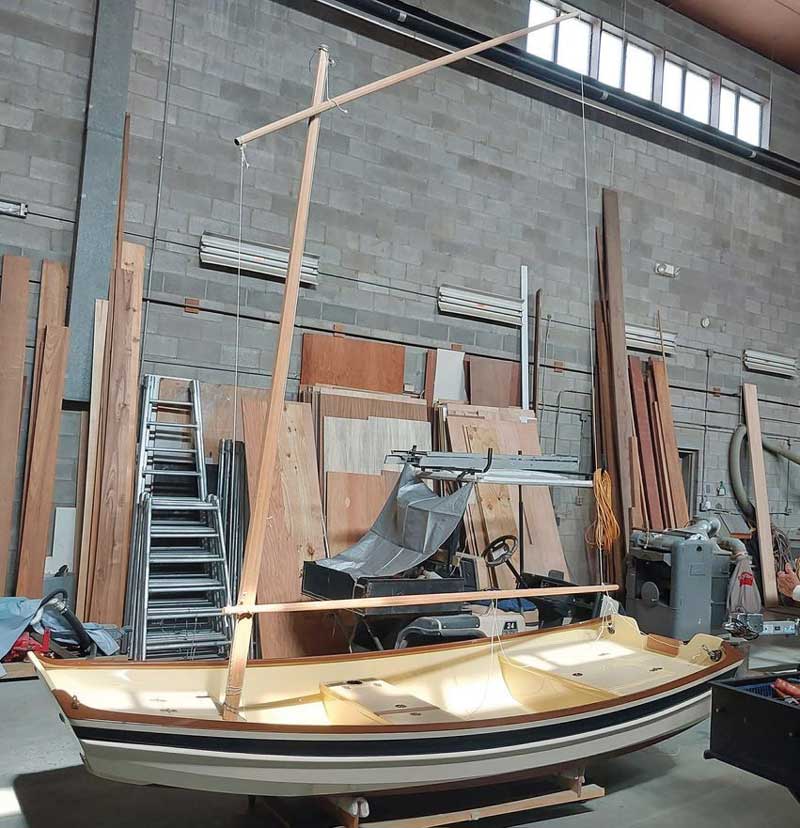 Also while at Phipps I talked to Buster who said they were as busy as ever this summer. "We have this 1976 Chris-Craft Sea Skiff in for a complete paint job and a replacement of all her wood trim with new teak. After that the jobs just keep coming in. It should be a busy winter." As Buster says, "People still want their boats worked on and looking good."
In Joe Reid's Mast and Mallet in Mayo, MD, shop I saw a familiar boat. This is Seneca, a 1964 Brownell all wood Bass Boat that Joe had restored last winter. "The boat was out of the water for a year. We refastened the bottom, sealed up all the plank seams with cedar strips, and then fiberglassed the whole bottom," he explained. "And then after all the restoration work was done, we put the boat back in the water. Then we discovered that the keel itself, and the shaft log, had dried up and shriveled up and formed large checks in the wood. The keel area, where the shaft alley is, started leaking more and more water into the boat. Now we are going to install a fiberglass tube in the shaft alley and resolve the leak issue," he concluded. "You know," Joe said, "We talked about doing this earlier, before she was launched, but decided it wasn't necessary," he laughed. "I guess we were wrong." In other work coming up, Joe has some extensive interior woodworking to do on a Jones 46. Joe says the winter looks good; his schedule is starting to fill in.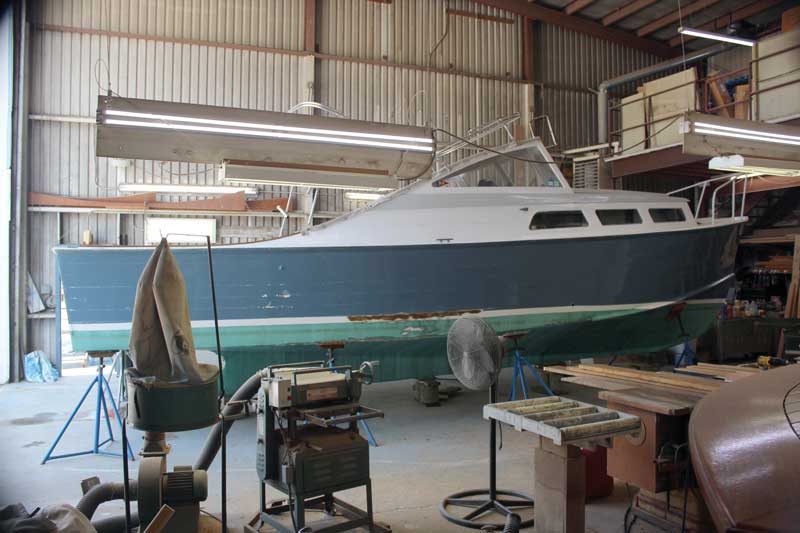 If you are interested in offbeat or unusual boats, Hank Reiser at Marine Services, LLC at Pocahontas Marina is the man to see. This month he has a 1968 fiberglass Century Arabian in his shop for major restoration. Work includes: "(an) engine rebuild, upholstery, hull, deck and chrome, the whole shooting match," Hank explained. "We probably will rebuild the engine, it's a big block 454 that was customized for this boat with a V-drive. We should knock it out in about three weeks."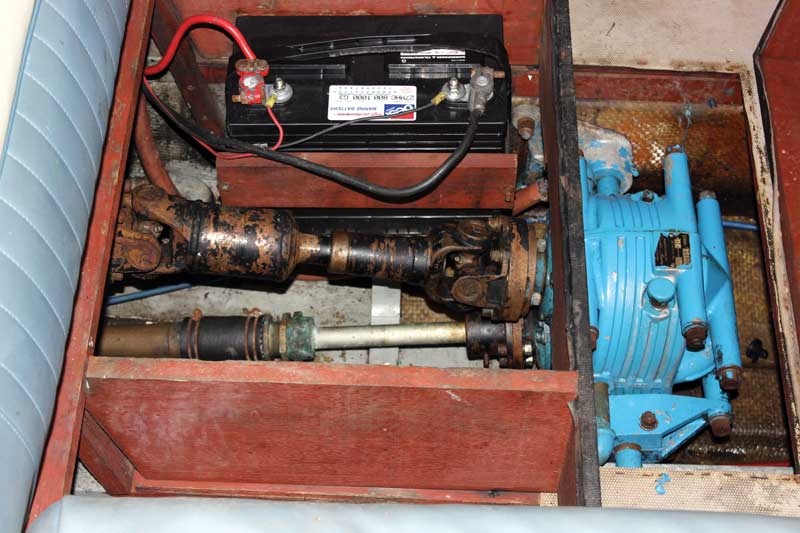 I asked Hank how the prize-winning Chris-Craft Commander Argonaut behaved underway. "Chris-Craft did everything right," he replied. "She cruised along at a steady 1500 RPM and was doing 15 miles per hour. The chines on these boats were carried forward and knock the wakes and chop down and keep her decks dry. Chris Smith knew how to design them."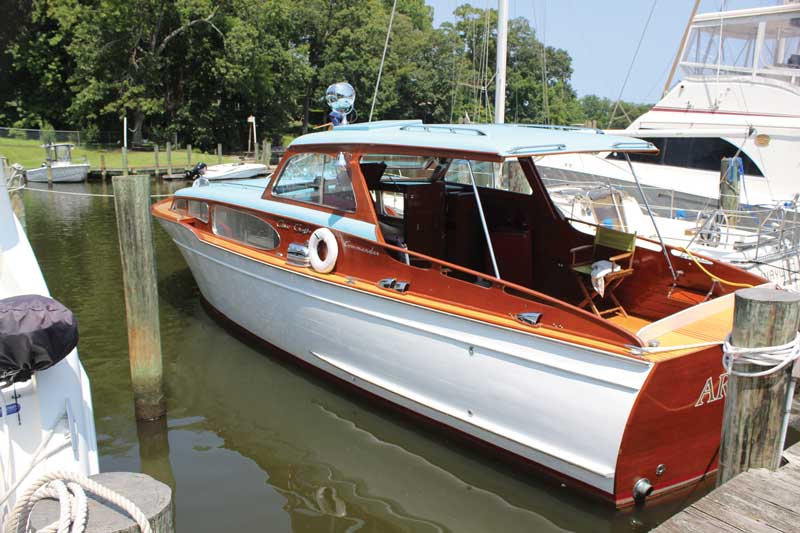 So, enjoy the last weeks of summer. It goes by so fast that it will be fall before you know it. See you next month.      
 By Capt. Rick Franke