After the soggy spring and a series of heat waves interrupted by monsoons, we are all looking forward to a quiet late summer and fall. It is somewhat traditional for Chesapeake Bay boatshops to have a summer lull between the frantic commissioning season and the winter lay-up season. This year seems to be an exception. 
As Rob Hardy from Composite Yacht in Trappe, MD, puts it, "There is no summer slump this year."
Probably one of the reasons that Rob's shop is so busy is that he and his crew are completing three new models this summer. The custom CY55 project is moving forward one step at a time. The limited use foam hull mold being built by ATI in Virginia is complete, except for some final fairing and should be delivered to Rob's Cambridge location and bolted together within the month. The CY46 hull is completed and is in the shop having electrical and plumbing systems installed. The Seakeeper stabilizer is ready for installation.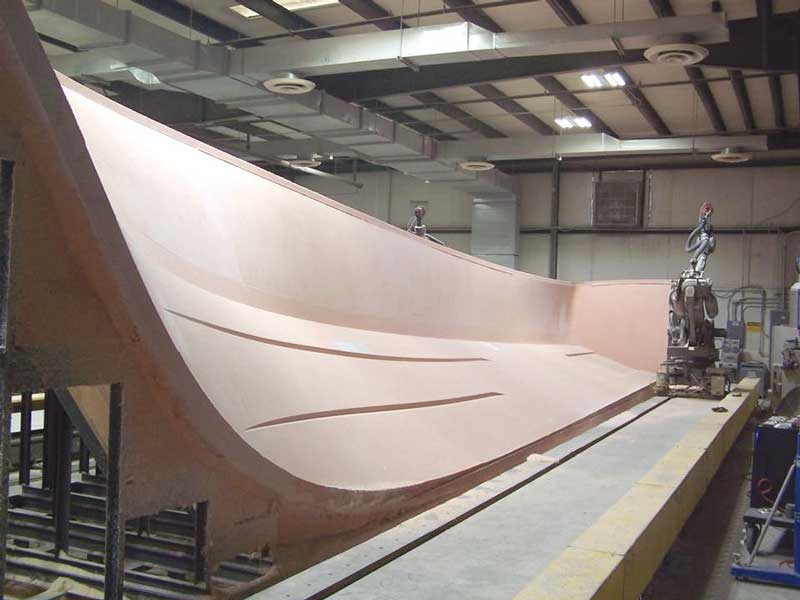 The cabin and deck assemblies are being built and a system to allow easy access to the engines is being worked out. The CY34 is also out of the mold and is having her cockpit deck installed and a plug made for the express deck. Add to all this the frustration involved in trying to build an additional building and repowering a small surplus landing craft for the U.S. Veterans Fishing Adventures with a Suzuki 350, and it's no wonder Rob doesn't feel a slump.  
Joe Reid at Mast and Mallet in Edgewater, MD, sends us this newsy update. "Part of our indoor space is occupied by a Cape Dory Typhoon. This 18-foot wonder of a sailboat, with a full keel and classic lines, is receiving a makeover inside and out. All hardware and teak wood are removed for cleaning and repairs to the gelcoat. Fresh paint is to be applied throughout. All teak wood trim will be replaced and the original bronze hardware reinstalled. Another classic in the shop is a 1956 Chris Craft Holiday model. It is in for new floors and vinyl flooring to be installed. Fresh varnish in the interior is to be applied. 
On a larger scale we are replacing a lower section of a main bulkhead on a DeFever Trawler which suffered from water saturation. All new ply and fiberglass to be coated with WEST epoxy. Anyone following our job on the Rhodes sailboat (on which) Mast and Mallet re-caulked the foredeck and side decks can see that we're rebuilding the aft deck to install new hatches and seating. Afterwards, new decking will complete the re-caulked deck job." 
Traci Cimini of the Calvert Marine Museum (CMM) in Solomons, MD, checks in with the following update: "The iconic Hooper Island draketail that was donated to CMM in 1989 by the son of the builder, Alpheus Sewell, went off for its annual refit at Washburn's Boat Yard in June. Initially built at Broomes Island in 1936 for his son Clarence, the boat was used extensively for crabbing, oystering, eeling, and fishing on the Patuxent River until 1988. The draketail was rebuilt over the period of nearly 10 years by museum boatwrights Jack Krolak and George Surgent and volunteers. The venerable craft has been used extensively in museum educational programs and serves as a reminder of the unique Maryland marine heritage."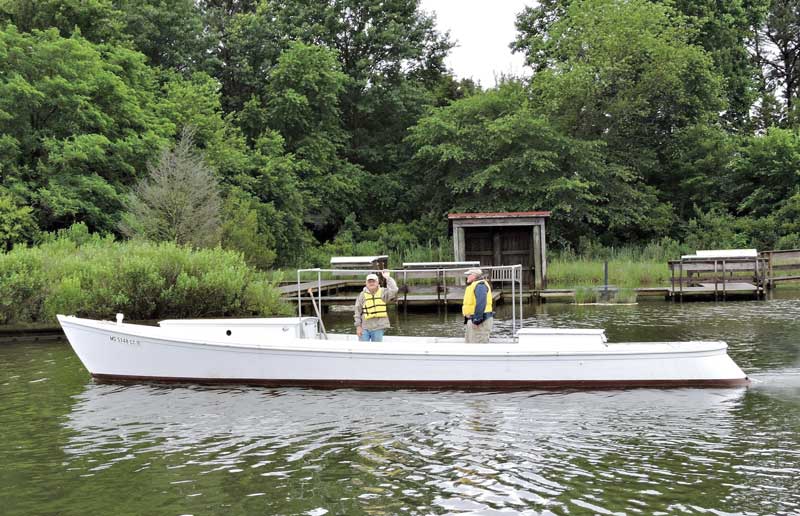 Shepherd is not a boat manufacturer name you hear much about in our area. The Shepherd Boat Company was founded in 1928 in St. Catherines, Ontario. While marketed primarily in Canada, after 1949 Shepherd began an aggressive sales campaign in the upper midwest states. The company was known for innovative design and well-constructed mahogany runabouts, offered in either direct drive or VEE drive configurations. In 1966 the company was sold to Trojan in Pennsylvania, and the name pretty much disappeared. Recently the company name has reappeared in Wisconsin and specializes in custom wooden runabouts. Dave Hannam's report describes a Shepherd 17-footer, hull # 74. This is most likely one of the last wooden Shepherds to be built. 
Dave Hannam with Classic Watercraft Restoration (CWR) in Annapolis reports on the extensive recovery of a classic wooden 1966 Shepherd Runabout 17-footer that actually sank on land! "Her water level had exceeded the exhaust manifolds at time of pump out. When left to dry out, this ole woody's hull was well on her way to wracking, so CWR started to straighten her out, first by stripping the inside and a very messy pressure wash job to remove two gallons of spilled oil. In addition, she has now been stripped of all exterior coatings, has had over 300 fasteners removed, counter sunk, and re-plugged again, all this to tighten up the wooden planks on her deck just get her stable again. Next up includes: re-seaming, staining, sealing, and lots of new varnish. I know, even wooden boats are supposed to be water tight—but the water needs to stay on the outside, not on the inside, next time!"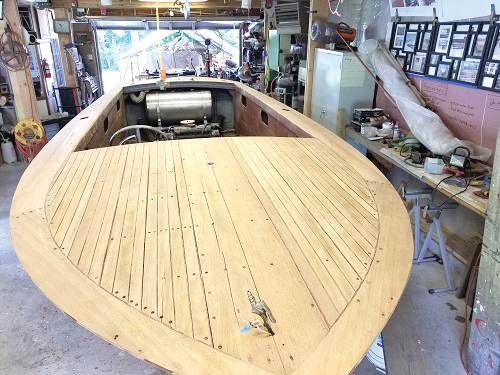 Chesapeake Bay Maritime Museum (CBMM) Shipwright Joe Connor reports that final preparations are underway now on the restoration of Edna E. Lockwood, with the 1889 bugeye and National Historic Landmark set to relaunch in St. Michaels at CBMM's OysterFest on Saturday, October 27. "This spring, Edna's hull was finished and her whiskey plank installed. Since then, attention has turned to the deck where the main and cargo cabins have been rebuilt. Most of the deck planking was in good shape, so shipwrights only needed to replace roughly 12 feet of her king plank and less than 10 percent of her deck planks. The deck has been caulked (with oakum on cotton), and coats of paint are starting to build up. The hull has also been faired, and the first coats of paint applied. The outer stems on both bow and stern have been fabricated and installed."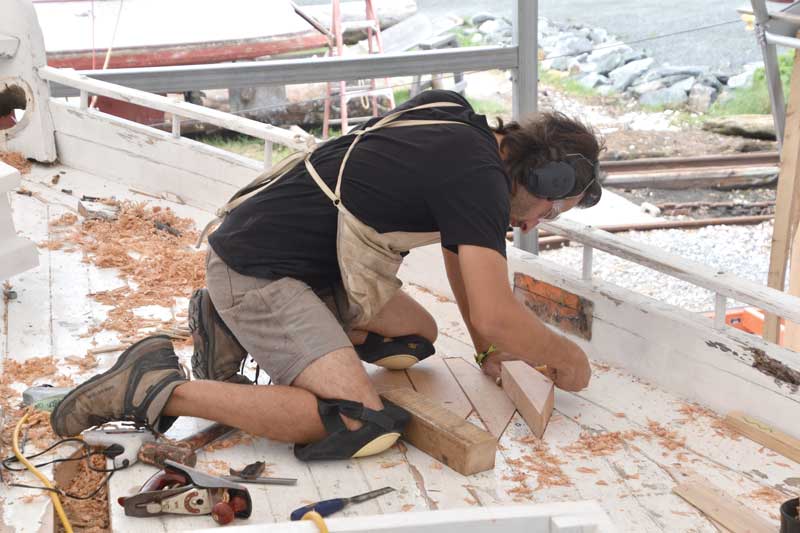 "In the coming months, shipwrights and apprentices will be rebuilding the gammon knee (chicken beak), caulking planks, installing rudder, steering gear, stepping masts, and rigging. Above Edna's log section sits two-inch yellow pine planking fastened to five-inch double-sawn white oak frames. The existing fasteners were steel square boat nails, which are very effective but not conducive to future restoration work as they are permanently installed. For this reason, it is common museum practice to fasten with Frearson head bronze screws for ease of maintenance."
"The team has been restoring CBMM's queen of the fleet by replacing her nine-log hull, in adherence to the Secretary of the Interior's Standards for Historic Vessel Preservation, since 2016. Shipwright apprentices working on the project are generously supported by the Seip Family Foundation and the RPM Foundation.
In the yard next to Gunther Marine in Edgewater, MD, sits a 32-foot side paddle wheeler that looks straight out of the 19th century. Tom Gunther explains, "This boat is not as simple as it appears. The smoke stack is a dummy, just for looks. She is actually powered by a diesel engine. We just installed a new 250-horsepower Cummins diesel in her. The diesel drives a transmission with a shaft coming out either side. The shafts each drive a hydraulic pump. The pumps provide the pressure to the hubs to drive the paddle wheels. Even the paddle wheels are more complicated than they look. Each paddle is hinged and controlled by connecting rods connected to an off-center hub. As the wheels revolve, the off-center hub acts as a cam and adjusts the angle of each paddle to the surface of the water, so the descending paddle strikes the water at the correct angle to produce drive, rather than slapping down flat. Pretty neat. I understand that down somewhere on the Mississippi where these boats are built they race them."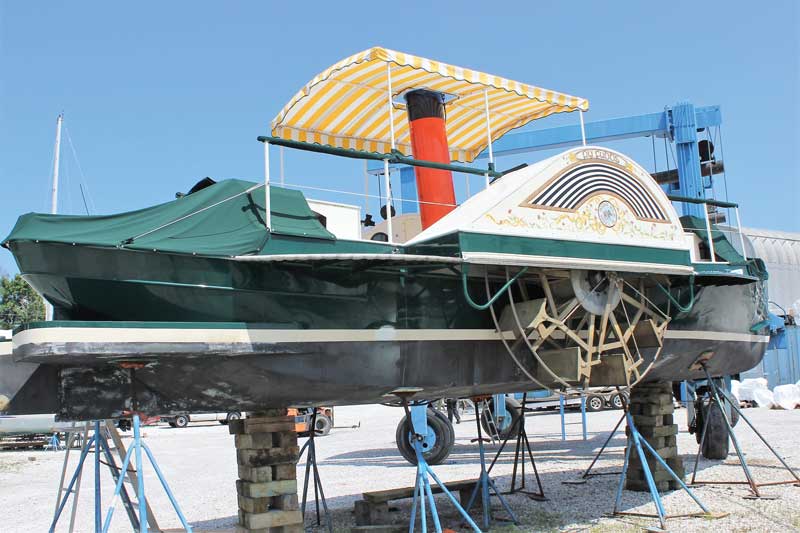 That's it for this month. Enjoy the rest of the summer. 
By Captain Rick Franke
More Photos