You can certainly do this trip by water, but if you're looking for a land yacht excursion during the off season, put this Upper Bay itinerary on your list. Coming from Baltimore, I decided to start at the furthest point away and then work my way back.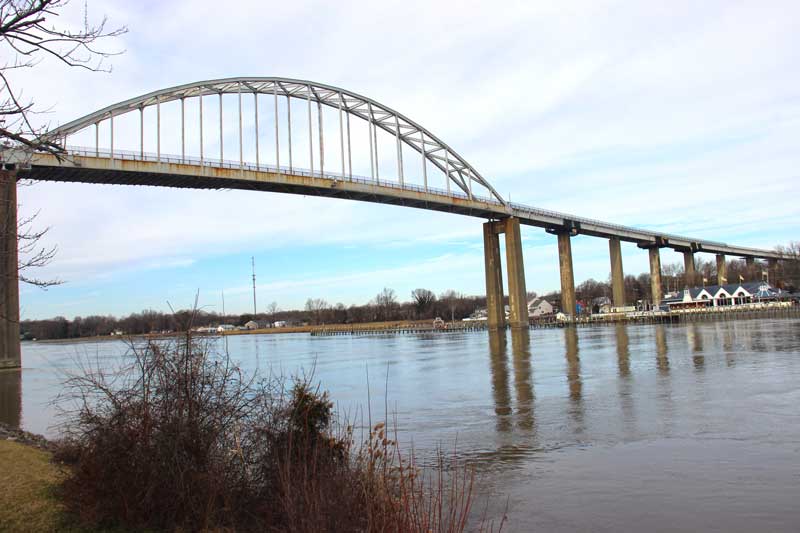 Chesapeake City
First stop: Chesapeake City. Located in Cecil County, MD, the town was originally named The Village of Bohemia, or Bohemia Manor, before it was changed in 1839 after the Chesapeake and Delaware (C&D) Canal was built in 1829. The canal was built through the middle of the town, so Chesapeake City was divided into north and south sections. The current bridge that connects the two sections opened in 1949. 
If this is your first visit, you'll want to start at the Chesapeake City Museum which shines a spotlight on the history of Chesapeake City and the surrounding area. Exhibits include detailed maps, artifacts from early settlers, fraternal order ledgers, the history of the C&D Canal, and the construction of the C&D Canal Bridge, documents detailing the Women for Federal Restoration's work with the preservation of historic homes and businesses, and collections from residents. The museum also has an extensive archive collection chronicling Chesapeake City's history. The archives contain newspapers, magazines, photographs, artwork, prints, ledgers, and other historical artifacts donated to the museum. 
After gaining an overview of the town, I would recommend strolling its streets, taking in the beautiful historic homes, and browsing the shops. Pell Gardens is a waterfront park located in downtown Chesapeake City, not far from the museum, where you can take in views of the bridge over the C&D Canal.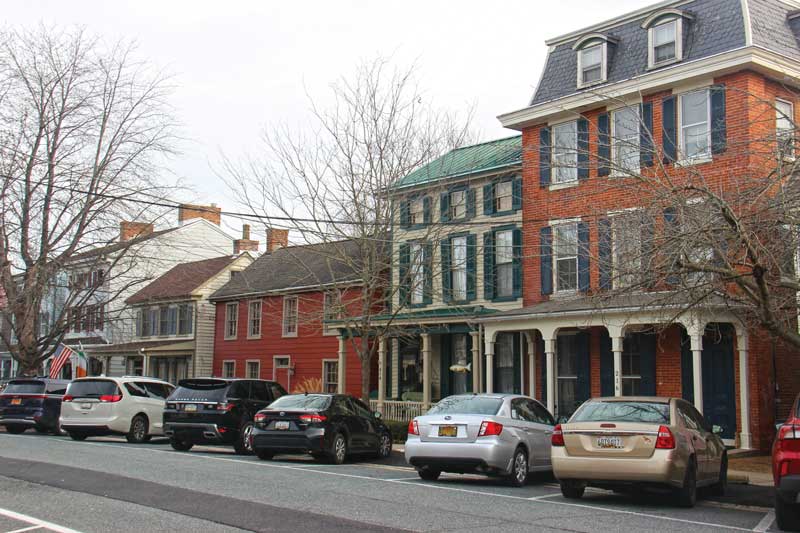 There are many dining options to choose from, but since we had never been, we had to try Schaefer's Canal House, which sits right on the C&D Canal in north Chesapeake City. Onsite there is also a deep-water transient marina. Our lunch was delicious: the seafood mango avocado stack and raw oysters to start off, followed by a classic crab cake sandwich and a lobster grilled cheese panini for my husband. 
If you do decide to eat at Schaefer's, the Ben Cardin C&D Canal Trail begins just a short walk from the restaurant. The Ben Cardin segment of the trail connects with Delaware's Mike Castle Trail and wanders along the canal, end to end, for 17 miles to Delaware City.
North East
I have been to North East many times before, but on this particular trip we had to bypass it and head to our next destination. But you should definitely add the town of North East and nearby Elk Neck State Park on your road trip itinerary if you have the time. 
North East is just 20 minutes away from Chesapeake City, heading in the direction of Havre de Grace. A must-do when in the area is hiking to Turkey Point Light Station in Elk Neck State Park (a 20-minute drive south of town). 
Turkey Point Light is located on a 100-foot bluff that overlooks the Elk and North East rivers. It was completed in 1833 by John Donahoo of Havre de Grace, MD, one of the most prolific lighthouse builders on the Chesapeake Bay. The hike out to the lighthouse is about 1.6 miles roundtrip. As there are different sections of Elk Neck State Park, be sure to type 'Turkey Point Lighthouse Trailhead' into your GPS. Parking is limited and frequently fills to capacity on weekends. The best times to visit are​​ before 10 a.m. or after 6:30 p.m. on weekends or any time during the week (I have found the parking situation to be generally better during the off season). There is no service charge to access the Turkey Point area, and the lighthouse is open daily from sunrise to sunset.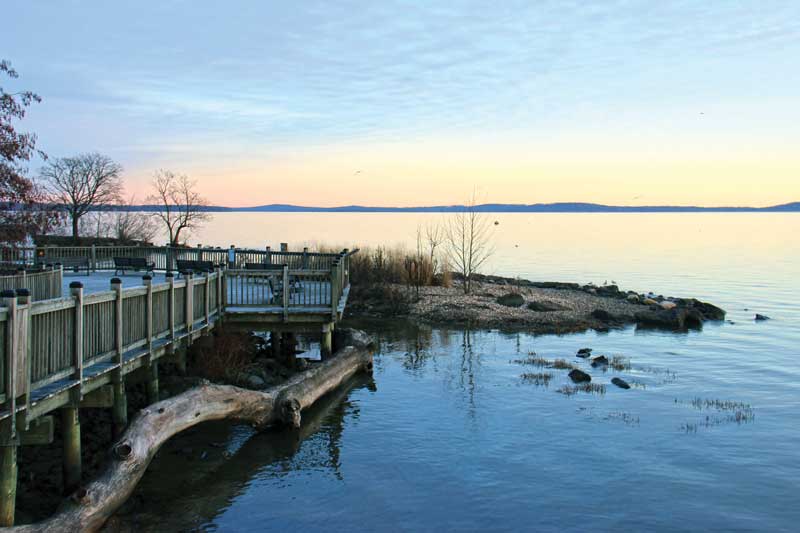 Havre de Grace
The historic city of Havre de Grace, MD, about 20 minutes away from North East, is located where the Susquehanna River meets the Chesapeake Bay. It is named after the port city of Le Havre, France.
During the Revolutionary War, the Marquis de Lafayette visited the small hamlet, then known as Harmer's Town, several times and noted that the area reminded him of the French seaport of Le Havre-de-Grâce (meaning "Harbor of Grace"). General Lafayette was considered a great hero of the war, and so, inspired by his comments, the residents incorporated the town as Havre de Grace in 1785. Today, this historic town is known for its waterfront views, scenic trails, parks, museums, and events. 
At the town's center, you'll find a plethora of stores, art galleries, and eateries. To help guard against the cold, I headed to Concord Point Coffee for a hot beverage before browsing the stacks at Washington Street Books and Music (you could spend hours here sorting through the books, vinyl records, and vintage memorabilia).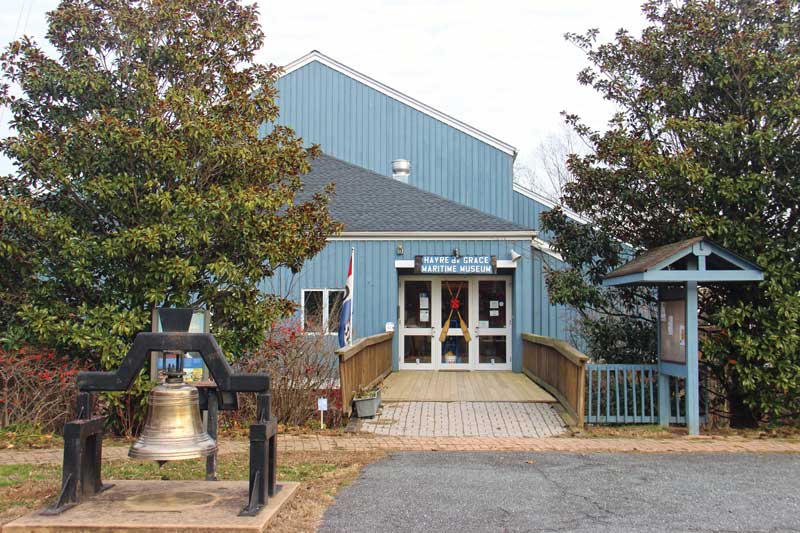 Next stop: the Havre de Grace Maritime Museum. Its mission is to collect, document, preserve, and interpret the maritime skills and cultural heritage of the lower Susquehanna River and Upper Chesapeake Bay region. The museum is housed in a 10,000 square foot, three-story modern building, which includes two galleries on the main floor and a working boat shop and Environmental Center, which houses a gallery, indoor and outdoor classroom, and research/teaching laboratory on the ground floor. It is within the Concord Point Heritage Corridor, which is Havre de Grace's historic district spanning five waterfront acres. Current exhibits include The Underground Railroad: Other Voices of Freedom, The John Smith Trail and the Susquehannocks, Working On the Bay, Commercial Fishing, The Ice Harvest, United States Coast Guard, Racing On the Chesapeake (featuring the "B" Stock hydro race boat #51E), and more. Admission costs $5 per person. 
No visit to Havre de Grace is complete with strolling along the waterfront promenade, a scenic three-fourths of a mile boardwalk, to view the Susquehanna River adjacent to Tydings Park, the Decoy Museum, Maritime Museum, and Concord Point lighthouse. You can connect with the promenade just outside the museum. Enjoy waterfowl watching and interpretive signage about the Chesapeake Bay from dusk until dawn. Sunset is an especially beautiful time to take in the sights. If you have extra time, you will also want to add the Decoy Museum to your list.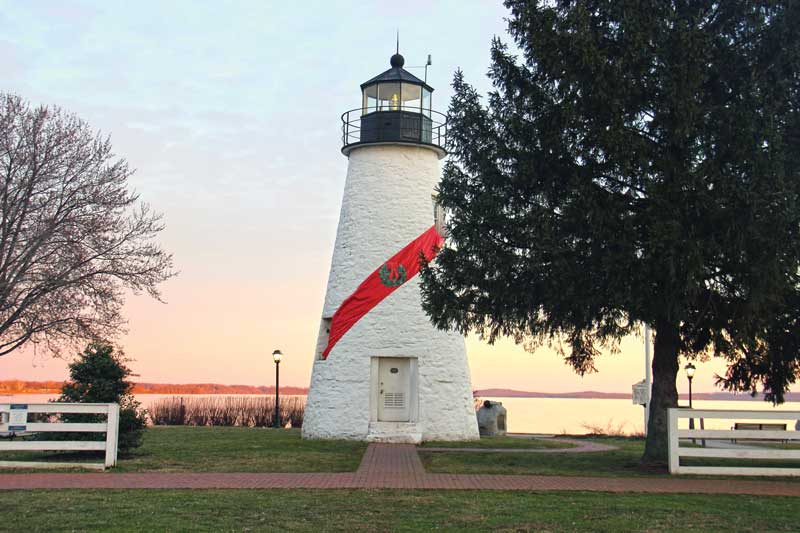 The Concord Point Lighthouse, built in 1827, is the northernmost lighthouse and the second-oldest tower lighthouse still standing on the Bay. It was also built by John Donahoo, who built its keeper's house across the street. The lighthouse and Keeper's House Museum and Gift Shop are open on weekends from April through October.
If you're looking for something to fill your winter days and your boat is on the hard, consider a road trip where you can visit a few Chesapeake towns, all in close proximity. In our opinion, you can't go wrong with an Upper Bay itinerary. For more information on each of these towns, visit chesapeakecity.com, northeastmd.org, and explorehavredegrace.com.
Optional Side Trip: Conowingo Dam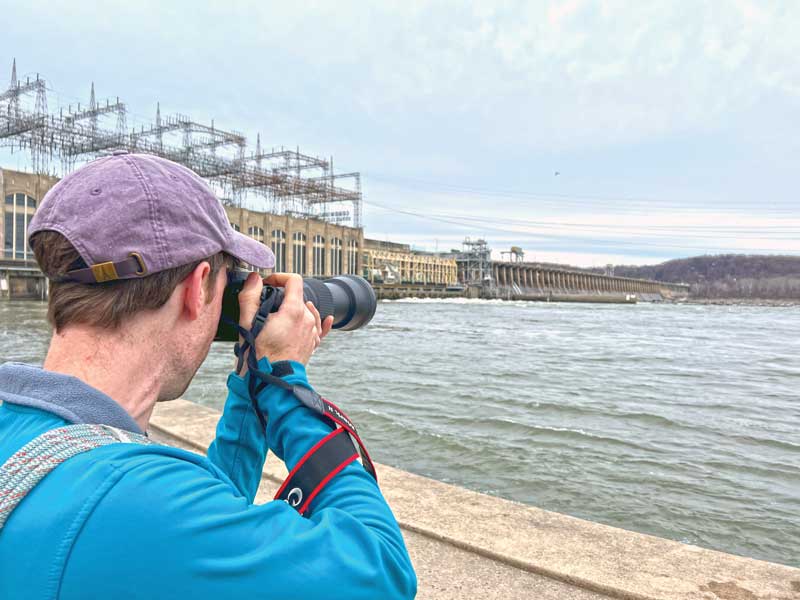 Conowingo hydroelectric dam is just a 20-minute drive north from Havre de Grace and is known for fantastic bald eagle watching during the cold weather months. Free parking is available at Conowingo Fisherman's Park in Darlington, MD. There is a boat launch, and Fisherman's Wharf allows for easy access for fishermen. Peak viewing for bald eagles is generally from November through February/March, though eagles can be found there year-round. There is also a large population of great blue herons onsite. Be sure to bring a camera and/or binoculars and your fishing rod if the eagle watching is slow. You can check on the Conowingo Dam release schedule daily by calling 1.888.457.4076.
By Kaylie Jasinski