Queen Anne's County (QAC), located on Maryland's Eastern Shore has endless possibilities for outdoor recreation.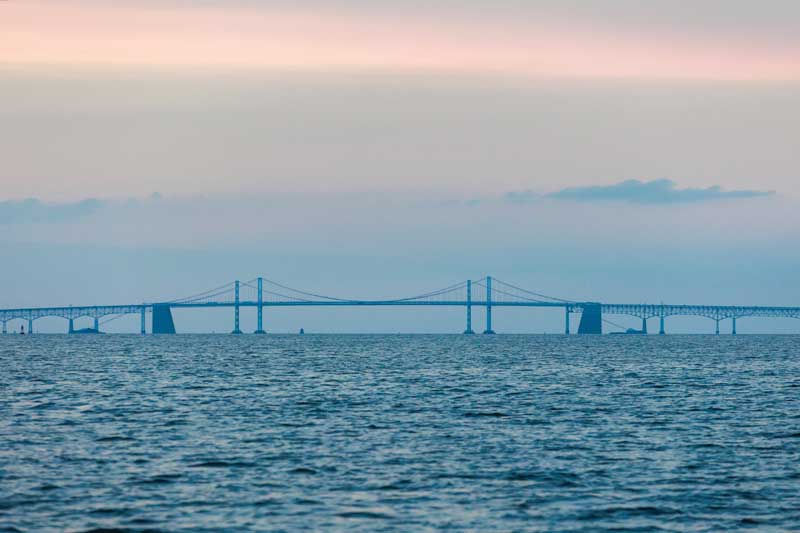 Start Your Visit
If this is your first visit, start your journey at the Chesapeake Heritage and Visitor Center (CHVC). CHVC serves as Queen Anne's County official welcome center and is the central hub for the highly acclaimed Cross Island Trail. Staff can assist visitors with directions, information, and local destination points of interest. Here you'll also find interactive informational displays dedicated to the history, heritage, and culture of the county. Take the elevator or the spiral staircases to the outdoor viewing tower for breathtaking 360 views of the Kent Narrows Waterfront.
Get Outside
Also located on the property of the CHVC is the entrance to Ferry Point Park which includes a 530-foot boardwalk that takes visitors over marsh and onto a trail leading to open space, a wooded area, and a beach overlooking the Chester River. 
The Cross Island Trail is a tree-lined path that offers a safe avenue for non-vehicular transportation. At 6.5 miles long, it spans east to west from Terrapin Park to the Chesapeake Heritage and Visitor Center. The trail wanders through farmlands, meadows, and woods accented with ornamental trees. Flanked by park benches, it crosses several creeks with wooden bridges, offering a spectacular view of waterfowl and wetlands. Portable toilets are available year-round, and pets are allowed on leash. 
The 276-acre Terrapin Nature Park in Stevensville features a 3.25-mile oyster chaff walking trail, which meanders through wildflower meadows, wetlands, tidal ponds, woodlands, and sandy beaches. A gazebo and wheelchair-accessible boardwalk afford a spectacular view of the Chesapeake Bay Bridge, and park benches located along the trail provide a brief respite.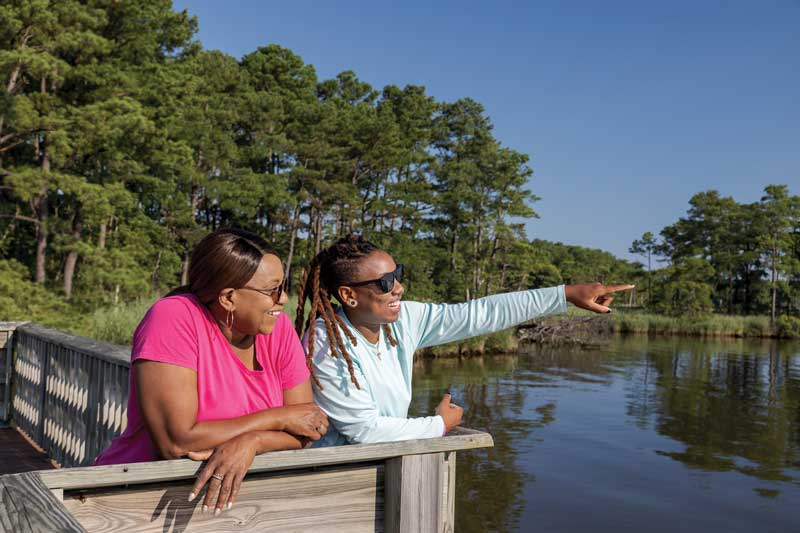 The Chesapeake Bay Environmental Center (CBEC), just south of Kent Narrows, is situated on a 510-acre preserve. Visitors can explore native woodlands, tidal marshes, and meadows, all through specially designed self-guided experiences. CBEC is also known as a birding hotspot, with over 240 species of birds found there throughout the year. There is no admission fee to explore the property on your own, but donations are appreciated to help maintain trails. Visit bayrestoration.org to download the self-guided experiences brochure. If you would like to get out on the water, kayak and paddleboard rentals are available first come/first serve from April 22-November 1. Kayak rentals are $20 per vessel/day and paddleboards cost $30. If you plan on paddling often at CBEC, consider purchasing a membership, as rentals are free to members. 
Want to hang by the water with your pup? Head to Matapeake Clubhouse and Beach on Kent Island. A winding trail through the woods ends at the Dog Beach, on the sandy banks of the Chesapeake Bay. Parking is located at the Matapeake Clubhouse and Public Beach lot; however, pets are not allowed at the clubhouse, its lawn, or the public beach. The pet trail begins at the fence that borders the rear of the clubhouse. Don't forget to bring bags to clean up after your pet!
Find Respite on Wye Island
If you're looking for a quiet place to relax and enjoy the beauty of the Chesapeake Bay, look no further than Wye Island Natural Resources Management Area (NRMA) in Queenstown, MD. Of Wye Island's 2800 acres, 2450 are managed by the Maryland Park Service for resource management, recreation, and agriculture. Wildlife viewing and hiking are the most popular activities on Wye Island's six miles of trails. Download a map of the trails at dnr.maryland.gov. Fishing is also permitted from the shoreline (all anglers 16 years of age and older must have a valid fishing license).
Kayaking and canoeing are excellent ways to explore the beautiful, ever-changing shoreline. A soft launch is located at the Granary Creek Picnic Area for non-motorized vessels only. Other nearby public launch facilities, including those that accommodate motorized boats, are available at Queen Anne's and Talbot County parks. 
The coves found around Wye Island provide excellent anchorage for the night or weekend. The most popular spots are Granary Creek and Dividing Creek, located off the Wye East River and anchorages near Drum Point on the Wye River. Boaters are permitted to come ashore and explore. When coming ashore, boaters are urged to use good judgement, and pick a spot where the shoreline is gently sloped to minimize any ecological damage.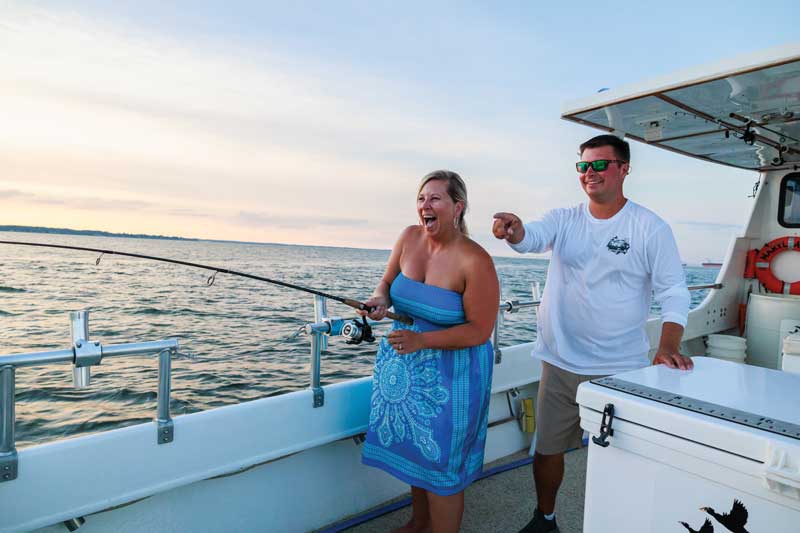 Go Fishing
There are a multitude of charter fishing boats and "head boats" located in Stevensville, Kent Narrows, and Centreville. Depending on the season and sportfish you seek, you can find a boat that fits your needs at visitqueenannes.com/fishing-and-boating. You can also find a list of public launch points at this link, along with details on the public fishing piers in Stevensville.
The 650-foot Matapeake Fishing Pier and 25-foot-wide boat ramp are open 24 hours a day year-round. The facility has restrooms and a picnic area with grills (open sunrise to sunset, no pets). A Queen Anne's County Public Landings Permit is required or Queen Anne's County Slip Renter Tag (for use of ramp only) or Maryland State Golden Age Pass. Use of the fishing pier costs $2.50 per vehicle/per hour.
The 600-foot lighted Romancoke Fishing Pier and kayak launch provides access to Eastern Bay. Seasonal crabbing is popular at this facility. Permanent restrooms are available April through November. The picnic area is open from sunrise to sunset, and the pier and kayak launch are open from 6 a.m. to 9 p.m. (no pets).
The Local's Perspective 
PropTalk's very own Brooke King calls QAC home, so of course we had to ask her what she loves most about the county and some of her favorite spots. She says, "I loved growing up and raising a family here. There's lots of outdoorsy stuff and tons of boating and fishing, and it's just a short boat ride to Annapolis and Baltimore and less than two hours' drive to Fenwick Island/Ocean City. You have lots of elbow room when you live here."
Favorite Eateries
Big Bats for the New York hot dog.
Bridges Restaurant is great for going by boat and for the view. They have tasty pizzas, slips for patrons, live music, and the hostess staff is amazing.  
Knoxie's Table at The Inn at the Chesapeake Beach Club for the atmosphere and food. The Chilean Sea Bass and Chopin martini with blue cheese stuffed olives is fantabulous!
Pour House for brunch.  
Cult Classic Brewing for craft beer and all sorts of entertainment.  
Harris Crab House for crabs, of course, and homemade nutty buddies.  
Last but not least, we love to support our local American Legions.
And of course, we had to ask what her tips were for avoiding Bay Bridge traffic. Brooke recommends visiting mdta.maryland.gov/traffic-cameras-by-facility#camera-999 or calling (877) 229-7726 for real time traffic updates. She says, "I use it all the time to avoid unnecessary jam ups!"
There is so much more to see and do in Queen Anne's County, and we couldn't possibly cover it all in one article. For more information and to help plan your visit, head to visitqueenannes.com.
By Kaylie Jasinski