Hart-Miller Island State Park is an 1100-acre island located in Baltimore County on the Chesapeake Bay near the mouth of Middle River. The island was originally part of a peninsula that extended from Edgemere, MD. The two islands, Hart and Miller, were joined by the construction of a dike in 1981, and until 2009, the impoundment was filled with dredge material from Baltimore Harbor, eventually creating Hart-Miller Island.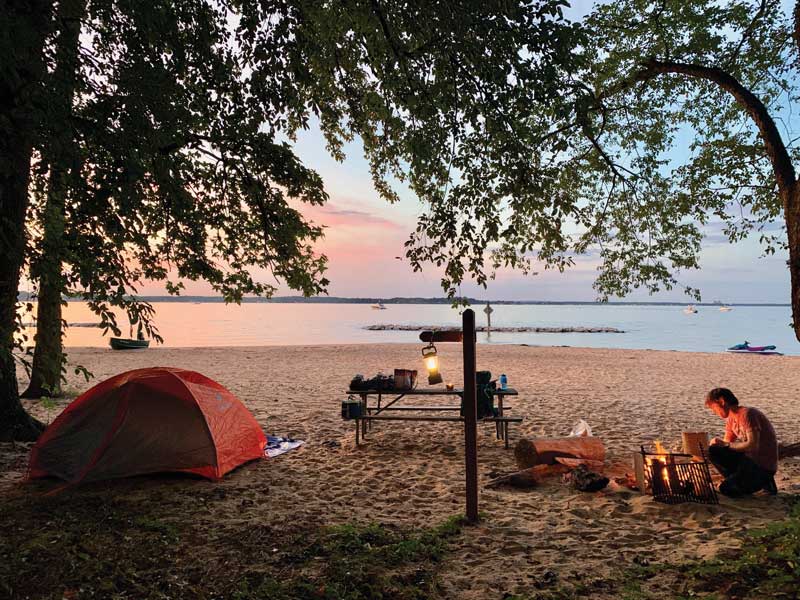 The western shore of the island offers safe mooring, wading, and access to a 3000-foot sandy beach. Hart-Miller Island State Park also includes Hawk Cove and Pleasure Island.
Now, this spot is no hidden gem. It is a very well-known and very popular anchorage in the Upper Chesapeake Bay. For some, it might even be considered too popular and thus too crowded on the weekends, and I can't argue with that. But what you might not know is that the island is also available for camping.
Those who know me know that I am an avid traveler, and my preferred mode of lodging is tent camping. So, it seems only logical that I would eventually try to combine my loves of boating and camping into one trip.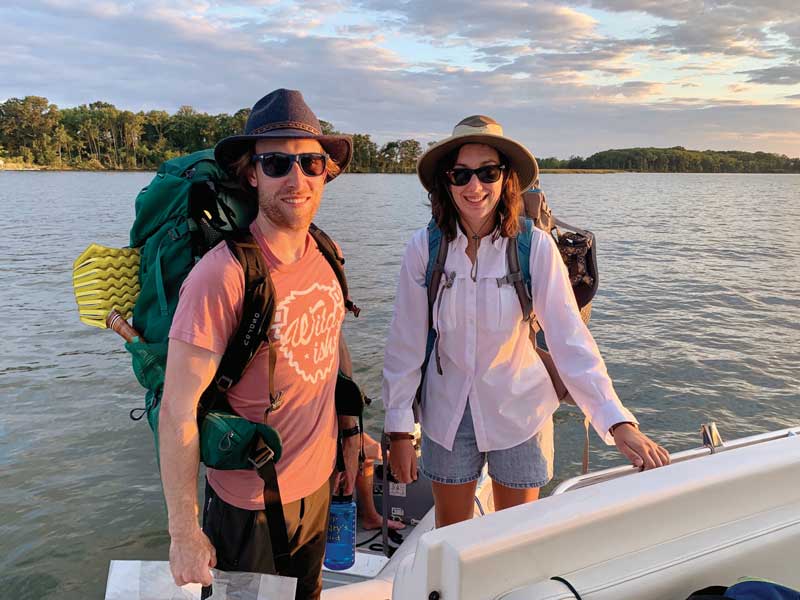 Hart-Miller Island Camping Details:
Season: Camping is available May 1 through September 30. However, please note that this year the restroom facilities are currently being upgraded so the South Cell of the island and the campground will not open until the project is complete (scheduled for June 1, 2022).
Sites: Hart-Miller Island - 6, Hawk Cove - 11, Pleasure Island - 5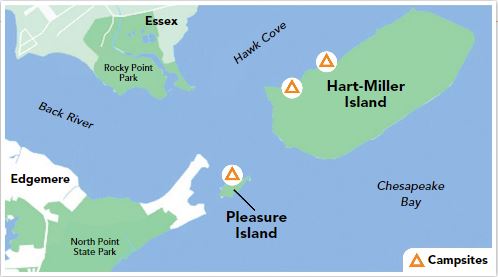 Amenities: All sites have a picnic table, lantern post, and campfire grill. Campfires may only be built in the fire rings provided. (Glass containers are prohibited.)
Restrooms: Only available on Hart-Miller Island.
Water Supply: Only available on Hart-Miller Island.
Cost: $6 per site/per night collected after you set up. 
Reservations: First come/first served.
For more details, visit the Hart-Miller Island State Park website. 
Now for the fun part. You can only get to Hart-Miller Island by boat, and there is no public water transportation to get there. That means you can either catch a lift with a family member or friend, row over, beach your boat on shore, or anchor out and dinghy in. We chose the first option. 
My parents were kind enough to give my husband, Nick, and I a lift over in their boat. From there, we were on our own.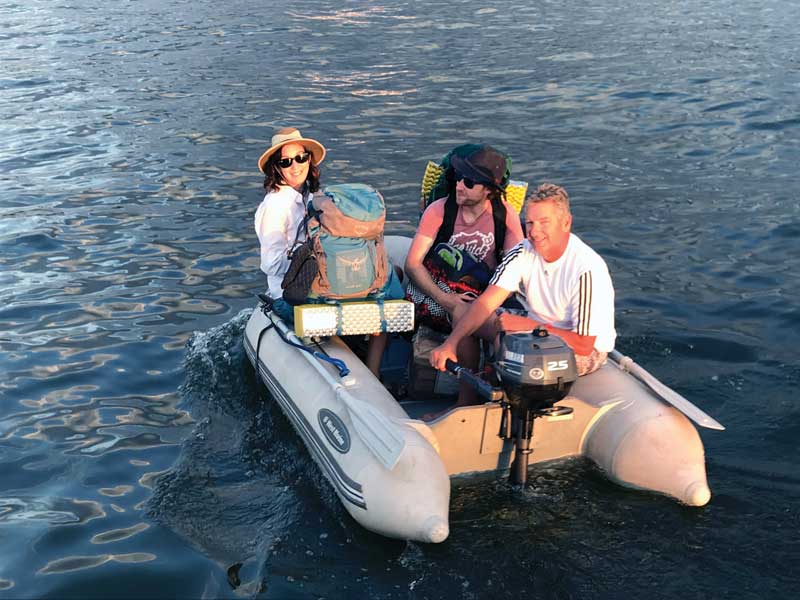 Nick and I have car-camped and backpacked all over the United States, so I was kind of surprised that it took us so long to try out this close-to-home camping destination. We loaded all our gear—tent, sleeping bags and pads, firewood, water, food, and miscellaneous items—into our backpacks and set off with my dad in the dinghy. We arrived onshore just before sunset on an early September day.
At that hour, the afternoon heat had burned off and most of the day-boaters had left which made for a much quieter anchorage. Prior to arriving I was a little worried that all the campsites would be taken, since there are only six on the main island, but luckily only one was spoken for. We chose a spot about midway down the beach and paid our fee at the ranger station near the bathrooms. At only $6, it was quite the bargain.
We made a fire and enjoyed a quiet dinner on the beach while the sun sank beneath the waves. It was a gorgeous night. I only have two caveats that I would like to warn future campers about:
After dark, a few more boats showed up after dark and blared music way into the wee hours of the morning. It was very inconsiderate. I would like to camp here again, but next time, I would choose a site at Hawk Cove or Pleasure Island away from the main beach area as I assume it's much quieter. It was only after we left that we noticed not a single campsite was in use in those other two sections.
Also, after dark, the raccoons came out. Be sure to clean up any food waste or residue from your fire and picnic table area because these guys have no fear and will wander right into your campsite. 
Despite not getting the best sleep that night, we still had a wonderful time and woke up bright and early the next morning to catch the dinghy back to Remedy, my parent's 35 Maxum, before heading home.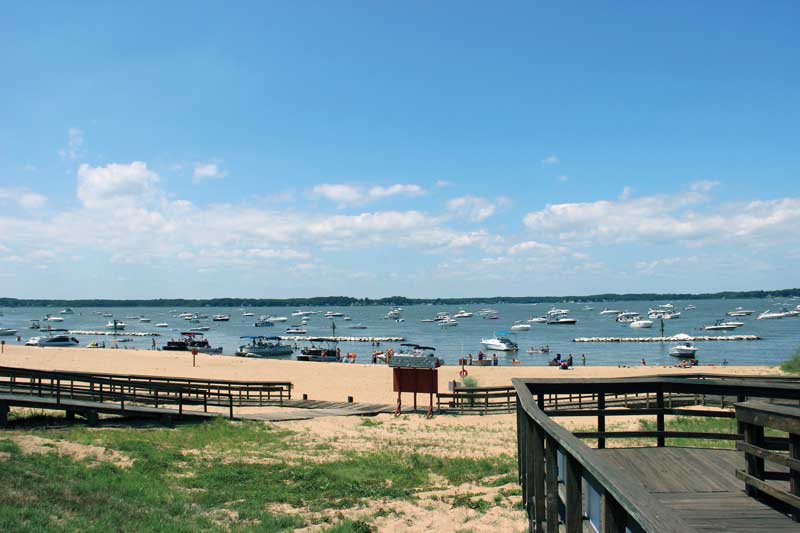 Bonus Excursion: Explore the South Cell
In 2016, the South Cell of Hart-Miller Island opened to the public for the first time since construction began on the island in 1981. It contains over eight miles of trails that circle a large, beautiful pond and offer breathtaking views of the Chesapeake Bay.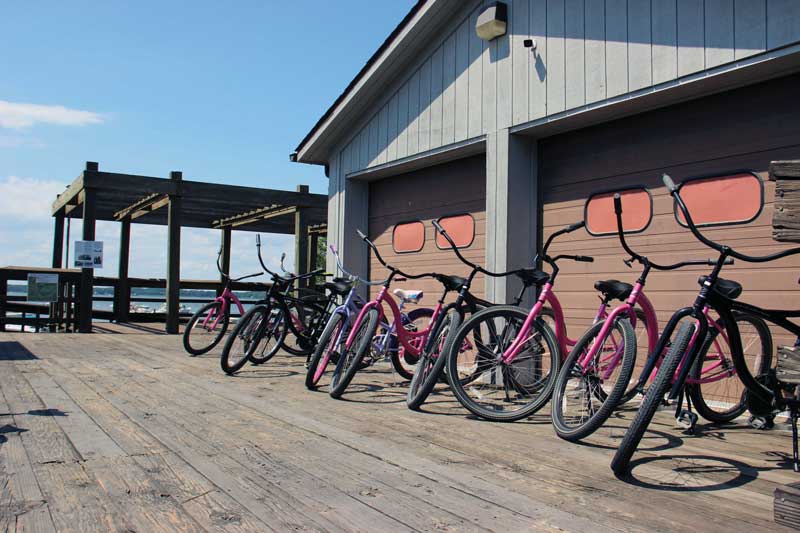 At the ranger station, free bicycle rentals are available to explore the south cell, and binoculars and bird guides are available to borrow as well. There are light concessions (in season) which include sodas, snacks, and snowballs, and an observation platform (open May through September) which provides great views of the marsh.
On your next visit, simply stop by the ranger station on the boardwalk near the restrooms to either rent a bike or binoculars and ask any questions before heading out to explore.
Long Trail Loop is 1.8 miles and offers interpretive signage details about the various wildlife and different ecosystems that are a part of Hart-Miller Island, as well some history on this unique area. I love biking this loop and make sure to do it at least once a summer.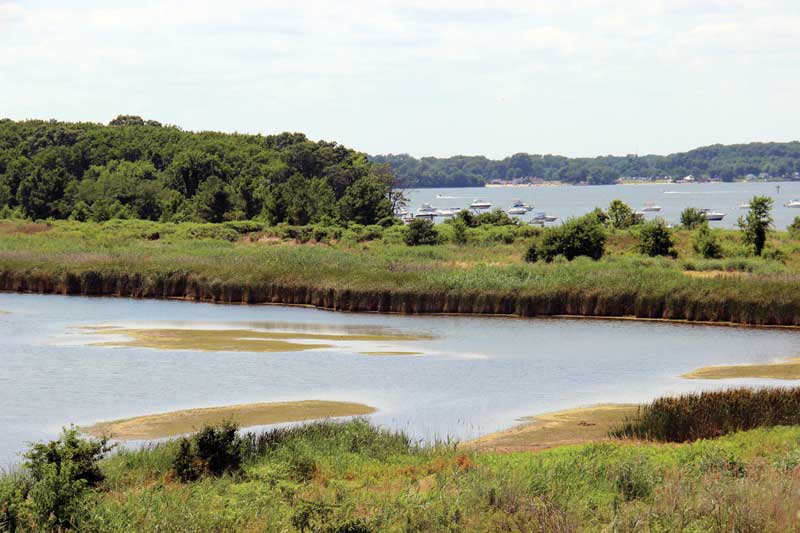 Please note that at the close of day, the island is closed to everyone except registered campers. The North Cell of the island is closed to the public.
If you're into camping but haven't yet tried it at Hart-Miller Island, we suggest you put it on your to-do list. For more information, visit dnr.maryland.gov and type 'Hart Miller Island' in the search box. 
By Kaylie Jasinski