At the southernmost end of the Chesapeake Bay, the industrial and military cities of Hampton Roads might not strike boaters as a tourist destination. But besides the fact that the large cargo ships and naval vessels could be considered a sight of their own, there is also plenty of culture, dining, and activities to be found ashore.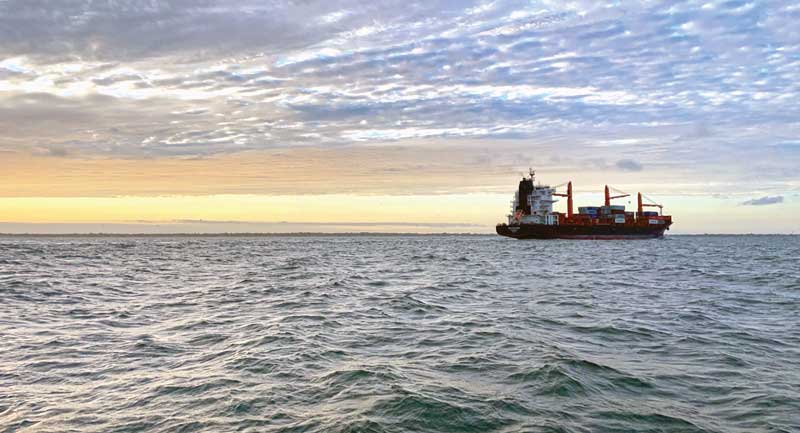 Hampton Roads
For boaters accustomed to more rural waters, Hampton Roads may seem a bit foreign. The web of rivers, bridges, tunnels, and extensive commercial traffic is vastly different from much of the Bay. The term "Hampton Roads" itself may even be confusing, given that it encompasses seven distinct cities on opposite sides of the harbor.
To set the record straight, Hampton Roads includes the cities of Hampton and Newport News on the northern side of Norfolk Harbor, and Norfolk (pronounced Norfuk), Portsmouth, Chesapeake, Virginia Beach, and Suffolk on the southern side. Chesapeake, contrary to its name, is not accessible by water, and neither is Suffolk. Newport News is dominated by Newport News Shipbuilding, the largest privately owned shipyard in the country, allowing little room for other waterfront developments. It may be worthwhile to cruise by just to see Big Blue, the largest crane in the western hemisphere, but other than that there are few places to step ashore. That leaves us with Hampton, Norfolk, Portsmouth, and Virginia Beach.
Regarding bridges, tunnels, and commercial traffic, it's not as confusing as it seems. Just be aware that the currents can get a bit swift over the tunnels; keep your eyes peeled for cargo ships, tug-and-barge combos, and military vessels; and listen to the VHF for announcements of occasional channel closures. There's plenty of water and the commercial captains are accustomed to traffic, so there's no reason to fear the crowds.
Hampton
Hampton is located just inside Norfolk Harbor to the north. Enter the harbor, cross over the Hampton Roads Bridge-Tunnel (HRBT) and hang a right. Dockage is available at Bluewater Yachting Center, Customs House Marina, and The Docks at Downtown Hampton, but the latter two will get you closest to downtown. Nearby attractions include the Virginia Air and Space Science Center, the Hampton History Museum, and Blackbeard's Point, where the head of the infamous pirate was hung after the Battle of Ocracoke in 1718. There are numerous restaurants, but a notable mention is Bull Island Brewing Company, located right on the water adjacent to the city docks.
For a different view of Hampton, turn north just before the HRBT to anchor in protected Mill's Creek, a favorite of ICW travelers. From here you can go ashore to Fort Monroe, the largest stone fort ever built in the U.S. and the last moat-encircled fort to be deactivated in 2011. Food and drink are available nearby at the following spots: The Deadrise, a seafood restaurant with waterfront views; Firehouse Coffee 1881, a cafe built inside the Army's oldest fire station; and Oozlefinch Beers and Blending, specializing in sours. If you're in for a bit of a hike (or a brief drive), trek north to Buckroe Beach for picnic tables, grassy play areas, and miles of white sandy shoreline.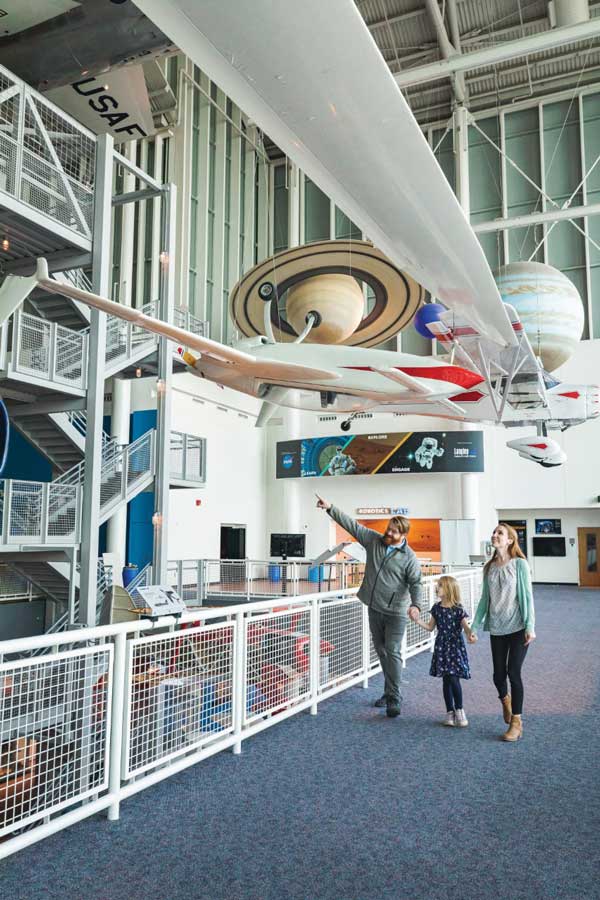 Norfolk
To get to Norfolk, enter the harbor, cross over the HRBT, and hang a left. Immediately past the HRBT and across from Hampton is Willoughby Bay, which has extensive anchorage space and limited transient dockage at Rebel Marina and Willoughby Harbor Marina; look out for tugs and barges working on the HRBT expansion project. Shore access is available at a public boat ramp, the beach is within walking distance, and dining is available at Willoughby Fish House and Willoughby by The Bay.
For downtown Norfolk, go past Willoughby Bay and head south down the Elizabeth River. Naval Station Norfolk occupies the eastern side of the river for the first several miles, and you can spot a wide variety of naval ships as long as you don't get close enough to disturb the guard boats. Keep going until you reach Waterside Marina, the primary dockage downtown at ICW mile marker 0. From here, you're within walking distance of the Nauticus Museum and Battleship Wisconsin, featuring maritime and naval history, as well as Rover Cruises, where you can hop aboard for a sunset sail or naval base cruise. For some exercise, check out the Elizabeth River Trail, which runs through several historic neighborhoods and passes numerous cultural sites, including the free Chrysler Museum of Art. Prince Books is a quaint, independently-owned bookstore a few blocks from the waterfront; Selden Market across the street hosts a rotating array of local artisans, eats, and artists; and Circuit Social a few blocks down combines arcade games with beer on tap.
Downtown Norfolk is the heart of dining in the city. For fast and casual, try Benny's for the largest slice of pizza you've ever seen, or Jack Brown's Beer and Burger Joint for, you guessed it, beer and burgers—but don't bring your kids. If you're looking for something slightly classier, Grain is a rooftop beer garden with a varied menu and an excellent buffet-style Sunday brunch. To get a little rowdy, visit Grace O'Malley's for live Irish music, Guinness, and traditional fare. Cafe Stella will be there for you in the morning.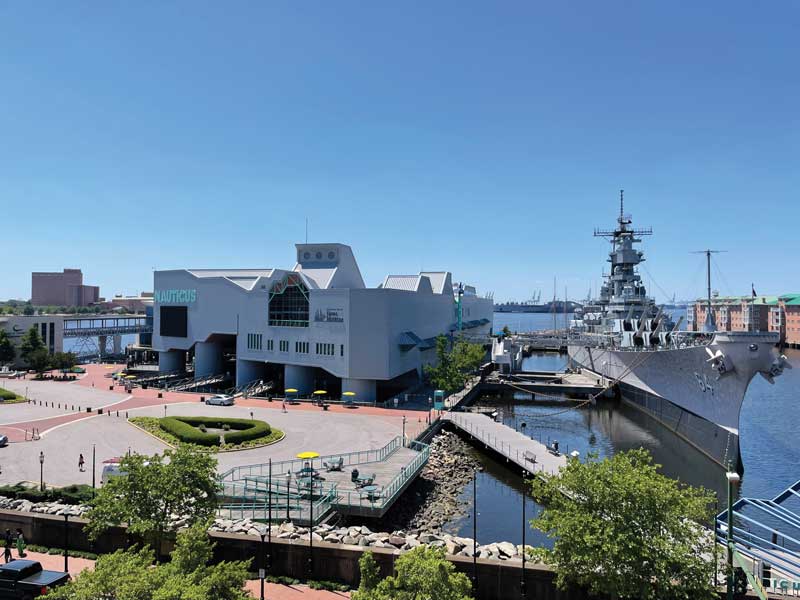 Portsmouth
Across the Elizabeth River from downtown Norfolk is Portsmouth. You can find dockage at Tidewater Yacht Marina or Ocean Yacht Marina or take the ferry from Norfolk. The Children's Museum of Virginia and Portsmouth Naval Shipyard Museum are both only a few blocks away, and next door to the latter is the Lightship Portsmouth Museum, where you can see a 1915 lightship. Or catch a movie at the historic art deco Commodore Theatre. For eats, try Olde Towne Public House, Gosport Tavern, or Fish and Slips Marina Raw Bar & Grill at Tidewater Yacht Marina.
Virginia Beach
If you're willing to venture into the Atlantic (or take a drive from one of the other seven cities), there's much to see in Virginia Beach besides spring breakers. Instead of heading into Norfolk Harbor at the bottom of the Bay, head east over or under the Chesapeake Bay Bridge-Tunnel. A multitude of marinas are available in Lynnhaven Bay, just past the tunnel to the south.
To get closer to the action, however, go straight out of the mouth of the Bay and head south to the marinas in Rudee Inlet. Options include Rudee Inlet Station Marina and Fisherman's Wharf Marina. The beach, including all of its restaurants, gift shops, arcades, and carnival rides, are only a moderate walk or short shuttle ride away. Additionally, the Virginia Aquarium and Marine Science Center is adjacent to the major marinas and is a great option for getting kids out of the heat. First Landing State Park, which occupies the northernmost end of Virginia Beach, is a brief drive from either Lynnhaven Bay or Rudee Inlet and offers miles of hiking trails and beach access. Nearby is the original Cape Henry Lighthouse, built in 1792 and commissioned by George Washington, making it the fourth oldest lighthouse in the country.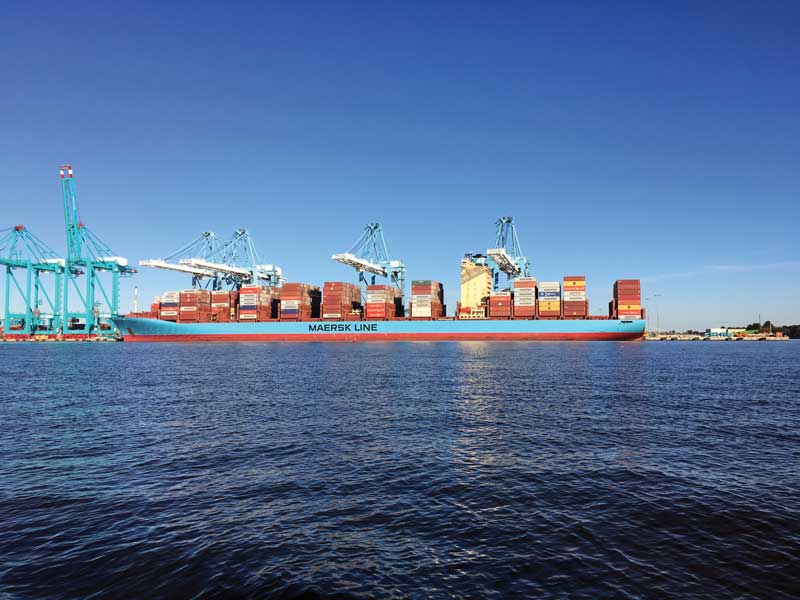 Straying Farther Afield
If you're thinking of incorporating any part of Hampton Roads into a larger southern Bay cruise, you'll find many other destinations nearby. Cape Charles, Yorktown, Urbanna, and Deltaville are all a day trip away by boat or car, as is the Great Dismal Swamp if you're open to venturing south beyond the Bay. The southern Chesapeake can often be overlooked due to its distance from boating capitals like Annapolis, the increased travel time between dockages and anchorages, and the wider waters and their accompanying weather, but Hampton Roads and southern Virginia in general are worth a visit. The Bay changes down here—closer to the ocean and in a region I call the "diet South," there's different wildlife, different culture, and a whole world of different boating.
By Kelsey Bonham