In this odd boating season of covid many, if not all, Chesapeake Bay boaters may change their plans from their usual weekend fare. Social distancing will dictate our choices as boaters and families. Luckily for healthy boating families, the Chesapeake offers endless tributaries to explore and anchorages to discover for the day or the weekend.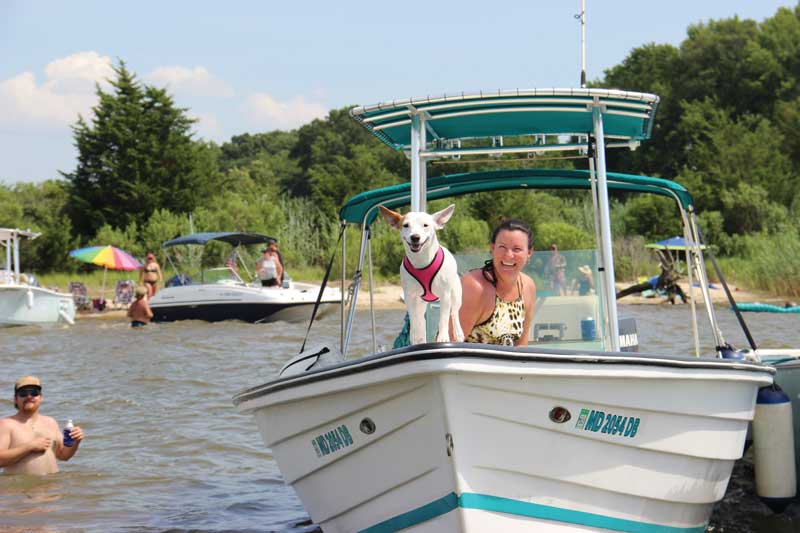 Here are some tips on family boating and tried and true destinations to put on your summer to-go list as Mother Nature finally brings us the season we'd dreamed about while cooped up at home:
Family Boating Tips
More toys equal more fun.
No matter your age, you can have more fun at anchor with some toys to play with or float around on. Pack into your boat as many floating toys as you have room for and/or energy to blow up: pool noodles, beach balls, inflatable slides, inner tubes, floating islands and lounge chairs, saddle floats, and standup paddleboards.
Game on!
Depending on the size of your boat and your family, playing games can make a quiet evening at anchor livelier and more memorable. Among boaters' favorites are dominoes, Mexican train dominoes, gin rummy or other card games, Bananagrams, Uno, Spot-It, Rummikub, Yahtzee, Apples To Apples, Five Crowns, Phase 10, Clue (travel set), and checkers (travel set). 
Make music together.
One Chesapeake cruising family we know recommends keeping a basket of musical instruments onboard and having a "family band" in the evenings, playing guitars, ukuleles, tambourines, shaker eggs, and clackers.
Snack attack.
One thing we've learned from boating parents over the years is that good onboard snacks make for happy boating kids. Especially since you may not be stopping at dockside restaurants as often, make sure your boat is well-stocked with snacks, such as crackers, pita wedges, or veggies with hummus or ranch dip; popcorn with Old Bay (if you're lucky enough to have a microwave), granola bars, trail mix, animal crackers, goldfish, pretzels, and chips and salsa. 
Skills drills.
Boaters of all ages like a chance to drive the boat and to help navigate. Going out into the Bay with your family on a calm, sunny day gives you the opportunity to teach family members new boating skills. The skippers should give different family members guidance on driving the boat. Teach someone how to tie a knot they don't know or how to properly toss a line to a dockhand. Let the kids take the wheel for a while. Point out channel markers and explain the "red-right-returning" rule. Teach everyone onboard how to properly use the marine radio. Break out a nautical chart and figure out where you are and where you'd like to go. Give the whole family a job while docking or anchoring.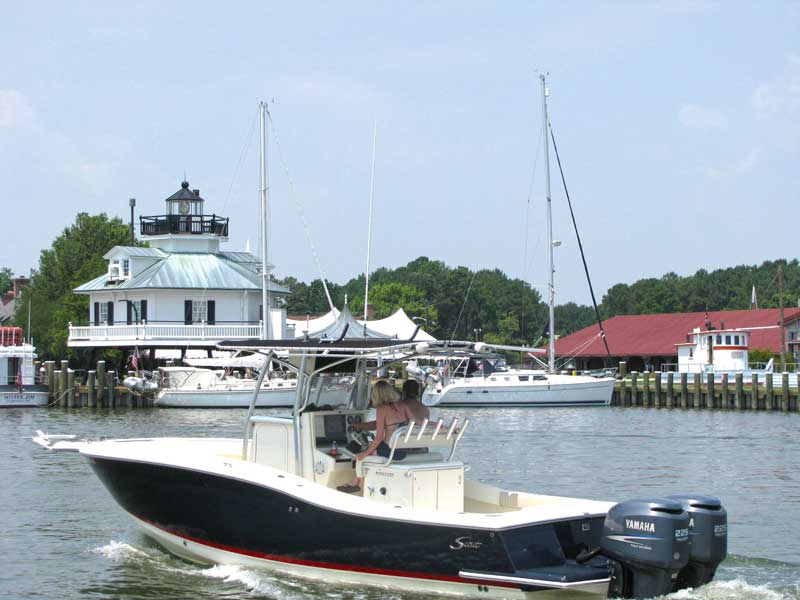 The screen scene.
Some families have a strict 'no screens onboard the boat' rule. Others recommend you make exceptions such as kids using their phones or tablets as a tool for creature or fish identification, bird calls, navigation, or stargazing. A child prone to seasickness while reading onboard may do better to listen to an audiobook. Watching a funny movie before bed might be a relaxing end to a summer day on the water. 
Finding Great Anchorages for Weekend Boating Excursions
There are more scenic anchorages on the Chesapeake than we could ever list in a two-page article. Here are seven Northern and Mid-Chesapeake areas filled with anchorages that come recommended from PropTalk staff, writers, and readers. 
Sassafras River
If you like to swim, there's a popular area less than two miles from the mouth of the southern shore called Lloyd Creek. The entrance is not obvious as you are riding eastward up the river; however, if you hug that shore you will see other boaters entering and leaving the creek through a narrow, yet deep entrance. You'll note a crescent-shaped beach. In late July you'll find lotuses in bloom inside the creek and also in the next creek upriver, Turner Creek. 
Elk River
Popular for boaters who like waterskiing, wakeboarding, and tubing. Cabin John's Cove is a three-quarter-mile long, narrow body of water on the east side of the Elk River that offers protection from waves and most boat traffic. It's often busy on weekends.
Bohemia River
Travel a couple more miles up the Elk to find this river on the starboard side. Turning east toward the head of the river, you will reach the no-wake zone where you'll see dozens of boats enjoying what locally is referred to as the "Left Bank." Go further up river and pass under the bridge where the Bohemia splits into two creeks. Straight between those creeks is a sandbar referred to as "The Duck Blind" or "The Ski Beach," another popular swimming spot. Great Bohemia Creek is another protected stretch of water that is great for waterskiing and wakeboarding.
Still Pond
Just south of the Sassafras, you'll find Still Pond, a popular anchoring area for families. If you have kayaks or paddleboards, it's fun to take them over the thin sand spit into Still Pond creek to explore.
South River
Although the South River, just south of Annapolis, can be filled with powerboat traffic, you don't have to travel far upriver to find a pleasant anchorage for lunch and a swim. Harness Cove, which hugs the shore of Quiet Waters Park on the northern shore, is a boating family favorite.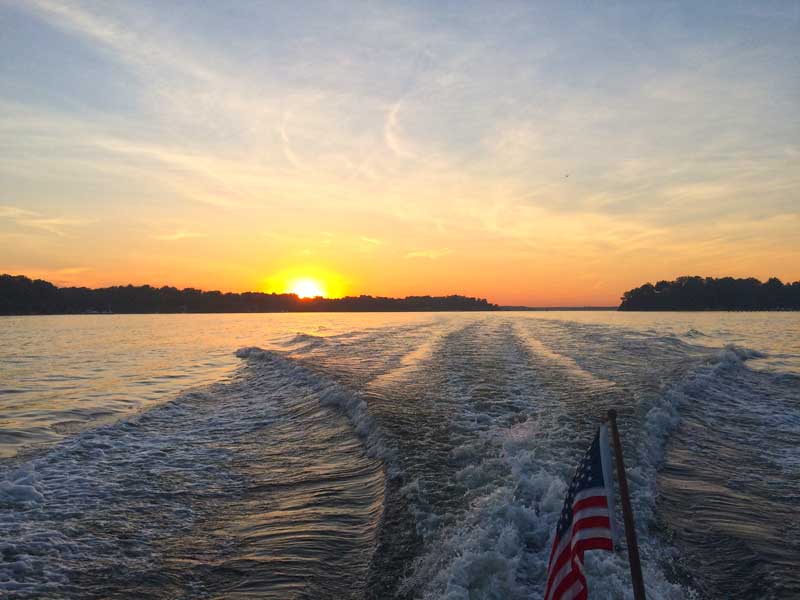 Miles and Wye Rivers
Anglers know Eastern Bay for fishing. If you travel all the way up the bay and turn into the Miles River, anchoring options seem endless. You can turn into the Wye River and anchor in Shaw Bay or continue up the Eastern Wye and meander to the Wye Island Natural Resources Management Area, which is open from sunrise to sunset for hiking, fishing, and playground use. If you cruise out of the Wye and turn left back into the Miles, you can make your way to St. Michaels or keep going and find anchorage options in Leeds Creek or Hunting Creek among others.
Choptank River
You could spend an entire week discovering the Choptank and still not visit all the best anchorages. If you enter the river from Knapps Narrows, you'll find yourself in Harris Creek, home to many charming coves. The same can be said for Broad Creek and Edge Creek. Sometimes it's nice to travel up those creeks and see what looks appealing for your boat and mood. It's always worth a trip to Oxford on the Tred Avon River to get an ice cream cone at the Scottish Highland Creamery (see page 34 for more ice cream destinations), or get fuel. If you choose to visit Cambridge, the Municipal Yacht Basin is easy to get to, walkable from downtown, and a great place to stay if you'd like to plug in, fuel up, and provision the boat.