What makes for the ultimate Chesapeake Bay day boat? It has to be big enough to handle choppy waters, fast enough to thrill the kids, and comfy enough to bring the in-laws on a dinner-cruise across the Bay. Oh yes, and it has to look good, too. On all these counts, Sea Ray's new 280 SLX makes the grade. But then it goes a good bit further. In fact, when you look at modern runabouts, you won't be able to find one much more advanced than this.
The first contemporary touch most boatbuilders can't yet match can be seen right at the helm. Actually, it's what you don't see that's the dead giveaway: switches and gauges. Gone are those troublesome toggles and rockers. Forget about fogging behind the faceplate, hour meters that never change, and wildly inaccurate speedos. Instead, the 280 SLX has a 12.3-inch touch-screen display dubbed the "Dynamic Display" which displays critical data from engine RPM to water temperature, and serves as the control hub for digitally switching everything from bilge pumps to multicolored mood lighting. Only a few of the most basic functions (such as turning on that touch screen in the first place) require the laborious step of actually flipping a switch.
The second progressive perk is Sea Ray's Quiet Ride. They rolled this feature out a couple of years back and are now incorporating it into more and more new models as they're added to the lineup. Quiet Ride is a number of different construction and design techniques which, working together, dramatically reduce the amount of noise and vibrations you feel in the boat. Doors and hatches on a Quiet Ride boat, for example, have positive-locking latches that compress against routered-in gaskets to prevent rattling. Vibration-dampening barriers are added to mounting brackets and fittings. And perhaps most impressive, a paper-like fabric which converts vibration into heat is laminated into the boat's fiberglass. Although Sea Ray won't disclose the exact makeup of the fabric, this stuff is pretty amazing.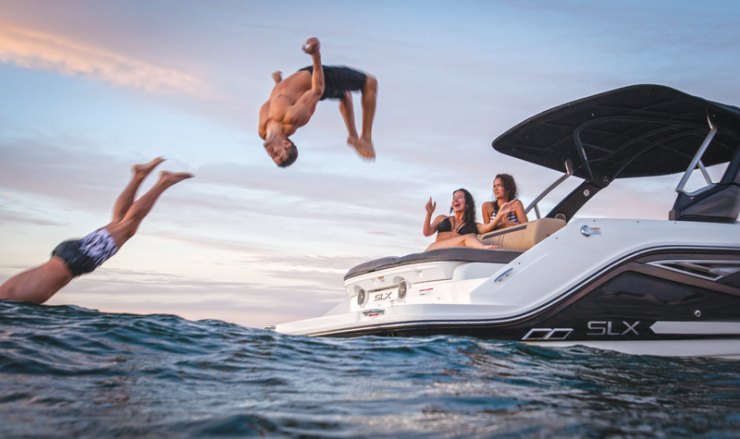 To show just how much vibration it could dissipate, a Sea Ray rep handed me a sample piece of Quiet Ride fiberglass and another piece from a traditional hull layup. Then he gave me a golf ball. Dropping the ball against the Quiet Ride glass was noticeably quieter and created a dull "thud" instead of a loud "crack." And—I am not making this up—the ball bounced noticeably less when hitting the laminate with the fabric inside.
While I wasn't able to run a 280 SLX with and without Quiet Ride (they simply don't build a "without" version), I did run a 250 SLX with and without when Sea Ray first introduced it. Measured with a decibel meter, the Quiet Ride version was about half as loud. That's a big comfort boost. But it's not the only one the 280 provides. Next on the oh-la-la list is the upholstery. Seats are wrapped in a leather-like textured vinyl, and the dash brows as well as portions of the inwales are cushioned and wrapped with French-stitched fabrics. Anywhere an elbow or shoulder is likely to hit will make for a soft landing.
The aft sunpad also merits special attention. The forward sections ratchet upward, so you can pull them up and use the sunpad as an adjustable aft-facing lounger. Another nifty seating perk can be found in the center-facing seat backrests located behind the helm. Flip them down, and they serve as a picnic table with molded in cup holders. Some other items you need to know about: there's a head compartment in the passenger's side console, a Rockford Fosgate Bluetooth stereo system, and an (optional) electric tower than folds down flat at the press of a button.
The 280 SLX comes standard with a Mercruiser 6.2L ECT 350-hp engine with a Bravo III drive and digital throttle and shift. You can up the ante to an 8.2L MAG HO ECT that puts out 430 hp. For most of us, however, the stock powerplant will provide more than enough oomph. Although I couldn't run the 280 SLX (it was on dry land at the Miami Boat Show, where it was introduced this winter,) the 28 Sundancer—which exceeds the weight by more than 1000 pounds and has two more inches of LOA—breaks 40 miles per hour with 50 fewer horses. So unless you're a real speed freak, the 6.2L will do the trick.
Ready for the bad news? Yes, you knew this was coming: the price tag for this model is not exactly cheap, starting at around $130,000. But if that seems like a lot to pay for a 28-footer, just remember: you get what you pay for. And in this case, that might just be the ultimate Chesapeake Bay day boat.
Specifications
LOA: 28'6"
Beam: 9'0"
Draft: 3'8"
Displacement: 7,018
Max HP: 430
Fuel Capacity: 90 GAL.
by Lenny Rudow