You want to feel the wind ripping at your hair as you unleash 1600 raging outboard horses strapped to the transom of a 42-foot fishing boat? Your eyes will tear as the top-end blasts past 71 miles per hour; you can expect at least one lens to pop out of your sunglasses, and every un-tucked shirt aboard will billow up well above the beltline. But you're virtually guaranteed that you'll beat every other center-console fishing boat to the hot spot. Yes, we're talking about a fishing boat, here—the Scout 420 LXF, which can be rigged with quadruple Mercury Verado 400 outboards.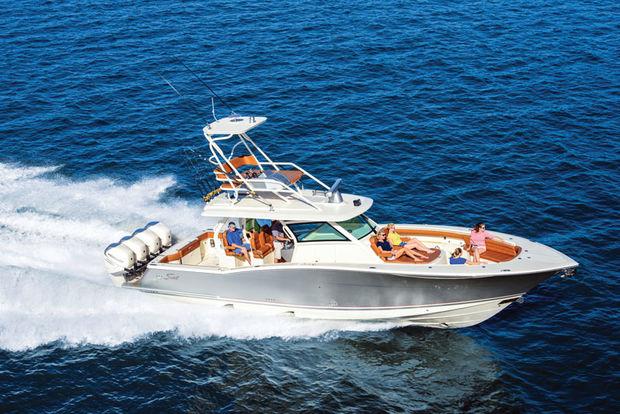 Oh, and you'll also be chewing through about 154 gallons of fuel per hour. Saudi princes, rejoice! Or instead of celebrating, maybe you should buy one of these for yourselves. The list cost (which bases with quad 300s) starts right around three quarter mil, so being royalty will certainly help you meet the financial mark. Still, if you have that kind of cash lying around and you want the red-hottest center console on the Bay, the 420 LXF is your kind of boat.
This over-the-top nature isn't just limited to gobs of power and tons of LOA. Construction is cutting edge with the entire hull being vacuum-bagged and epoxy-infused. The boat is designed with a double-stepped hull to squeeze out every mile per hour and boost efficiency. And an utterly mind-blowing list of standard features includes big-ticket items such as an eight-kW generator, console cabin and helm station air conditioning, C-zone digital switching, three 16-inch Garmin 7616 MFDs, and an eight-speaker Fusion Bluetooth stereo system.
There's not a whole lot left to wish for, though we wouldn't take delivery without the Seakeeper gyro-stabilization system. If you haven't been on a boat with a Seakeeper just yet, you've got to take a sea trial to believe it. The unit eliminates 70- to 90-percent of the side-to-side rocking and rolling, and makes for a much more pleasant experience on the water. Scout's engineers designed in a spot for the Seakeeper under the center, aft-facing seat just behind the leaning post.
As far as fishing goes, in some ways the boat's size and massive corral of power may be something of a hindrance. Trollers won't mind one bit since they always land fish on the hip, but light-tackle casters may have difficulty dealing with the long reach to get around those outboards. Then again, they could just head up into the bow. There's enough room there for a half dozen anglers to pitch lures, while sunbathers relax on the forward console seat—which is really more like a lounger sized for two. Other fishing goodies include a huge tackle station built into the back of the leaning post, an 80-gallon transom livewell, seven gunwale flush-mounted rodholders, and an optional (be still my heart) upper station on top of the infused hard-top.
On a center console this big, naturally, you also get a fairly substantial cabin inside the console. And while the 420 LXF isn't exactly designed with extended cruising in mind, the cabin is more than sufficient for overnighting—hopefully, at the canyons. It has a small but full galley with a two-burner cook-top, microwave, refrigerator, and sink; a queen berth that can split into a pair of singles; and a fully enclosed, stand-up head. Scout even managed to find room for a rod rack, so you can stow your prized 30s and 50s safely away in there.
Despite the rather shocking power system, the gyro-stabilization, and the boat's sleek javelin-like appearance, when we were aboard the Scout, it was none of these things that impressed us the most. Instead, it was a rather mundane aspect of this grandiose fishing machine: the seating. No matter where you plop yourself down, you discover that you're uber-comfortable. The aft bench, the leaning post, the bow seating, and especially that forward console lounge, are all designed far better than we've come to expect from modern powerboats. The fact that Scout uses buttery soft Ultrafabrics Brisa upholstery doesn't hurt, either. And if you find leisure more interesting than fishing, you can add comfort-boosting features such as a transom-heated freshwater shower, a "summer kitchen" in the leaning post (with a grill, ice maker, and refrigerator), hardtop misters, a SureShade aft awning, or even a hydraulic "beach platform" that essentially turns the port-side gunwale into giant swing-down swim platform.
The bottom line? This is not a boat for the meek. This is not a boat for those on a shoe-string budget. And we're not even 100-percent sure this is a boat for the serious angler. But if you want the red-hottest center console on the Bay, the Scout 420 LXF needs to be on your short list.
Scout 420 LXF Specifications
LOA: 42'2"
Beam: 13'1"
Draft: 2'0"
Displacement: 16,800 LBS
Max HP: 1675
Fuel Capacity: 500 GAL
by Lenny Rudow