When we head out on the water, few of us are thinking about preparing crew for emergencies in the event of something going wrong. Unfortunately, when things do go wrong, they often happen in an instant, leaving little time to come up with a plan. Perhaps the captain is prepared—they know who to call, where the lifejackets are stored… but what happens if the captain becomes incapacitated? Does your crew know what to do? The next time you plan to go boating, sit down with your crew and come up with a plan to discuss safety onboard before departing.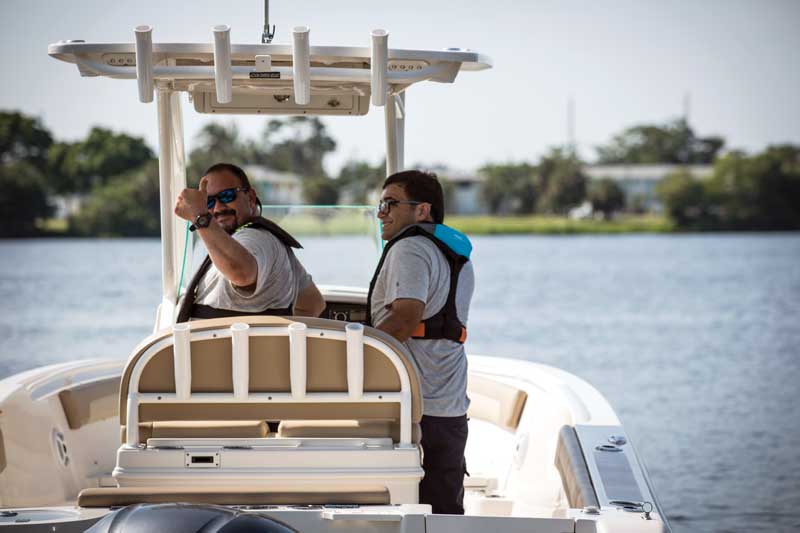 File a Float Plan
Whether you are going for an extended cruise or simply fishing close to home, a float plan can be a lifesaver. 
According to BoatUS, a float plan includes all of the pertinent information the Coast Guard will need in a search, including the names of the owner and operator of the vessel, description of the operator and passengers, and information about the vessel. It will also include info about your trip including departure date, departure location, destination, your planned route, if you will have a buddy's boat close by, and your expected return time. Also, consider adding another page with photos showing the make and color of the boat along with any identifying markings, and the size and brand of your outboard. And don't forget to notify your emergency float plan contact when you reach your destination and if you materially change your plans. Some details in float plans may vary depending upon the length of your trip. Download the BoatUS Float Plan here.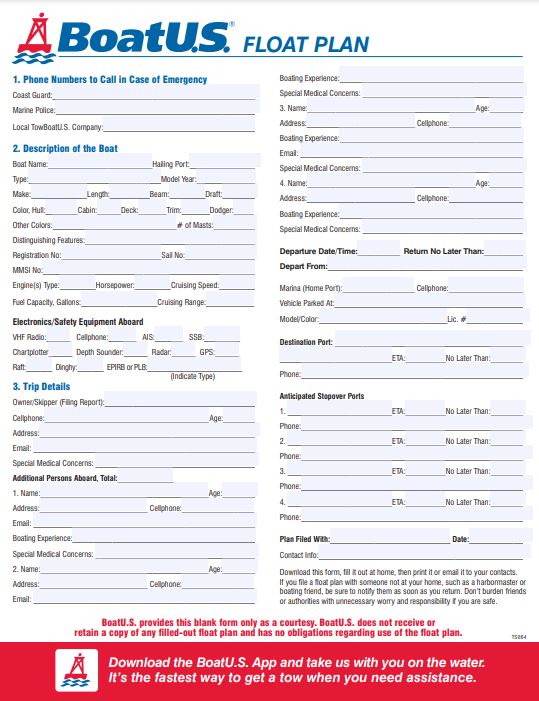 Pre-Departure Safety Briefings
After filing a float plan and before departing, be sure to conduct a safety briefing with your crew and go over a pre-departure checklist. 
Your briefing might include a reminder of the location and use of the most important safety equipment (such as lifejackets, fire extinguishers, and flares) the location of through-hulls and how to plug them, the location of the first aid kit(s), and any other information you think bears repeating. In addition to the "what and where" this is a good time to stress the importance of teamwork and the necessity of staying calm. Your foundation of preparedness will enable them to think and act quickly and with efficiency.
You can find sample checklists online through local power squadrons, BoatUS, or through Discover Boating, where this checklist was found. Download the Discover Boating checklist here.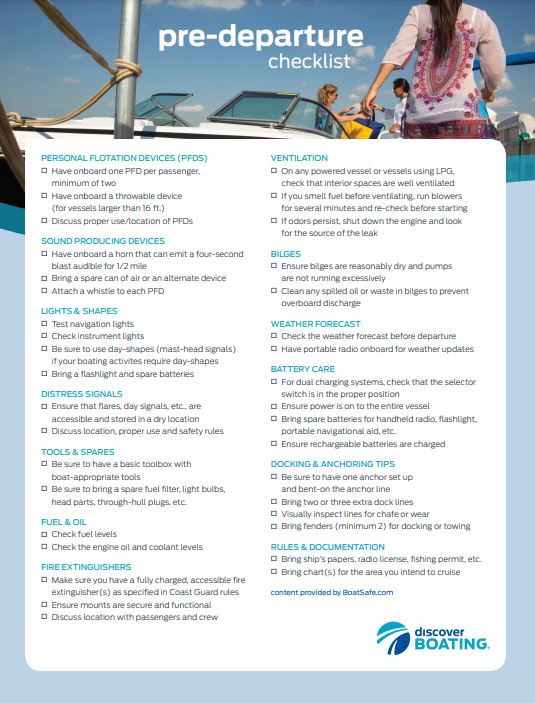 Safety Courses
In Maryland, the law states that anyone born on or after July 1, 1972, must possess a certificate of boating safety education in order to operate any motorized vessel. In Virginia, all PWC operators age 14 and older and all operators (regardless of age) of motorboats with a 10 hp or greater engine need to take a boating safety course.
So, what if you're a new boater in Maryland born before 1972—should you still taking a boating safety course even if the law does not require it? Yes! You will never regret the added knowledge, especially when it comes to safety.
Boaters can find online and in-person boating safety education courses through their local power squadron, boating club, sometimes local maritime museums, the BoatUS Foundation, or at boat-ed.com.
More advanced courses include Suddenly in Command and Safety at Sea. Suddenly in Command seminars are designed for those who are not normally at the helm who may find themselves "suddenly in command" if the skipper becomes ill, gets injured, or falls overboard. The course includes an overview of the basics you should know to be prepared for an emergency, how to minimize mishaps, and how to call for help.
U.S. Sailing's Safety at Sea seminar (for sailors and powerboaters) is widely recognized as the most thorough safety course offered for skippers and crew. Each Safety at Sea seminar includes lectures, written materials, and hands-on training in a controlled environment. Heavy weather, man overboard procedures, and communication are just three of the many topics covered. For those who can't make it to a seminar in-person, the course is also offered online.
In Annapolis, the Marine Trades Association of Maryland (MTAM) hosts an annual U.S. Sailing Safety at Sea program. Currently, MTAM is holding two dates as possible times to host the 2021 seminar, but it is still to be determined whether the event will be able to happen this year. Stay tuned to mtam.org/safety-at-sea for updates.
We don't often expect to encounter an emergency at sea, especially when going out just for a short cruise, but if you take the time to educate yourself and your crew ahead of time, that training will pay off should an emergency arise. Find more safety tips and downloadable checklists and float plans at proptalk.com. 
---