Powerboaters on the Chesapeake are going to want to mark their calendars for the annual Rock the Bay Poker Run August 2-3 in North East, MD! If you're not familiar with poker runs, know that they are a game of chance not a race. Speed has no bearing; boaters proceed to five different locations to pick up a card in a sealed envelope, and only the best card hand declares the winner. The envelopes must remain sealed until the awards presentation.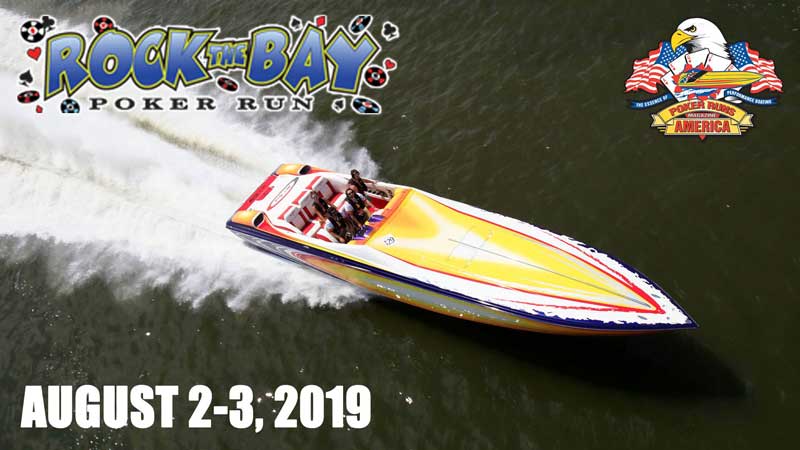 Rock the Bay Poker Run is presented by Poker Runs America. This is an annual favorite in the Upper Bay, with 50-60 boats expected to participate. And the good news is that any boat can participate. Just know that the route length from start to finish is approximately 100 miles, with some boats averaging a speed of 50 to 75 mph in open water zones. 
The action all starts Friday evening at the welcome party, which is a great opportunity for spectators to check out many of the boats at the Nauti Goose/Anchor Boat Marina, prepping for the big event. Saturday morning the first card stop will be at the event's home port, the Nauti Goose, during the mandatory driver's meeting where the route will be discussed, along with safety concerns and information on where to follow the pace boats.
"Safety is our number one concern and our motto for the past 30 years. Water on the water and beer on the pier; any alcohol consumption will result in disqualification," says Melanie Taylor with Poker Runs America.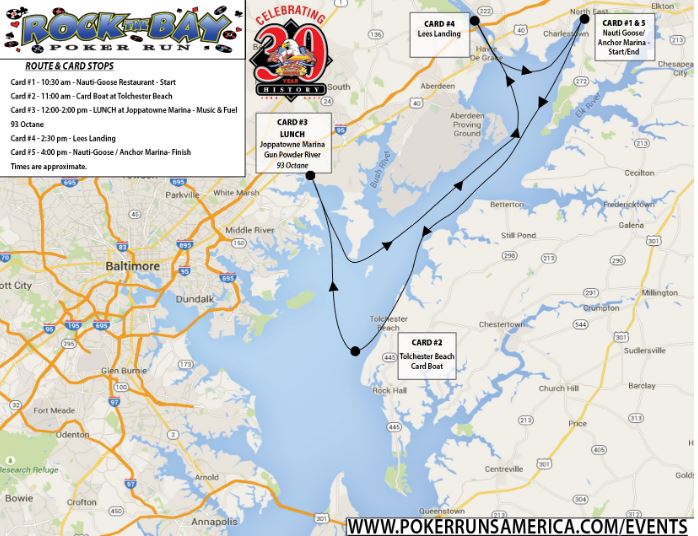 Stop number two is planned for Tolchester Beach, followed by a card stop and catered lunch at Joppatowne Marina on the Gunpowder River from 12 to 2 p.m. At lunch there will be live music, 93 octane fuel, and locals will have the chance to buy a ride on a poker run boat, with proceeds going to local charities. Stop number four will be Lee's Landing in Port Deposit on the Susquehnna River, before heading back to the Nauti Goose for the final card and card hand unveiling. The awards dinner is sure to be a blast with great food, the crowning of the poker champion, and live music. 
The entry fee is $495 for a boat with driver and navigator, which includes the Friday night welcome party, Saturday breakfast buffet, lunch, awards dinner banquet, official event t-shirt, cash prizes for first, second and third place winners, participant trophies, and awards for best graphic, best dressed crew, and best engine compartment. So why should a newbie try a poker run for the first time? Melanie says, "It's great camaraderie to meet people with the same passion, and it is a fantastic rush, especially at the starts and as the boats spread out and are being followed by our helicopter for action shots."
For more information and to register, visit pokerrunsamerica.com and the Rock the Bay Poker Run event on Facebook.