In a region rich with gorgeous scenery and welcoming cruising destinations,
Rock Hall
, MD, stands out from the crowd. Located on the Upper Eastern Shore, Rock Hall is spared from the beach traffic on Route 50, allowing it to retain an authentic Chesapeake country vibe. But make no mistake, refreshingly quiet doesn't mean spartan. Rock Hall is a small town with big amenities, especially for boaters.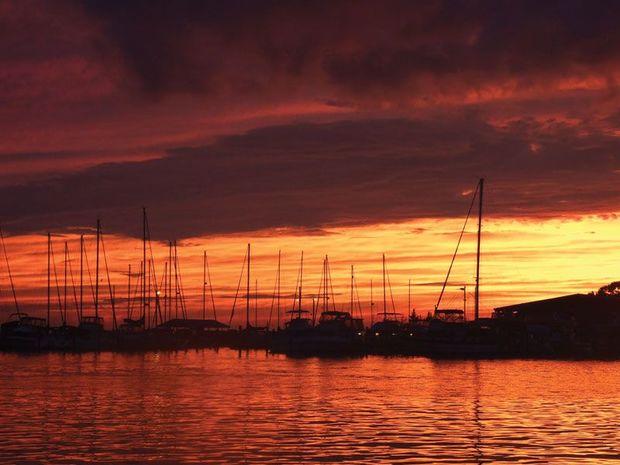 Rock Hall's history as an important boating destination dates back to colonial times. The town was once a vital crossroads community. Home to the eastern terminus of the ferry used by George Washington and other notables when traveling between Virginia and Philadelphia to attend the Continental Congress, Rock Hall's Main Street was part of the first road laid in Kent County. Locally-built sailing vessels, prized for their speed, carried Eastern Shore goods to ports as far away as the Azores. After the Civil War and the industrial revolution the balance of trade shifted, and fishing and tourism became mainstays of the local economy. According to town manager, Ron Fithian, there are two schools of thought as to how Rock Hall got its name. One theory is the town was named after "The Mansion House," a waterfront inn that sat on a big rock foundation. The other theory is the name came about as a misspelling of the term "rock haul," as in a big haul of the region's popular striped bass or rockfish. One thing is certain: Rock Hall has everything a boater could want or need within reach of its two harbors. Swan Creek is the more picturesque and quiet option, offering a choice between the full-service Haven Harbour Marina, the upscale Osprey Point Inn, Restaurant, and Marina, or the Swan Creek Marina with its large mooring field. Rock Hall Harbor is home to one of the region's remaining commercial fishing fleets. You'll experience more early morning noise and activity than over on Swan Creek, but the harbor provides easy access to Main Street and features Rock Hall Landing Marina, which caters to visitors with floating docks and ample transient slips. Moving between the harbors is easy enough. The town offers tram service for only $1/passenger. Tram hours vary by day, so call (443) 282-5058 to confirm the schedule.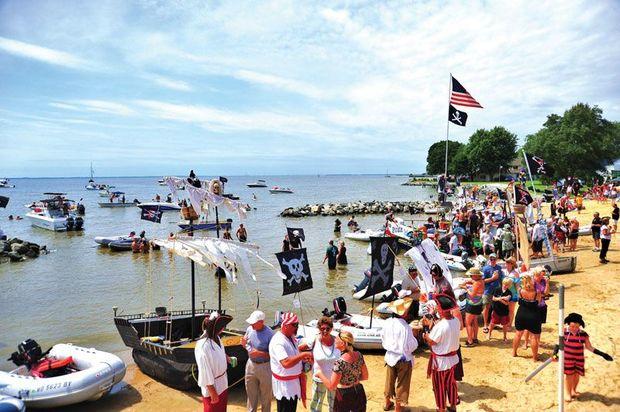 Six Surefire Ways to Have a Great Time in Rock Hall:
1. Dress like a pirate
We'd be remiss if we didn't mention Rock Hall's famous
Pirates and Wenches Fantasy Weekend
. On August 11-13 the town transforms into a bustling festival featuring live performers, artisans, wine and rum tastings, professional re-enactors, and the Upper Shore's best beach party, complete with a dinghy parade and limbo contest. Pro tip: don't miss the Buccaneer's Ball at Waterman's Crab House on Saturday at 8 p.m.
2. Go fishing
Whether you choose to go on a charter, use your own boat, or cast off the pier, Rock Hall is known for excellent fishing. Anglers can obtain licenses at the Ace Hardware or the Hook, Line, and Sinker bait and tackle store in town.
3. Treat yourself
Rock Hall has a quaint Main Street, complete with an authentic, old-fashioned ice cream parlor, Durding's, which is home to the DelMarVa's oldest continuously operating soda fountain. Check out the Hickory Stick boutique for one-of-a-kind handbags, clothing, furniture, jewelry, and more. Bonus: if you come during the Pirates and Wenches Fantasy Weekend, downtown transforms into a big shopping district with handmade crafts and unique goodies you won't find anywhere else.
4. Learn something new
Explore Rock Hall's vital role in the development of the Eastern Shore at the Rock Hall Museum on Main Street, or check out classic log canoes and artifacts from the town's rich maritime past at the new Rock Hall Marine Restoration and Heritage Center on Chesapeake Avenue.
5. Eat crabs
Despite the decline of the crab fishery in recent years, Rock Hall is still very much a crabbing town. Waterman's Crab House on Sharp Street serves up some of the best with a view. Ford's Seafood on Rock Hall Avenue is another excellent option, and it is open for breakfast. Be sure to check out the oyster stew.
6. Enjoy the view
Catch the sunset and let the kids cool off at Rock Hall's swimming beach and gazebo in Ferry Park on Beach Road. Or travel down the peninsula to Eastern Neck Wildlife refuge for kayaking, hiking and bird watching.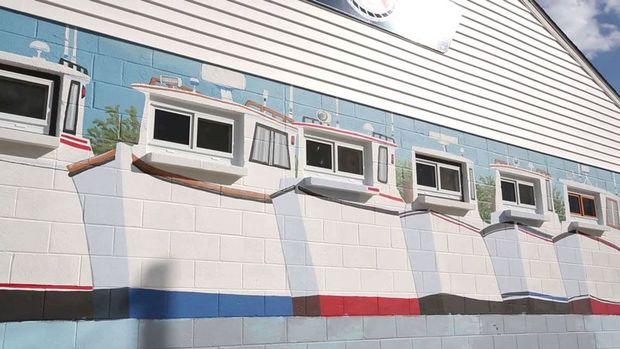 Bottom line:
There's a reason Rock Hall is a finalist in the Reader's Digest's "Nicest Place in America" contest. This place is easy to love. Come for the stunning sunsets, the small-town atmosphere, or the fishing, you won't be disappointed.
by Leslie Toussaint