Historically, Smith Island crab skiffs were used by watermen to navigate through the shallow waters around Smith Island to catch soft crabs. During prohibition it is said that crab skiffs were used by rum runners to secretly offload liquor and bring it to shore. Speedy, because of the fairness of the longitudinally planked design, they became a race boat class very early on. Today, a small but dedicated and growing group of individuals build and race replica Smith Island Crab Skiffs around the Bay. Apart from the fun and competitive nature of these races, the organization hopes to preserve and share the heritage of these historic boats.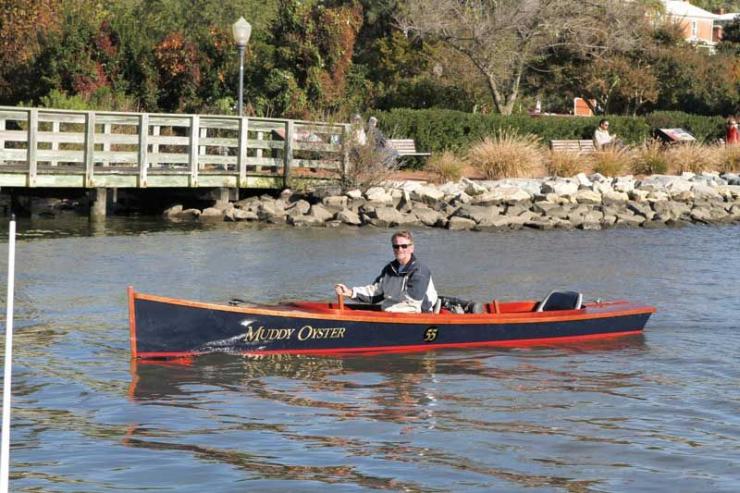 Rick Loheed has been involved with the Smith Island Crab Skiff Association for the past five years and president of the association for 2017. Apart from serving as the group's president, Loheed is also a senior marine engineer with Island Engineering, Inc., assistant director of the waterfront at St. Mary's College of Maryland, and holds a 100 Ton Captain's license.
About five years ago Loheed heard of a crab skiff race at Tall Timbers Marina in Southern Maryland, and was soon after persuaded by a friend to build their own boat. He was one of three owners/builders. Doing it with friends he fondly recalls, "It takes a lot of beer to build a crab skiff…" That first skiff was named the Twisted Oyster and was built to the exact shape specifications received from the Smith Island Crab Skiff Association. Boats can vary in their construction with weight anywhere from 200 to 800 pounds, but each boat must fit the minimum guidelines, such as a prescribed four inches of rocker, a minimum 18-foot length, and 42-inch minimum beam.
To account for variances, there are three different classes in the race circuit. Class A boats are built based on original museum plans from the Chesapeake Bay Maritime Museum in St. Michaels, MD. Class B consists of semi-modified boats constructed of lighter weight materials, and Class C boats are "super modified" with light weight construction. All the boats use similar 20-21 HP V-Twin air cooled utility engines such as a Kohler, Briggs, or Honda.
Loheed's second boat, the Muddy Oyster, falls into the third category. Its name comes from the Thailand long tail mud motors, an inexpensive utility motor shaft system that Loheed was able to modify for inboard installation on his crab skiff. He began construction on Muddy Oyster in 2016, originally for a client but Loheed admits, "I wasn't building fast enough so I had to buy him out." Though that was difficult he now believes it to be an act of serendipity that he was able to keep the boat and race her himself.
The shop existed due to previous model building work for the U.S. Navy but from those two projects, Twisted Oyster Boatworks was born. Loheed is able to offer design, marine engineering, and fabrication work, including cutting plywood kits for customers. He says cutting the plywood parts is easy, but he describes the table saw and steam bending work for the rest of the kit parts as labor intensive, preferring the builders handle that part. He has successfully improved his shop's metal working capabilities to provide all the required parts, including propellers and clutches, intending to turn it into a full time business when he retires.
If you purchase a kit, it comes with a modular build cradle and build documents. With the next boat kit made already, Loheed is beginning video documentation of the build process from start to finish to put on YouTube. So building your own boat with help from Twisted Oyster Boatworks is a definite possibility.
If you're hoping to take up a new hobby, you'll want to see these boats in action. The association hosts various events around the Bay from about May to October. Stay tuned on the group's Facebook page and in our calendar for a 2018 schedule.
When it comes to acquiring a boat, you can either build your own or purchase one. On the Facebook page you will find at least three crab skiffs for sale for very reasonable prices. The organization also owns a few boats that they make available for would-be racers to campaign in support of promoting the legacy of these elegant racers.
While awaiting the start of the 2018 season, Loheed is planning his next project. He hopes to take the Muddy Oyster from his home near Point Lookout to Smith Island, but knows it will take some serious planning to make sure weather and water conditions are just right. Until then we'll be anxiously awaiting a report. To learn more about Loheed and his kits, visit twistedoysterboats.com. For timely updates on the Smith Island Crab Skiff Association, visit their Facebook page.