The acronym RIB (Rigid Inflatable Boat) usually evokes visions of tough, no nonsense military or first responder vessels dashing through big waves to complete a dangerous mission. According to Matthew Velluto of Ribcraft USA, that image is quite accurate and accounts for about 80 percent of the company's production. The remaining 20 percent is for recreational use and encompasses a range of nine models from the 16-foot 4.8 to the newly introduced Express 32, all built to the same demanding military specifications.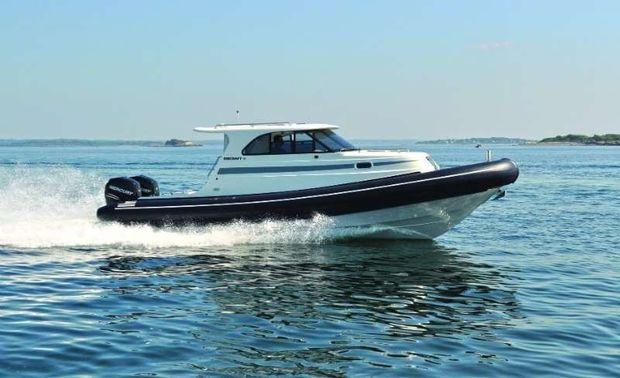 The new 32-foot pilot house design is the company's first venture into the small cruiser market. I asked Matthew what advantages a RIB offered a potential owner. "Most obviously the tube offers you a built-in fender, one of the reasons that RIBS have always been popular as tenders and launches," he replied. "Also, the tube sits just above the boat's at-rest waterline. This allows it to function like a stabilizer or sponson, allowing a much more aggressive deadrise to the bottom without sacrificing low speed stability." Indeed, the 32's deadrise forward is 60 degrees, flattening to 21 degrees aft. "The tube functions like a big spray rail, deflecting the water out and down, ensuring a dry ride in all but the most severe conditions. The heavy duty tubes have seven separate air chambers and relief valves, providing lots of flotation."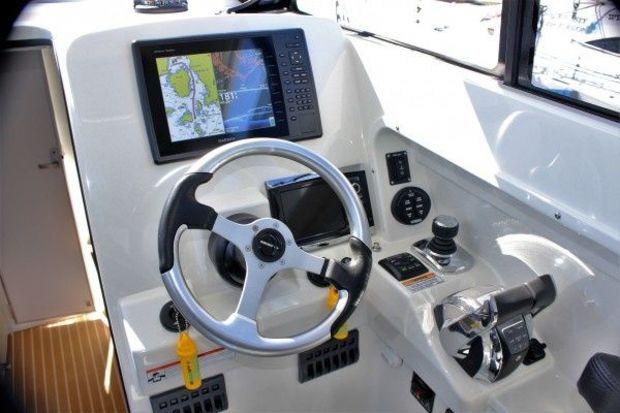 As we motored out of Spa Creek into the Severn, the advantages of that aggressive deep V hull quickly became apparent. The twin 300-hp Mercury Verados kicked the boat up on plane effortlessly, and we soon topped out at close to 50 miles per hour. At that speed you could feel the one- to two-foot chop on the river, but just barely. As advertised, the ride was dry and dropping down to the normal cruising speed of about 30 miles per hour made even the feeling of the chop go away. Visibility through the large pilot house windows from the swivel helm seats is excellent. The 32's deep vee runs flat at speed, adding to the all-around good visibility. After several high speed runs, full throttle turns, and quick stops, during which the 32 performed as if she was on rails, we tried some low speed, displacement-mode maneuvers. Our 32 was equipped with the optional Mercury joystick controlled Verado system which provides excellent low-speed control, even allowing the boat to move sideways against a 10- to 12-knot wind, in spite of the deep vee hull, a great confidence builder in docking or maneuvering in close quarters.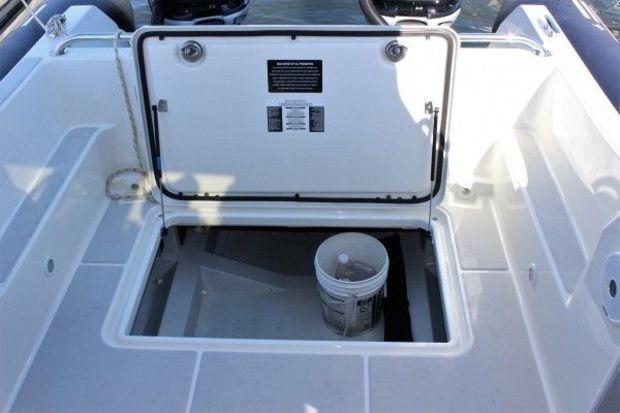 "This boat would make an ideal first small family cruiser," says Matthew. "With the list of options available, it can be easily configured as a day boat or a weekend overnighter. One big advantage for families with children is the RIB design has no side decks or foredeck, so there is little risk of someone going overboard while handling lines or the anchor." To demonstrate this safety feature Matthew showed how one has full access to the anchor windlass, anchor, and mooring bitt by going forward through the cabin and a forward hatch. The other cleats and deck hardware are positioned on the hull within easy reach. "Another group which may find a RIB appealing is older boaters who are downsizing from a larger, more complex boat and want a simple but fast and comfortable boat for day trips or a quick dash down the river to a favorite restaurant." While simplicity is one of the major attractions of an outboard powered RIB, the 32 does not skimp on standard features. Included in the basic boat package are: an aft pilot house enclosure, six-foot-five headroom in the pilot house and six-foot-two in the cabin. There are two six-foot berths (with storage underneath) in the cabin and several deck hatches giving access to large storage areas in the hull. The cabin also includes an enclosed head with sink, mirror, hanging locker, and storage, as well as an 18-gallon holding tank and 35-gallon fresh water tank. A centerline walk-though between the outboards gives access to a retractable swim ladder, and LED interior lighting is supplied by three batteries, a built-in battery charger, and a shore power system with a 120-volt outlet in the cabin. When you add to this standard package the options available, such as heating and air conditioning, a full galley, a cockpit table, and a double berth that converts to a dining table, the 32 quickly becomes a very comfortable pocket cruiser.
by Capt. Rick Franke
Specifications
LOA:
32'3"
Beam:
10'3"
Displacement:
7000 LBS
Dead Rise Aft:
21 degrees
Dead Rise FWD:
60 degrees
Draft (ENG DWN):
2'11"
Draft (ENG UP):
1'1"
Draft:
0'0"
Max HP:
600
Fuel Capacity:
182 Gal.
Water:
35 Gal.