Father's Day is June 18, just days away. If you need a last minute (or belated) Father's Day gift, we've recently tested two watches designed with boaters in mind. 
Luminox Black Ops 8800 Series
Looking for a Father's Day gift your dad will actually appreciate? Boaters, anglers, and divers will appreciate the Luminox Black Ops 8800, a high-tech, good-looking piece of arm candy that is functional to boot.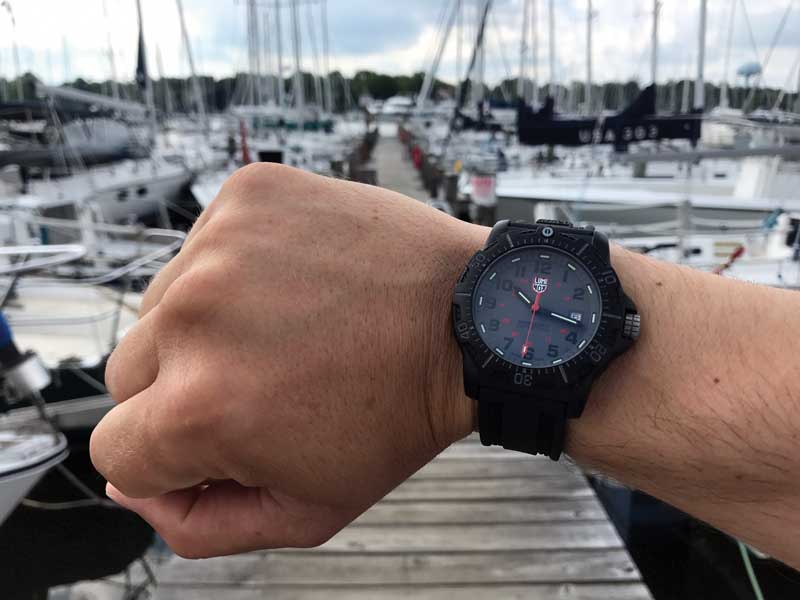 The watch itself has a minimalist look that is anything but (minimalist) in its construction. Reminiscent of aviation instruments, the case itself is made of a carbon compound with a sapphire crystal anti-reflective coating. Bright orange and green night vision tubes line the hours and hands, making it easy to tell the time when you're in the dark (or the deep; she's waterproof to 660 feet). The band is polyurethane, which we expected to deteriorate over extended periods in saltwater, but we were wrong. 
The best thing about the watch is that we can wear it straight from the boat to a dinner party. This is a tough watch that's also sharp; just like Dad. 
Reactor Atom Never Dark Watch
After an evening of wearing the Reactor Atom watch while fishing on the Chesapeake, here is what we had to say. Once you slip this watch on to your wrist, you immediately feel the weight of the robust stainless steel build. It is plated in black nitride and it appears that this rugged watch will hold up to years of abuse. Despite its weight this watch is very comfortable to wear due to its supple yet sturdy rubber wristband. The steel buckle is well made and easy to affix, and the retaining hoop utilizes a raised Reactor logo to keep the tag end of the strap in place. The watch features a triple O-ring screw down crown to ensure total waterproofing once you have set the time and date. Speaking of water resistance, the Atom is rated for depths up to 660 feet.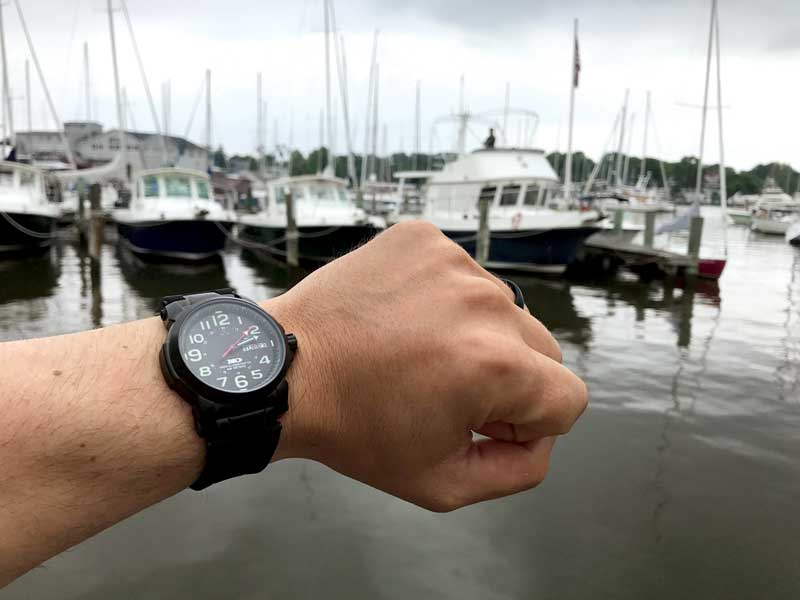 Perhaps the most intriguing feature of this watch is the Never Dark illumination. At dusk, we pulled into the boat slip, and the watch face began to reveal its luminous glow. It was after dark once the truck was loaded up, and the numbers and hands were now radiating with an intense green light. 
We'd recommend the Reactor Atom to someone looking for a solid, no-nonsense watch that can stand up to the wear and tear of an outdoor lifestyle. Oh yeah, and one more thing. The watch comes with a metal case that doubles as an insulated can koozie with a non-slip bottom that will help keep it from sliding around your console. 
---
For more product reviews, visit our Boating Gear Reviews page.