Fans of powerboat racing may be surprised to learn that several remote control (RC) model boating clubs are active in our area. These clubs bring together RC model boat racing enthusiasts who compete with models that often look a lot like the real thing. Races and practices take place on local ponds most weekends throughout the season.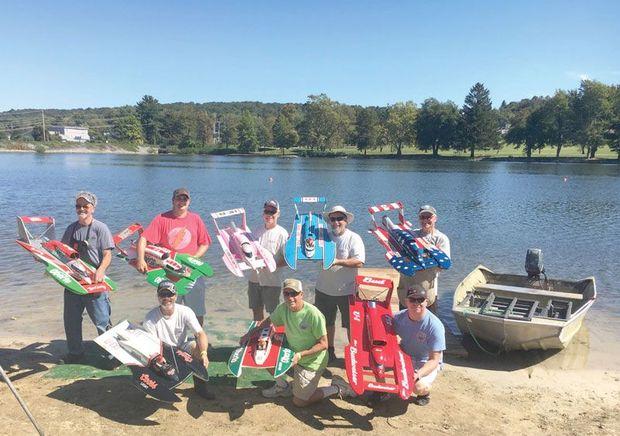 Mike Faszcza, president of the Capitol RC Model Boat Club, says "Our club members originally ran boats in the reflecting pool on the mall in Washington, DC, but today we race in a pond in Centreville, VA. We have about 20 members who really enjoy sharing our hobby. In our area the larger clubs generally run serious racing series every weekend, and the smaller clubs have less formal weekly racing, with a couple of district-wide races per year."
Although ready-to-run boats are available for purchase, Faszcza builds his own model boats. "I got involved with RC racing after leaving drag bike racing due to a rubber allergy," he says. "Building my own boats is another way to use my mechanical knowledge and ability." RC boats (other than sail) are powered by electricity, nitro-methane, or gasoline. Racing classes are based on hull type (mono, outriggers and sport, catamaran, or tunnel) and engine size. In addition, one-eighth scale boats (mini replicas) compete in both judging and racing in their own scale unlimited class.
Want to give RC model boat racing a try? The Capitol Boat Club website has tips for getting involved and links to RC boating club forums and vendors. The next time your local club meets or races, stop by and walk around. Talk to the racers and ask questions. Clubs welcome new members.
Several International Model Power Boat Association (IMPBA) clubs operate in our region: Old Dominion Model Boat Association in the Norfolk area; Capitol RC Model Boat Club out of Centreville, VA (Washington, DC area); the RC Model Boaters of Baltimore (which also has members from the Frederick, MD, area); Richmond Area Model Boat Organization; and the DelMarVA Model Boat Club. Most don't have websites, but you can find them on Facebook.