The Chesapeake Bay lost a true champion December 12 when Senator Bernie Fowler died at the age of 97. Although he served as Calvert County Commissioner from 1970 to 1982 and as Maryland Senator between 1983 and 1994, for boaters on the Bay, he may be best remembered for his advocacy for water quality on the Patuxent River.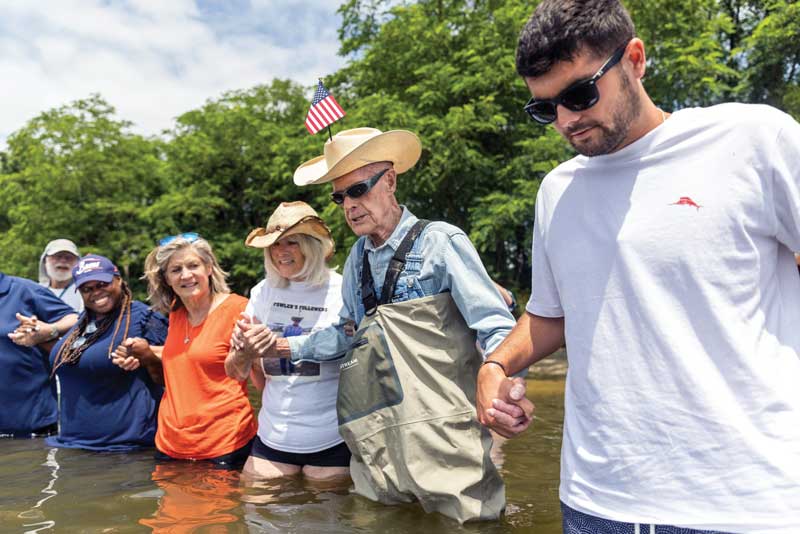 As an angler, Fowler noticed the decline in water clarity on his beloved Pax; it led him to run for public office and focus on the health of the river. In 1988, he created a "wade-in" event to bring together politicians, including governors, and other high profile community members to step into the water and see how it looked and felt. Fowler's annual wade-in at Jefferson Patterson Park, during which residents walk into the river until they lose sight of their shoes—or in his case, his signature white sneakers—has been a fun community and media event, yet stark reminder of water clarity and how it changes. The "sneaker index" will live on.
"Water clarity is critical for the survival of underwater grasses, which help keep Bay water clean by absorbing nutrients and provide shelter and food for wildlife," notes the Chesapeake Bay Program in its blog post about the wade-in. "Water clarity is also a good indicator of the amount of nutrient and sediment pollution that exists in a river. Heavy rain, like what occurred in Maryland a day before the (2021) wade-in, can increase stormwater runoff, allowing additional pollution to flow into the water."
Fowler remembered in the 1960s when he could see his sneakers 57 inches below the surface of the water. At the 2021 event, he stopped seeing them at 34 inches deep.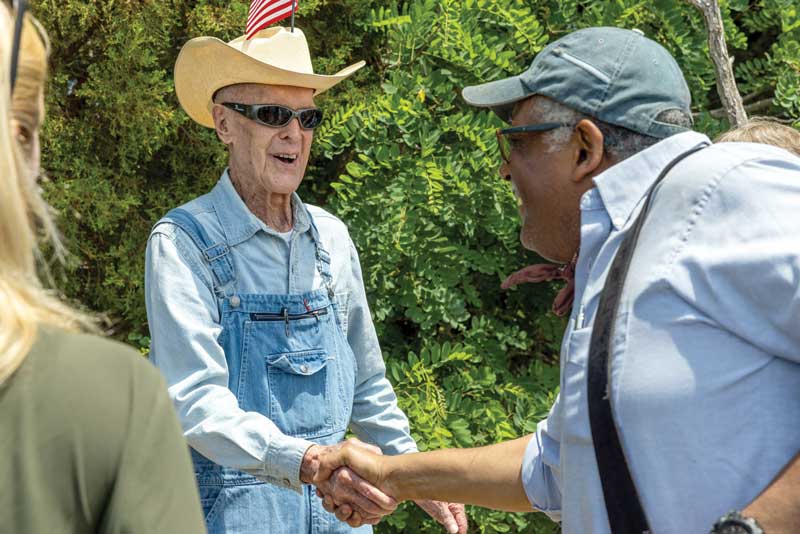 Chesapeake Conservancy president Joel Dunn notes, "In public service for his community and for Maryland, Bernie Fowler championed the health of the Chesapeake Bay… With his annual 'wade-in' to the Patuxent River, Bernie became a guide to the Chesapeake. Like the pull of a magnet, Bernie shepherded us all into the waters of the Patuxent—politicians, environmentalists and everyday Marylanders—to see with our eyes and to feel the Bay's waters, to experience the immediate and deep connection we have with this treasured resource."
Chesapeake Bay Foundation (CBF) president William C. Baker said, "Senator Fowler was a great CBF partner. He was a co-plaintiff in our 2009 lawsuit to compel EPA to enforce the Clean Water Act which led to the current Clean Water Blueprint for the Bay. And beyond his leadership for clean water and a restored Bay, his tenacity to restore his beloved Patuxent River will be sorely missed."
Dunn saluted Fowler's many years of dedicated service to the Chesapeake Bay. He said, "Like the sands beneath our sneakers during those summer wade-ins into the Patuxent River, Bernie will always be a part of the Bay, and his legacy will continue to inspire and lead us wading into the water."