The time is now to start researching Chesapeake Bay kids' camps if you hope to have your child enrolled this summer. Summertime brings out the kid in all of us. Just as parents and grandparents look forward to spring commissioning, children look forward to their summer activities. For boating families, many kids' programs in our area focus on exploring shorelines, fishing, paddling, wakeboarding and skiing, and learning about the Bay's ecology. 
Pick a program
The variety of camp choices around the Bay is impressive. Before asking for input from your young people, figure out what will work best for your family schedule and budget. Is a half day program logistically possible? Is a full day too much for your little one? Is your child ready for an overnight experience?
Next, talk to your children. What type of outside activities do they enjoy? Do they love the rush of flying across the water's surface on a tube or skis? Would they prefer to paddle along the shoreline? Maybe they're smitten with fishing. Or, perhaps they are curious about the history and ecology of the Bay. 
Finally, think about your child's personality and temperament. Some kids need lots of structure. Others do better with a more laid-back approach. Some kids are all about water sports, and others are into the science of the Bay. Luckily, parents can find all these different types of programs in our area. 
A final, but very important consideration, is whether your child wants to spend all week, every day working on one skill—for example sailing, fishing, or wakeboarding? Some do, and that's great, but other kids really will be happier with a variety of options. If they're not driven to excel in one area, they may just enjoy time to goof around on paddleboards, try a little fishing, and take turns tubing. Often these kinds of camps weave seamanship, Bay history, or ecology lessons into the fun.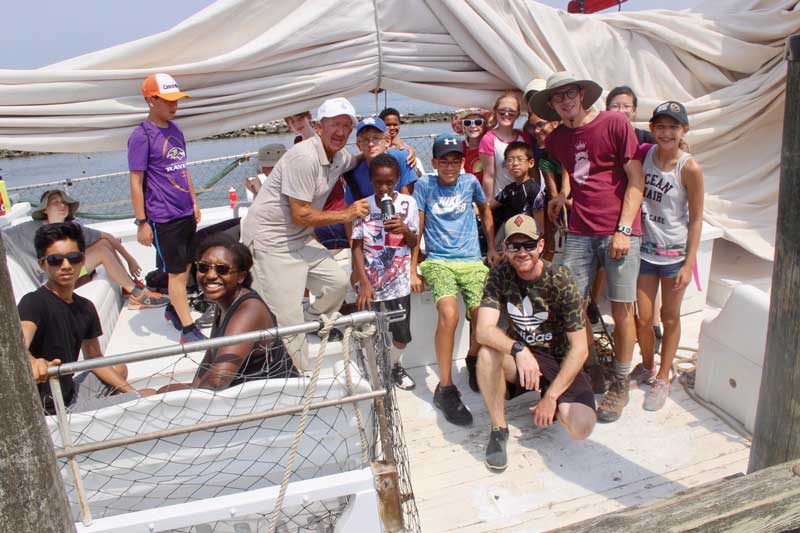 Check out the camps
Do some online research, make a call, or visit a camp's open house. Talking to the director and to former campers and parents and visiting the facility are also good ways to help you decide if a particular camp is right for your youngster.
You'll be surprised at the many kinds of organizations that offer quality summer programs: state and county recreation departments; non-profit organizations including maritime museums; research centers and schools; sailing schools and boating clubs. Many of the private yacht clubs open up their summer programs to the public, so if you've heard or read about one that sounds good, don't presume you have to be a member to enroll your child. 
Sometimes general residential camps have options to specialize a camper's activities. For example, Camp Letts in Edgewater, MD, has a special sailing program, and Camp Silver Beach in Jamesville, VA, offers a special wakeboard and ski program. If you're looking for a day program for skiing, the Upper Chesapeake Ski Club in Elkton, MD, is a family-oriented club that offers summer water ski clinics for all ages (that means you too, parents!). 
You'll find that some summer programs aren't confined to a traditional campground setting. These very cool programs get kids out to new places. Middle school and high school students can explore the Bay with the Sultana Education Foundation, which takes older kids and teens on multi-day trips aboard their schooner Sultana, where lessons of seamanship, navigation, and STEM (science, technology, engineering, and math) are woven into the days' activities, and the kids have plenty of opportunities to get off the ship for swimming and exportation. The Sultana Foundation also offers multi-day kayak trips for older kids, with plenty of time to explore, learn about Bay history and ecology, cook on a campfire, and sleep in tents. 
The science of the Bay
Many smaller and less well-known niche camps focus on the interests of budding young scientists. For example, the Chesapeake Bay National Estuarine Research Reserve (CBNERR) and Virginia Institute for Marine Science (VIMS) offer programs for kids in grades 1-8. The camps are free thanks to support from private donors. The focus is on learning about wetlands, environmental stewardship, and general Chesapeake Bay exploration. Campers explore marshes and wetlands, seine in the York River, handle a dip net, and use microscopes and field guides. On the Eastern Shore, older campers visit lagoons, canoe, explore barrier islands and mud flats, study dune ecology, and more.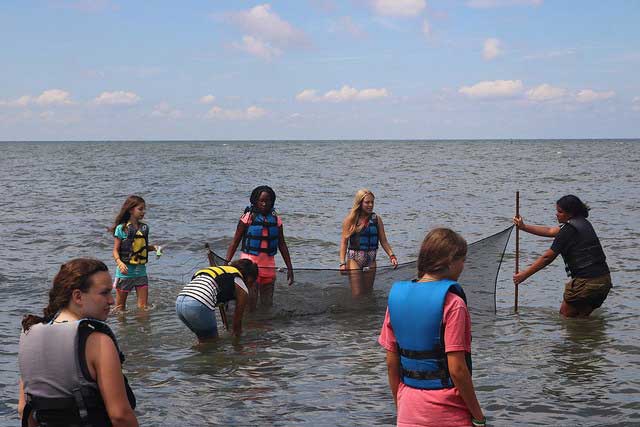 Another interesting program on the Eastern Shore is held at the University of Maryland Horn Point Laboratory in Cambridge, MD. A unique science education camp for teens offers the opportunity to explore and investigate local ecosystems. The campers, who must be motivated students, work alongside scientists and professionals to develop possible solutions to some of the issues facing the Bay's watershed. This program is for middle and high school students and is offered by NorthBay, in partnership with the Maryland State Department of Education at the RAMS Center for Chesapeake Bay Ecosystems Research. 
The time is now
Every parent knows that the end of school sneaks up quickly. Camps fill up early, so now is the time to check out the programs at your local parks and recreation department, nearby yacht club, boating club, or maritime museum. Check in now with the parents of your child's friends; kids love to be with their buddies, and parents love carpools. Don't miss the summer fun! 
Good Questions to ask before enrolling your child in a summer camp or waterfront program:
What kind of boats do you have; how are they maintained?
How do you handle safety?
How do you select your counselors?
What is your counselor-to-camper ratio?
Is lunch provided?
What are the activities during bad weather?
Are there any extra fees?
Do you offer aftercare?