The Navy's elite flying squadron, the Blue Angels, will be back in Annapolis Tuesday May 21 and Wednesday May 22, when Annapolis area residents, Chesapeake boaters, and Midshipmen and their guests turn out for what is always a breath-taking performance by some of the Navy's best aviators.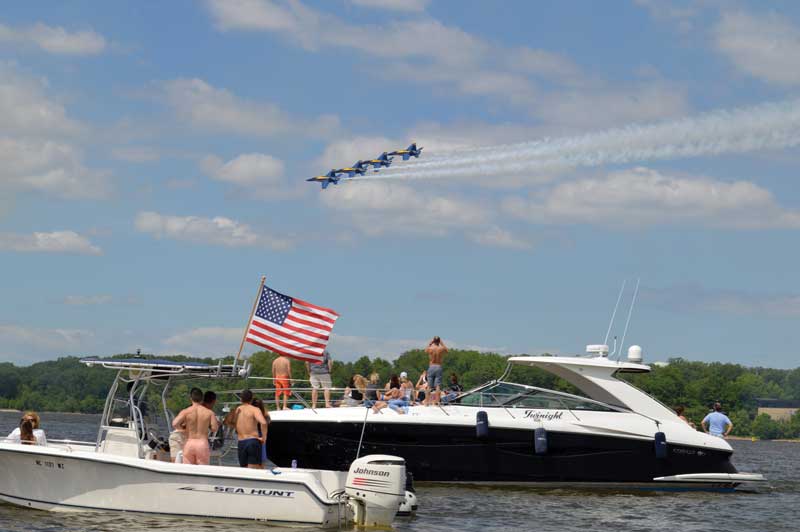 On a sunny day this special show draws so many boats that it seems you could skip across the water on their decks. On either side of the river are plenty of nice places to anchor. Many boats raftup, and small sailboats and kayaks weave between the larger vessels. A little bit of common sense and courtesy go a long way in close quarters. Remember that you bear the responsibility of avoiding a collision, regardless of who has the right of way. VHF channels 13 and 17 broadcast general safety messages including weather forecasts. Emergencies can be communicated to authorities on VHF 16.
Tuesday, May 21 the Blue Angels are scheduled to rehearse from 11 a.m. to 1 p.m. and again at 2 p.m. The Route 450 Bridge over the Severn River will be closed from 10:45 to 1 p.m. and from 1:45 to the end of the afternoon rehearsal, approximately 4 p.m. May 22 is the main event, from 2 to 3 p.m. The Route 450 Bridge will be closed beginning at 1:45 p.m. until the conclusion of the show. 
The U.S. Coast Guard, Natural Resources Police, and the Annapolis Harbormaster will enforce marine restriction and boat traffic during the rehearsals and performance. On the Severn River marine traffic will be restricted from on the northwest side from shoreline to shoreline along the Route 50 highway bridge. To the southeast, the regulated area is bounded by a line running from the U.S. Naval Academy Light toward Greenbury Point. College Creek will also be restricted. Look for a temporary access channel near Horn Point for boats to enter and exit Annapolis Harbor. Call Coast Guard Activities Baltimore at (410) 576-2693 for additional marine restriction details. More commissioning week details may be found at usna.edu.