The Exumas Islands chain of the Bahamas is kind of a cruisers' eddy where boaters make appearances season after season. There's so much to see and do that it can take years to fully explore, and assuming you can cover these beautiful islands on a weeklong charter is laughable. However, a week may be all the time some of us have so when you get a chance to charter a powercat—as in from the Moorings in Nassau on New Providence Island—it's best to create a punchlist of highlights and get moving, or just pick a few and dial down to moving on island time.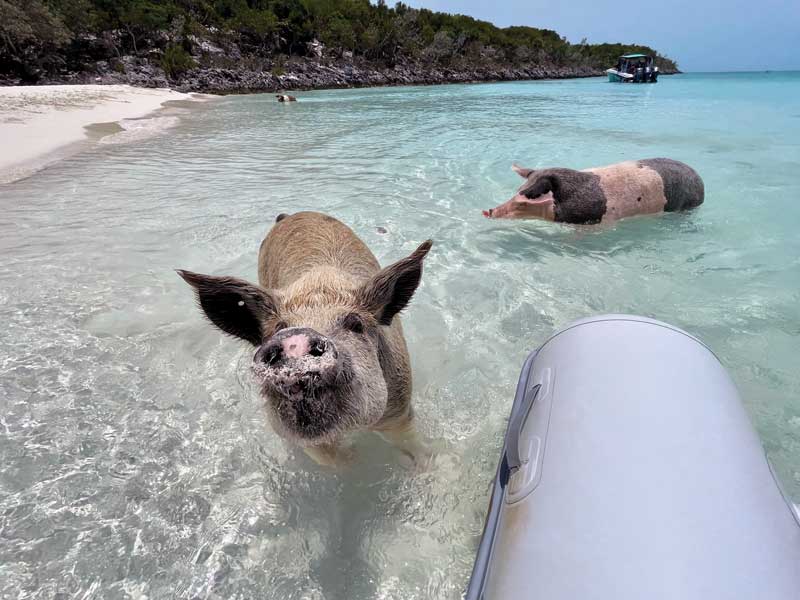 Allan's Cay 
Land a dinghy on any beach in this little circular anchorage and you'll soon be surrounded by iguanas that come running in search of a treat, such as fruit. The iguanas may look like little dragons, but they're pretty tame and really only interested in what you've brought them. The seagulls on the other hand are aggressive bandits and will poach goodies directly from your hand. The beaches all around are lovely, but beware of the current because it can make a spontaneous swim back to your boat long and intense. In settled weather, you'll be able to anchor here overnight. Otherwise, head a few miles farther south to Highborne Cay where you'll find a large, open, well-protected (in prevailing conditions) anchorage.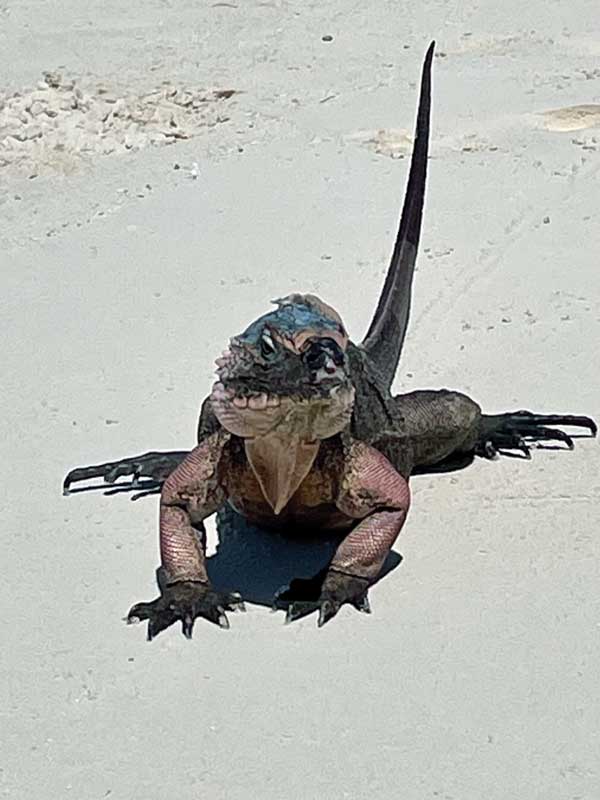 Norman's Cay
Just a few miles south of Allan's Cay is Norman's Cay with three major highlights: 1) a superyacht marina, 2) MacDuff's restaurant and, 3) a sunken drug plane. The last one is the real attraction. In the 1980s, Carlos Lehder of Medellin drug cartel fame saw one of his pilots miss the runway on Norman's Cay, where the drug lord was staging flights into the U.S. with his haul of cocaine from Colombia. The plane's fuselage is no longer above the water, but it's not hard to find. In fact, the plane is cracked open so you can snorkel inside or all around the wings and engines. Once you're done, MacDuff's on the western side of the island is a lovely bar and grill with both inside and outside seating. It's a great place for a cocktail and a fish burger. Finally, between the plane on the south side and MacDuff's on the west side is a large boat marina with a skinny entrance. Once inside, you'll marvel at the size of the boats that managed to squeeze in. 
Shroud Cay
This island is the entry point into the Exuma Cays Land and Sea Park, a 176-square-mile park with 15 major cays. Shroud has tidal creeks that can be explored by SUP or kayak, but one creek allows motorized traffic. Take your dinghy and meander eastward to the windward side that opens onto the Exuma Sound. The water colors are stunning as you wind through the mangroves, passing dozens of turtles and rays. It's pretty obvious when you've reached the last beach where you can pull up the dinghy. From here, take a short hike up to Driftwood Beach that will reward you with great views of the Sound. The real fun, however, is the water below. Jump in and let the current carry you out toward the last sandbar before open water. Then walk back and do it again. It's like a Disneyland ride without the long lines or high-priced tickets. The sand on this beach is so fine, it's like powdered sugar and compacts down so tight it feels like cement.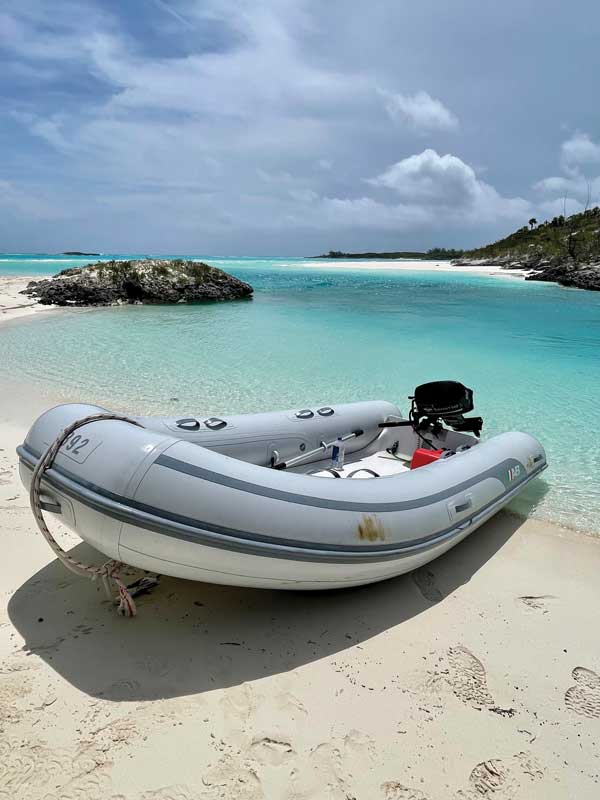 Warderick Wells
This is the headquarters of the Exuma Cays Park. It's a well-protected anchorage with moorings. You'll need to reserve one—usually by emailing a day ahead. (They're not inexpensive, though, since they're charged by both the length of the boat as well as number of passengers aboard.) This area is a photographer's paradise since an aerial shot of Warderick is worth the price of admission. Photos from the beach aren't bad either as the white sand mixes with the green and blue waters. A short walk inland and up a hill will bring you to Boo Boo Beach, a pile of driftwood inscribed with boat names. It's a sort of cruisers' shrine that keeps a silent record of all who pass, until the next hurricane blows it clean off the island. At high tide, you'll also see some impressive blowholes nearby as the Sound shoves waves into and up open-top caves. 
O'Brien's Cay
This area has two great attractions that are close to each other. First is the "Aquarium," a small rocky cove with tons of fish that are trained to be fed. Take bottles filled with oatmeal and water and squirt the mixture around. Soon you'll be completely surrounded by colorful fish as you snorkel on a very nice reef. A nearby mooring marks the spot of the wreck of a small plane in about 10 feet of water. Hook up to the mooring and you'll be right over the wreck since the line is actually fixed to it.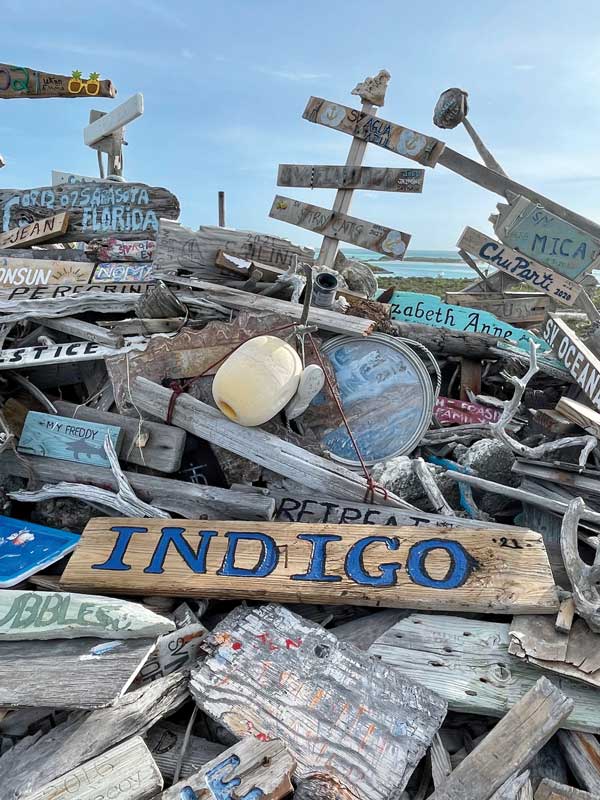 Big Major on Fowl Cay
The swimming pigs of the Exumas are world-famous. About 50 of them run around "Pig Beach" and swim right up to incoming dinghies looking for a handout. They're mostly tame but insistent and will relieve you of all sorts of organic material including watermelon rinds, bread, cabbage, carrots, and more. Some are quite mellow while others will follow you and grab at any bag in your hands. Presumably, the originals were left behind by sailors or pirates intending to return and feast on them later. Another story says that local farmers put them there to keep them downwind of town. Who knows how they came to be here, but they're a great attraction near Staniel Cay where you can stop by later for a drink at the yacht club and swim with nurse sharks in the shallows.
Thunderball Grotto
This cave is famous for being the location of a James Bond movie, and it's spectacular. Two tips on this cave: 1) try to go at lowish tide in the morning when there are few boats, and 2) take some reef shoes to make the trek up to the top so you can jump through the hole in the ceiling and drop 40 feet into the water below. 
The above attractions are in order from north to south, but you can skip some and pick them up on your return to Nassau. With a fast powercat, you can probably head even farther south to Black Point for homemade coconut bread or beyond. This is only a portion of the Exumas chain that has over 356 islands to visit. If you go only as far as Staniel Cay, you'll cover about 85 miles one way, so on a fast powerboat, it's possible to do all the above in order over the course of a week and then head back up in one day. Of course, why hurry? Remember these are only the highlights, and there's much more to visit in between, so slow down and enjoy island time. 
By Zuzana Prochazka