For the past several years, Team FishTalk/PropTalk has participated in the fall Fish For a Cure (F4AC) tournament, and it's always one of our favorite events of the year. This year's 17th annual tournament and Paul C. Dettor Captain's Challenge falls on Saturday, November 4. All funds raised through F4AC directly benefit the Cancer Survivorship Program at Luminis Health Anne Arundel Medical Center's (LHAAMC) Geaton and JoAnn DeCesaris Cancer Institute.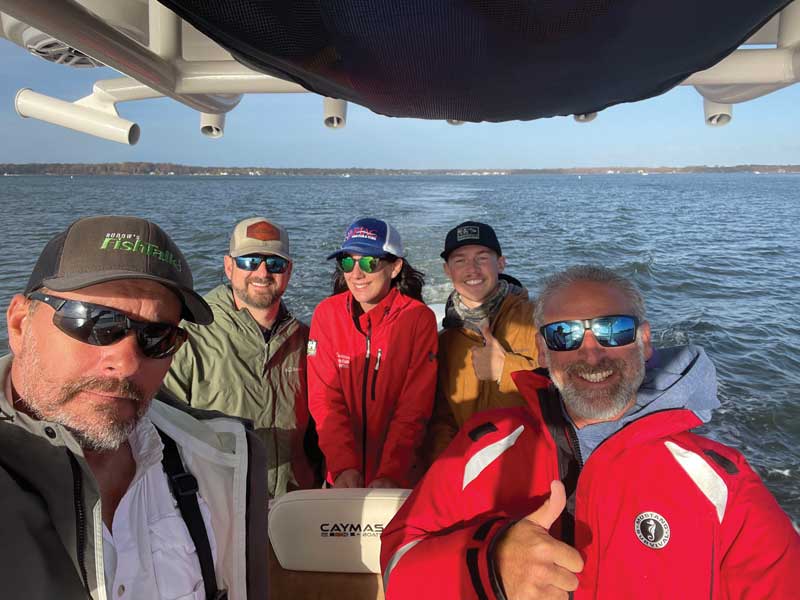 LH AAMC programs that are donor funded provide social, emotional, physical, and psychological support for patients and families as they navigate treatment and recovery from illness. Donations made through F4AC support people experiencing the unique challenges of a cancer diagnosis with access to critically needed psychosocial services, including nurse navigation, nutrition counseling, psychosocial well-being, and oncology rehabilitation services.
Best of all, there's more than one way to get involved in this awesome event, from fishing in the tournament to donating to a boat and attending the Shore Party.
If you would like to register for the tournament and fundraising challenge, there are two options this year: the Legends League (which consists of previous Paul C. Dettor Captain's Challenge winners. Teams that qualify for the Legends League can either opt into the new Legends League or remain in the Open League) and the Open League (which is open to any other boats registered for the event).
Registration costs $500 for a captain and three anglers (additional anglers can be added for $150 pp). A four-person kayak team may register as one boat. Because this is a fundraising tournament, all teams are expected to raise at least $1500.
This is a catch and release tournament, and all categories will be assessed by length in accordance with the iAngler application. Categories include the three longest striped bass caught per boat, the longest three-perch stringer, the longest stringer of three invasive catfish and/or snakehead (with no limit on the number of invasive species entered), and the Grand Slam which is the longest stringer of three unique Bay sportfish species (explicitly excluding rockfish). Fishing is allowed in the Chesapeake Bay and its tributaries. Find the full list of rules and prize categories at fishforacure.org/tournament/rules.
After a (hopefully) spectacular day of fishing, the Shore Party will be held that evening, November 4, from 5 to 9 p.m. at South Annapolis Yacht Centre. There will be food and beverages served from multiple bars, a dance floor, and the winners of the tournament and Paul C. Dettor Captain's Challenge will be announced at the party. For those not registered in the F4AC tournament, party tickets cost $150 per person.

All funds raised help support the same great cause. To help our team in the fundraising Captain's Challenge, visit fishforacure.org/get-involved/donate and in the box marked "Would you like to credit this donation to a specific fundraiser or team?" under the donation amount, just type FishTalk into the box and Team FishTalk/PropTalk will come up. Or visit fishtalkmag.com/f4ac.
Online Silent Auction Fundraiser
Each year our team aims to raise at least $10,000 for the cause and as in year's past, and as in year's past, we are hosting an online silent auction with some truly awesome items up for bid. Check out our Fish For a Cure Fundraiser Auction on FishTalk's Facebook page. Click on the photo of each item and then enter bids in the comments for the desired item. (Subsequent bids must be minimum of $5 increments. To be sure that you are seeing the current bids, click "all comments," then "view more comments." The auction ends November 1 at 5 p.m. and we will ask the highest bidder to make their donation to our team page on the Fish For A Cure website.)
Fish For a Cure is such a great event; we hope you'll join us this year!