Congratulations to Beverly and Eric DePietropaolo, the recipients of the 2018 PropTalk Volunteer of the Year award! Oyster restoration specialist Pat Beall of the Chesapeake Bay Foundation (CBF) Oyster Restoration Program says, "Bev and Eric started as volunteers with our tree restoration program nearly five years ago. Since then, they have become avid oyster gardeners, raising thousands of oysters each year for replenishing our sanctuary reefs.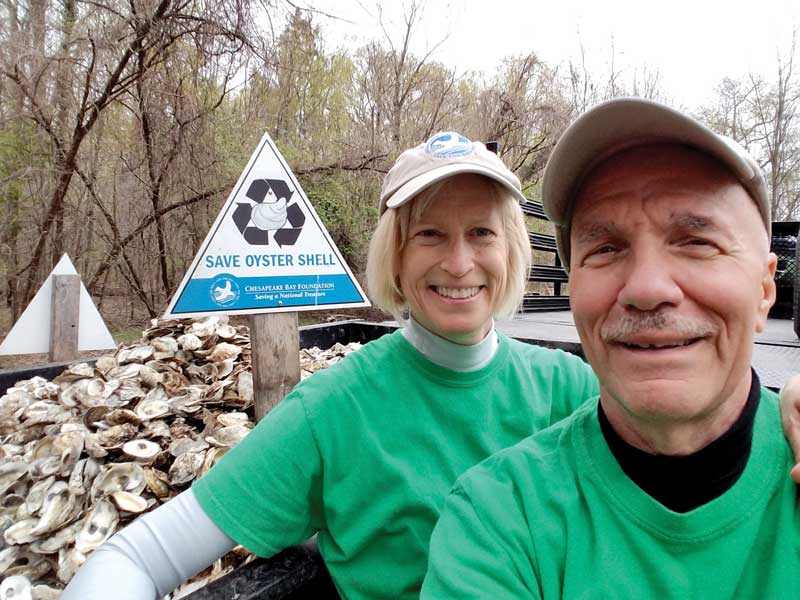 "Bev and Eric have grown to become key team members. They help out in all aspects of our oyster restoration program: crewing on board the research vessel Patricia Campbell, planting oyster gardening oysters aboard our Carolina skiff Oyster Stew, and most recently coordinating our northern Maryland shell recycling efforts. They have dedicated countless hours to the mission and have undoubtedly helped to plant millions of oysters into the Chesapeake Bay. Bev and Eric collect hundreds of bushels of oysters shell each week to help support our program. Our work would not possible without their support."
Bev writes, "We love being near the water. We love cruising our powerboat on the Severn, but we enjoy being in our kayaks even more, as you are closer to the water. Another hobby enabled by the water is fishing, but one of our favorite things to do is have happy hour sitting quietly in our kayaks or in the marina, and watch the wildlife and the sunset."
She continues, "As much as we love the Bay, we recognize that it is not the beautiful, clean body of water it used to be. If we are going to enjoy it, it is our responsibility to take care of it. That is why we volunteer with CBF. It is an organization where you can learn more and actively participate in making things better.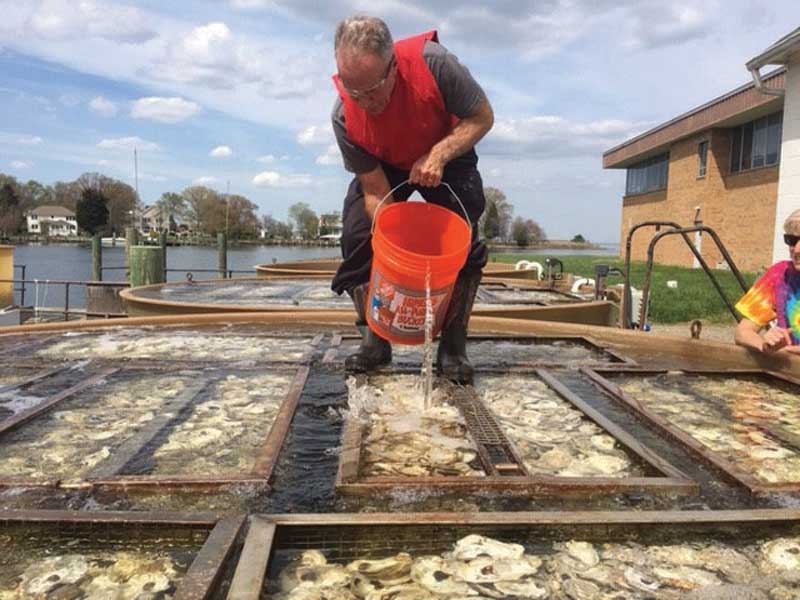 "Our main participation is picking up oyster shells from restaurants for recycling. Oyster shell reefs are the best thing for new oysters to adhere to and grow, and there is just not enough reef anymore. The recycled oyster shell is used by CBF in various ways to rebuild those reefs. It also enables CBF to engage the community with events that help the oyster population, as well as educating the public on the importance of this restoration. We feel that the work we are doing is helping make the Bay better for the community, and future generations."
Bev adds, "We also participate in the Severn River Association SAV (Sub Aquatic Vegetation) Navy, with Tom Guay. SAV is another key to restoring the health of the Bay. We go out in our kayaks and monitor what kinds of SAV we see, where it is growing, and how much is there."
Thank you, Bev and Eric, for doing your part to make our Bay a better place. We hope it will inspire other boaters to volunteer their time for great causes along the waterfront. PropTalk will make a donation to CBF in your honor.