We love boat motors that are petrol-free, and the latest to hit the water is the PropEle EP Carry electric boat motor, exhibited by Annapolis Hybrid Marine at the 2018 Miami International Boat Show this week. This little gem has a slew of features that you won't find on any other electric outboards.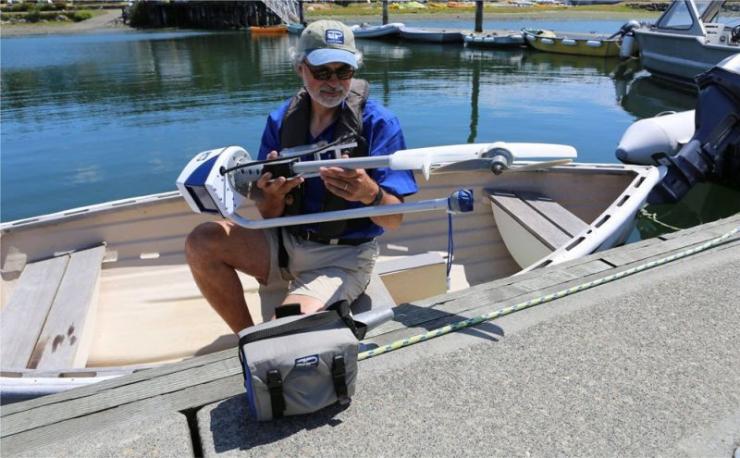 First, as for the motor itself: it has a slick swiveling tiller handle that folds flat along the motor for easy transport, but once deployed, can be used not only to control the motor but also to tilt it up out of the water and back down again—while the user remains seated. Considering what a hassle it is to lean back and tilt your average outboard, we think this feature is a total winner. So is the twist-control knob, which also shifts the motor into forward or reverse. For all electric outboards and for all electric boats, however, the key to utility usually lies in the battery it's matched up with. And in this regard the EP Carry continues to impress. It's powered by a waterproof lithium battery that weighs just 6.4 pounds and comes in a protective (and floating) case. A quick-disconnect allows you to carry the battery and the 14-pound motor separately, for easy transport. And that battery gets you 60 minutes of running time at full throttle. It also recharges in just five hours.
Just how much power does this electric outboard have? Nothing like a jazzed-up electrical speed machine such as the new Hinckley Dasher, but at 240 watts, it's about equal to a one horsepower gasoline outboard motor. That means you can expect to run at just under four knots in your average little dinghy you might use to explore the bay. The PropEle EP Carry lists at $1600, which is slightly under the price of big-name electric outboards of a comparable size, and it's made right here in the good old US of A (in Washington State). To learn more about this electric outboard, visit EP carry.