A hurricane packs a triple-whammy of destructive forces: wind, rain, and storm surge. A good plan that's well executed can protect your vessel. Since hurricane season in the mid-Atlantic area runs through November, now is the time to think through your storm strategy.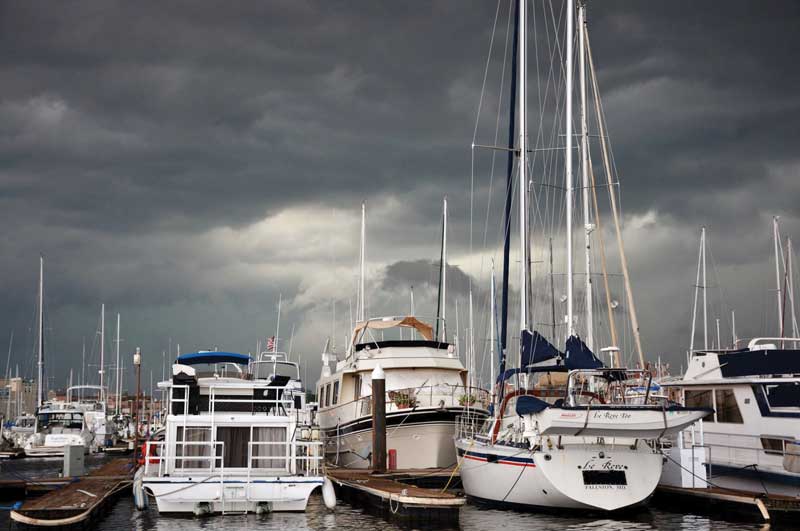 Your hurricane preparedness plan will be unique to your vessel, your risk tolerance (or that of your marina owner), your location, and the forecasted storm conditions. You may choose to move your boat to a nearby hurricane hole, haul and block it ashore, or secure it in its regular slip. If your boat lives at a marina, the operator may require that boats be moved to a hurricane hole or hauled and blocked.
If your boat is to be hauled, you'll want to consider extra blocking or perhaps strapping it down. Ensure (as much as possible) that the jack stands won't slip when the water rises and the wind howls for hours on end. If your boat is trailerable, taking it home to your driveway, an open field, or a protected area may be the best and simplest solution.
Wherever your boat rides out the storm, strip from it anything that might be ripped off by high winds or damaged by driving rain. This will include items such as electronics, bimini, extra fuel tanks, dinghies, important papers, loose gear, and fishing equipment. Add extra lines, larger lines, chafe protection, and fenders. Duct tape over points that might rub. 
Those who have seen a few severe storms know not to overlook the potential destruction from the storm surge. It can be devastating. Surges of 10 feet are not uncommon with hurricanes. Floating docks can be lifted from pilings by a high surge. Some cautious marina owners have installed 18-foot pilings to accommodate surge. Likewise, if you're counting on a seawall or spit of land for protection, a high surge may overcome a barrier that normally provides protection.
Boats with wide open cockpits or low freeboards can be particularly vulnerable to high waves. One loose boat in a marina can cause damage to other vessels and the marina docks. If you see proper steps haven't been taken to secure nearby boats, bring it to the attention of your marina operator, who should have a hurricane preparedness plan and likely has marina staff walking the docks to identify and address potential problems. 
Find more information about hurricane preparedness at boatus.com/hurricanes.