How many stories end with a madly in love couple sailing off into the sunset together? It's a classic trope for a reason. There's something romantic about being on a boat with that special someone, especially with Valentine's Day right around the corner (February 14)! But is it really all it's cracked up to be? For these Chesapeake powerboating couples, it's a resounding yes!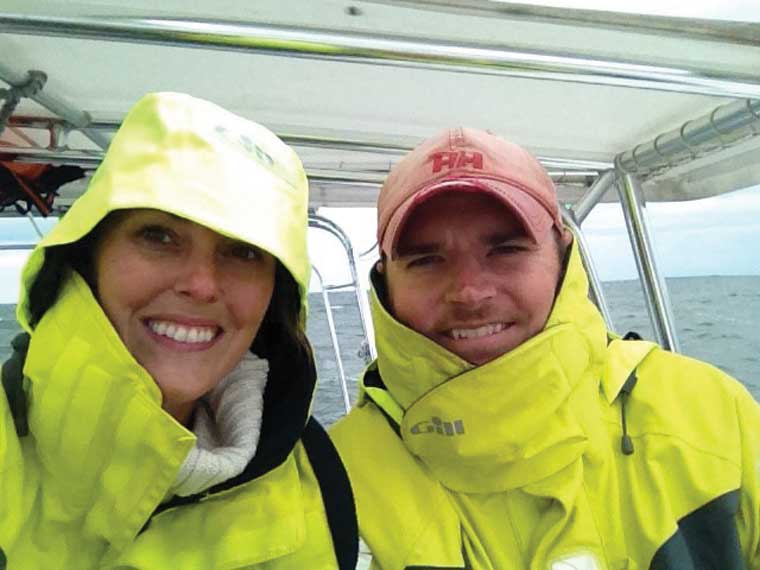 Matt and Deanna Sansbury
Matt and Deanna Sansbury are yacht brokers on the Chesapeake Bay—Matt at Bluewater Yacht Sales and Deanna at Annapolis Yacht Sales. We recently caught up with Deanna to discuss their dynamic as partners in work, and in life.
Did you both grow up boating or did you take up the hobby as adults?  
Matt grew up close to the water and had some experience on smaller boats growing up, but I didn't get into boating until my 20s. Neither of us grew up sailing with our families, so that was completely new to us!  
Tell me about your work as brokers.
We've been brokers for over three years now, and it's been great! Matt does power and I do sail. We often consult with each other on our deals and help find ways to overcome obstacles, get advice… It's nice that we can talk about work, but sometimes it's all we talk about! 
What kind of boating do you do in your spare time?
When we're not with clients on sea trials and surveys, we're usually out with friends slowly exploring the Severn River, or shooting down to Annapolis for dinner. Matt likes to fish when he can. Most of our time spent on the water is for work, but any time spent on the water is great for us!    
Are you planners or do you like spur of the moment outings?
Nowadays, we usually do spur of the moment, quick trips due to our schedules (especially during boating season!) which is usually a sunset cruise with friends and a cocktail. While we were living aboard our catamaran, we would plan trips on our electronic charts during the winter as something to look forward to for spring. It made the time pass quicker on those cold winter days. Sometimes we wouldn't even need to leave the dock—just being on the boat is like taking a mental vacation.
Do you have any advice for couples who would like to take up boating as a hobby?  
There are a lot of opportunities to get out and enjoy the water. Boating clubs and charter opportunities right here in the Bay are great ways to get out if you don't have your own boat or have limited time. Also, there are several schools that can teach you the basics of boating and water navigation. The best advice we can give while you're learning is to stay patient. One person may pick it up quicker or have more confidence than the other on the water. As one person put it, "Do not be upset with me for what I said on the boat!" Keep going and you'll find your rhythm of what works for you.
---
Brad and Lisa Foxwell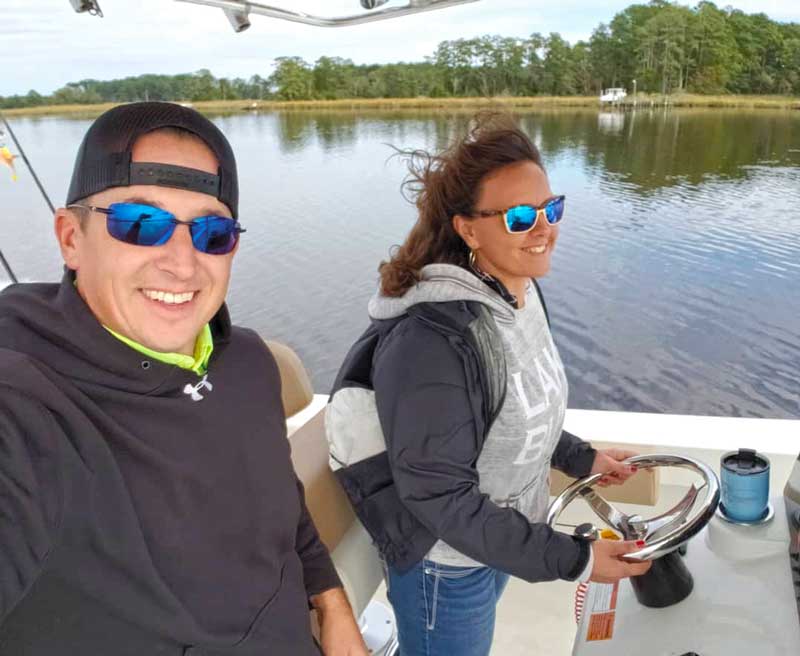 Brad grew up boating and fishing, while Lisa took up fishing in her early 30s (and boating quickly followed). When asked what kind of boating the couple does, Lisa says, "Powerboat, paddleboards, kayaks, you name it! We are avid water lovers and are down for just about anything on the water. We spend most of our time fishing; however, we absolutely treasure the days we spend touring local waterfront establishments with our friends and our kids."
Regarding their dynamic out on the water, Lisa says "We really are a blend of both planned fishing trips and go with the flow (sometimes literally) spur of the moment trips. We think nothing of loading up and trailering to the Virginia Eastern Shore or the Carolinas if the weather and the bite are right!" Regarding their boating 'roles,' "Brad is 99 percent of the time the captain. He has definitely logged the hours and put the 'leg work' into knowing where the bite should be, but occasionally I like to let him put his feet up and enjoy the ride.
"For us, it (sharing boating) really is everything. There is not a single day that we are out on the water with each other or our kids where we don't feel extremely fortunate. Watching our kids, making memories that will carry them throughout their lives... It's everything. There really is nothing like the sun on their smiling faces and the wind in their hair... It is why we work so hard!"
We also asked Lisa and Brad if they had any advice for couples or families who are new to boating. Here's what they had to say:
"Safety is always number one. Kids will resist lifejackets—don't let them. Adults tend to overestimate their abilities; the list goes on. Always have safety as your number one priority. If it is your boat, you are responsible for everyone onboard. If you are on someone else's boat, please, be responsible for yourself and whoever else you bring onboard.
"Knowledge is key. This is not one of those "fake it 'til you make it" deals. There is a lot to learn about boating and even more to learn about owning your own. Learn it and keep learning. Brad has been on the water his entire life, and he still learns something new all the time! Understand the weather and invest in a quality weather app, know the waters you plan to navigate, and join a boating or fishing community. Friends are your best knowledge base. The boating/fishing community is fantastic; we have made some amazing friends!
"Know what you are getting into. There is not one single thing we would trade about being a fishing/boating family. However, it is not for everyone. It is a new level of responsibility. It can be expensive (aren't most hobbies though?). It takes patience."
---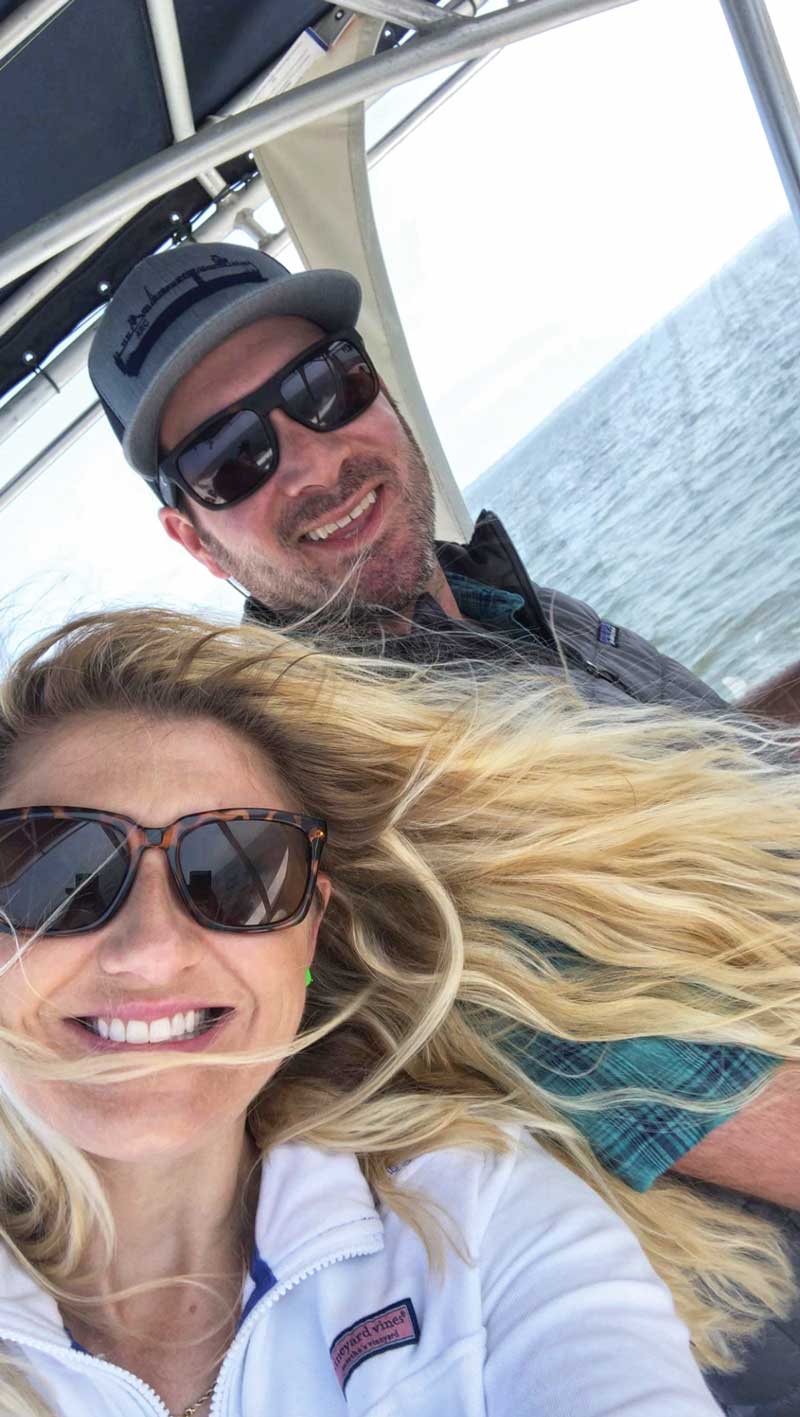 Zach and Meredith Krissoff
Did you grow up boating?
Meredith: I grew up both sailing and powerboating, mostly accompanying my dad on towing our Chesapeake Bay log canoe to and from St. Michaels, Oxford, and Cambridge for regatta weekends. Zach also grew up on sailboats and powerboats from a young age. 
Tell me about your boating.
Meredith: Mostly now we fish and cruise on our powerboat and only really race on the log canoe in the summer. Zach works in the Merchant Marine, so he's taken it to the next level. He does about 200 days a year on his ship and still wants to be on the water at home during his time off. 
What kind of trips do you prefer?
Meredith: Since we have a center console (Mako 261B), we mostly do spur of the moment trips and not overnight. Most of the time, Zach will look at the weather at Thomas Point and that helps us decide if it's worth going out for a day or evening cruise, but there are always rods onboard in case we find fish. We also race together in the summer on the log canoe.  
Do you each have certain roles out on the water?
Zach: We take turns. Meredith runs the boat on her own as much if not more than I do.
What does it mean to you both to be able to share a passion for boating?
Meredith: It's definitely a very important piece of our life outside of work; it doesn't matter the season! It's a rare day that Zach suggests a boat ride and I decline. 
Zach: Agreed!
Do you have any advice for other couples?
Meredith: I think for couples entering into the boating lifestyle, it's most important to get as much boating experience with experienced boaters, even taking private lessons if possible after getting your boater's license. It's also important to experience different kinds of boats (center consoles, bowriders, express, downeast style) prior to purchasing because sometimes what you think you want really isn't right for your lifestyle. 
Zach: Agreed with Meredith and become friends with people with boats!
---
Brian and Bonny Jasinski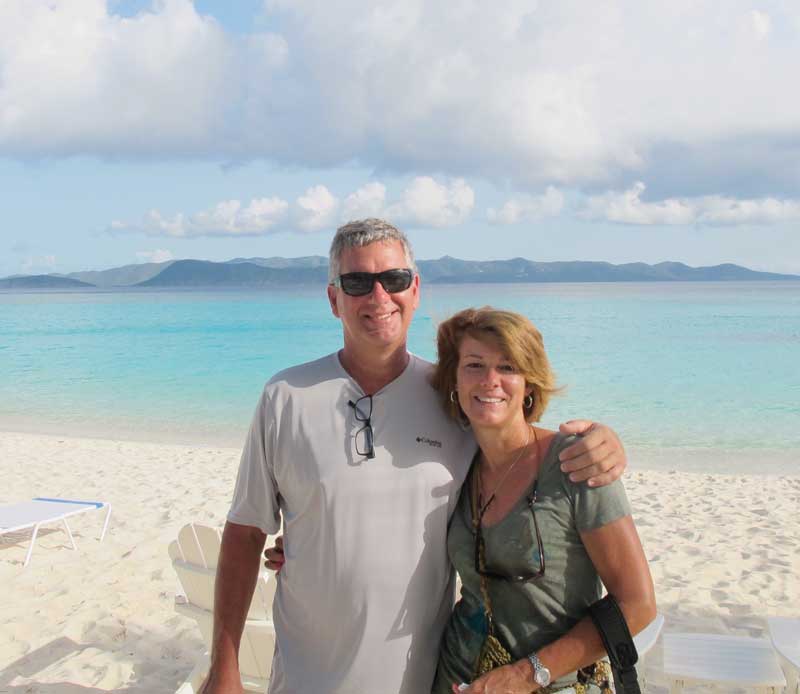 I've written many times before about my grandparents' crabbing business. What I might not have mentioned is that my dad started working on the boat with my mom when he was a teenager, and it wasn't too long after that that they started dating. ~K.J.
Bonny: I was 12 when I started working on the Miss Bonny Kay. I think I was 15 when I met Brian. We were friends all through high school, and when he was 17 or 18, he started working on the crabbing boat with me. 
Brian: I had worked on a crabbing boat a few piers over with a bunch of guys. When the opportunity came up to work on the Miss Bonny Kay, the choice was easy. She was one of the few boats on the Bay with a pretty girl on it, who just happened to be my friend. I figured I had a better shot of going out with her the more I was around her.
Over the years Brian and Bonny have owned an assortment of boats from an 18-foot center console, a 24-foot Sea Ray Sorrento, and some jet skis. Currently they own a 35 Maxum, which they use for day trips and overnights around the Bay. In 2018, they took a bucket list trip to the BVI on a power catamaran charter. 
Bonny: It was wonderful, I think the crystal-clear blue water and white-powder sand beaches are what make it so different from the Bay. Being able to snorkel the reefs and caves and see such a variety of brightly colored tropical fish was awesome. However, I still believe that we have the most beautiful sunsets at home on Seneca Creek. 
When asked if they had any advice to give to couples out on the water, say in a stressful docking situation, here's what they had to say: "Be patient, remain calm, and do not shout or panic when docking. It's a good idea for everyone to keep conversations or questions to a minimum. Do not get defeated or give up. If you have trouble docking, try and regroup and start over, and above all keep practicing till it's second nature."
---
Dave and Ann Ward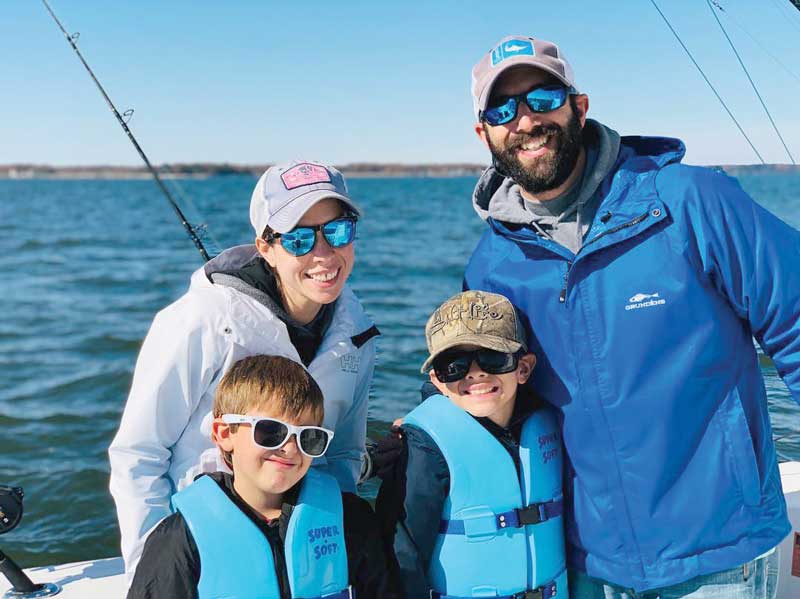 While Dave grew up boating, Ann did not get her start until the couple bought their first boat together. Now they are powerboaters through and through. Dave says, "We do a lot of fishing. In addition to fishing, we enjoy spending days rafted up with friends at our favorite anchorage, boating to different restaurants for drinks and eats, and we are big fans of sunset cruises. We try to get out a couple of times a week. It's sometimes a juggling act trying to get our two youngest kids where they need to be and getting out on the water. But we are fortunate to be in our neighborhood marina so it's easy for us to get to the boat, hop on, and go, even if only for a short ride. We have a Wellcraft 290 Coastal and love it!"
Regarding the family dynamic out on the water, Dave is usually the captain and Ann usually handles the lines when docking. Dave says, "When our kids, who are 17, 11, and eight, are onboard, the dynamic changes a bit more. The kids all want to run the boat, and all want to help with handling lines.
"Between work, raising our family, and a busy life it's easy to get bogged down, stressed, and lose sight of things that bring you together and make you happy. Being on the water brings an almost instant smile to our faces, helps us decompress from the daily grind, and provides us with quality time together and a ton of memories."
Ann adds, "I didn't grow up boating, so this had been a whole new adventure for me from the start. Since Dave grew up boating and had always wanted to get a boat, when the opportunity arose to get one, I was excited. I really love being able to go out and spend time together with our kids and being able to provide them with these experiences and memories out on the water."
When asked if they had any advice for couples or families who are hoping to experience the boating lifestyle, here's what they had to say:
"There is a lot to think about when considering getting into boating. The most important thing would be to take the boater safety course and understand the rules of the water. People should also know that it is a commitment. There is a lot of maintenance that goes with owning a boat. Find friends with boats and ask lots of questions. Ask to go out on the boat with those friends (I have yet to find a boater who turns down an extra hand, beer, or gas money). Also think about the type of boating you want to do and where you want to boat. That will help narrow down your search. If you aren't fully onboard with buying a boat, there are some boating clubs locally that are a great alternative. Simply having the opportunity to get out and experience our beautiful Chesapeake Bay from the water really gives you an appreciation for how lucky we are to live where we do."
What about boating goals for the New Year?
Ann: I would really like to get out and explore more of our Bay next summer—there are so many interesting places to visit—and spend a couple of overnights either with just Dave and me or with the kids.
Dave: Any chance to boat to someplace new, catch a species of fish that I haven't caught before, or spend time with Ann and the kids is high on the list. I do a lot of offshore fishing and am really hoping to finally get Ann offshore with us this year.
---
Got a story you would like to share about boating with your partner? Email [email protected].