On the last weekend in August, a new boat was launched into the waters of the Miles River. Ordinarily such an event would not attract much attention, but this boat, named Pintail was of a type not seen new in these waters for a very long time: a Hooper Island Draketail. Known by various names—Hooper Island Boat, Draketail, Dovetail or Ducktail—this distinctive Chesapeake workboat has a rounded fantail stern with a reverse rake.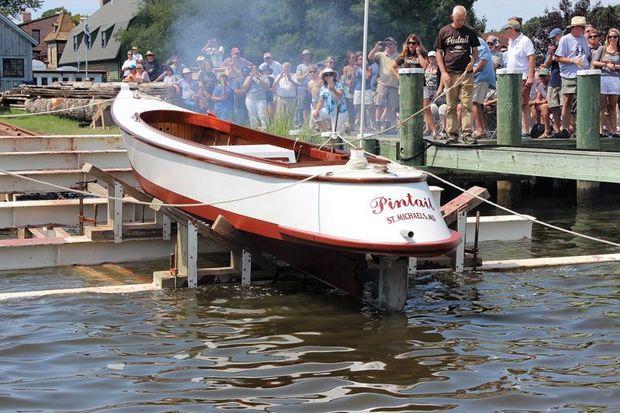 The boats were light and narrow, and the chine followed the waterline throughout the length of the boat, creating a long, flat run aft. First noted around 1902, the design was most popular in the 1920s and 1930s. When powered by the relatively small engines available in that era, the draketails were fast and did not "squat" and slow down as did boats with the more traditional counter stern.
Pintail was built at the Chesapeake Bay Maritime Museum (CBMM) in St. Michaels as a project of the museum's Apprentice for a Day Program. Jenn Kuhn, the boatyard program manager at the museum, was the project supervisor for Pintail. Kuhn, a Maryland native from Emmetsburg, learned about wooden boat building while living in Seattle. She returned to Maryland to work at the museum when the recession started. She explains how the project came about.
"We started building the 25-foot draketail about a year and a half ago. Most weekends we worked on it. The Apprentice for a Day program has a crew of volunteers who pay a modest tuition to help us build a boat and to learn boatbuilding skills in the process. We had about 50 or so people work on the boat. Some people are really regulars; some come only once or twice and don't come back. Most of that's because they don't live here and it's too far away, or they're only here for the weekend and they want something to do. That part of it's been a really fun project."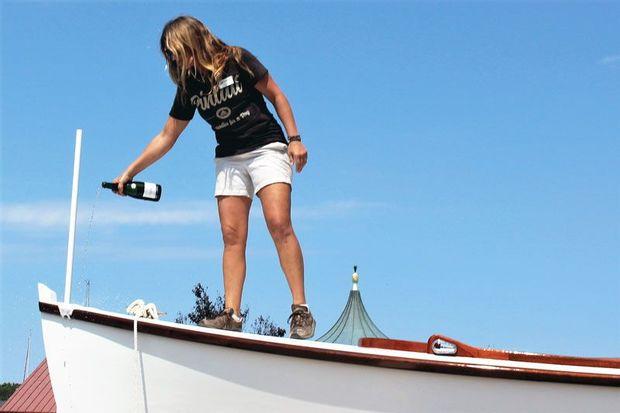 I asked Kuhn why they chose a classic work boat to build. "The last five boats we've built in the program have been small sailing skiffs," she explained. "My job is to keep it exciting and build interest in the program. Not everybody is into sailboats, so I don't need to keep building them." "We had an opportunity," she continued. "We didn't have a commission, so I checked into building a draketail because I love Martha and Dorothy Lee (draketail boats) that we have in our permanent collection. They are from the 1930s, so we used them as our model and scaled it down to 25 feet over all, four feet and a bit wide, and two foot draft." Now that Pintail is complete, I asked Kuhn what her group's next project will be. "We have a small restoration, and then we will be building a lap strake 11.5-foot dinghy."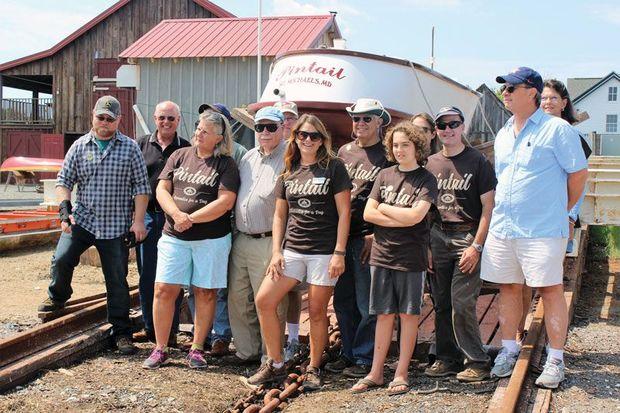 Pintail's launching was attended with appropriate ceremony. Many of the program volunteers who built her and other museum supporters were welcomed to the event. Perched on the massive cradle of the museum's heavy duty marine railway, the boat looked positively dainty as she awaited her baptism. After completing her remarks, Jenn popped the cork and poured champagne down Pintail's stem, giving her a proper christening. As the railway cradle slowly lowered her into the water, a cannon was fired, the audience applauded, and Pintail took to the water like the thoroughbred she is. Make no mistake; while she may be a replica of a work boat, complete with steering stick and deck mounted tiller, Pintail is a small yacht. Her paint work is flawless, and her coaming, floor boards, and ceilings are varnished bright with at least six coats. This little bit of Chesapeake history is available for purchase for $32,000.
Story and photos by Captain Rick Franke