I love a boat show. I find them irresistible, with so much wonderful eye-candy tethered to finger piers and docks, inviting me to have a look, step aboard, and leave my shoes behind. I find myself also drawn to the many other unique attractions that a boat show has to offer, and this year, the 2023 Annapolis Powerboat Show is no exception.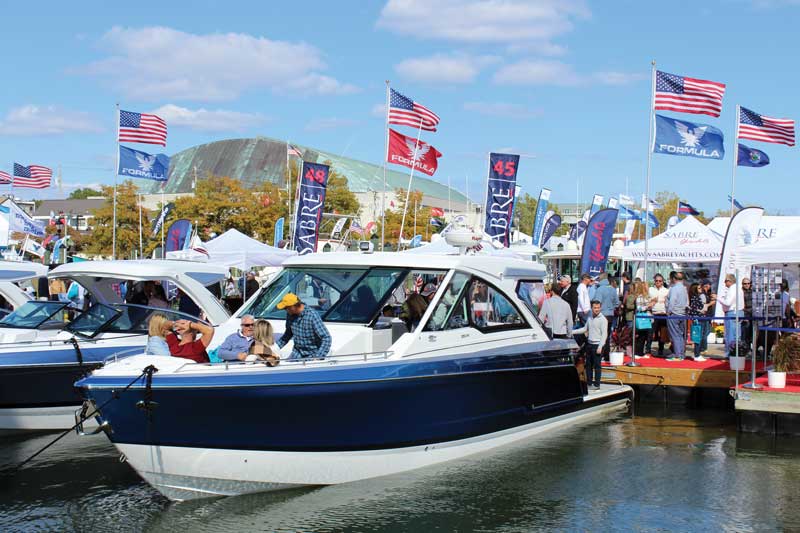 If I don't own a powerboat, I'm at the show to check out what I might own; a fair form, a sleek hull, and something special that might catch my eye. If I'm in the market, looking to buy, I probably have some notion of what suits me; if I don't, I might end up with a stiff neck at the end of the day from twisting my head around so frequently, but that's part of the experience.
If you already have a powerboat, you may find yourself there to scope out accessories and upgrades, from navigation systems to charging and electrical maintenance systems to bring your existing boat up to par with what's current in the industry. I'm in the midst of restoring an antique powerboat, and as such, I go looking for hard-to-find items that are also power-miserly and have a low physical profile that won't compromise the looks of my antique.
One thing is for certain, however; I always walk away from a boat show with some sort of 'trophy,' from a mechanical device to a wearable, to some sort of handy electronic gadgetry, usually made all the more pleasant by a mid-day plate of shucked oysters and a cold pint of ale!
This year, the Annapolis Powerboat Show October 5-8 at City Dock in Annapolis Harbor has some special attractions that are worthy of note. In the first place, the show is, without question, one of the largest in-water powerboat shows on the East Coast, featuring a wide variety of boat manufacturers on display, boats with the latest in navigational equipment, boating accessories, electronics, and more. Also of particular value will be the Demo Dock, where the prospective owner can experience a variety of models first-hand to find the right fit. Dealers and manufacturers will be offering demo rides and sea trials, and brokers and engineers will be there to answer questions and demonstrate features. There's no more 'sure' and comprehensive way to check out the boat model that you may have your heart set on. Of course, there are also top-rated daily seminars, boating courses, and other (including free!) educational opportunities over the duration of the three-day show. 
Visiting any trade show can be draining, and it has long been recognized that attendees sometimes want to escape the bustle and find a quiet place to have a bite and some refreshment. For this reason, the show features a 'VIP Experience' in a VIP lounge. For those who don't mind a short walk, however, modestly priced fare can be found only a few yards up from City Dock at the many taverns, coffee shops, crab houses, bar and grille eateries, and others in the immediate area. A boat show is a great place to meet friends who are also visiting, which makes the show a great place to catch up and share a few 'yarns.'
Just as with taking a boat day trip to waters you've navigated in the past, always check your charts first, and go prepared; you'll have a much more satisfactory trip that way. Visit annapolisboatshows.com/powerboat-show beforehand and plan ahead, and I'll see you at the show! 
By Capt. Mike Martel
---
Stay tuned for PropTalk's complete guide to the Annapolis Powerboat Show in our October issue and at proptalk.com.