Chesapeake Light Craft's 21st annual OkoumeFest will take place Friday-Saturday, May 17-18. Both days are free and family-friendly. The rendezvous begins Friday with an open house, boatbuilding seminars, and a convivial cookout at the company's factory workshop at 1805 George Avenue in Annapolis from 1 to 7 p.m. Led by internationally known boatbuilding experts, the live demonstration seminars will cover topics ranging from basic boatbuilding techniques to advanced boat finishing skills.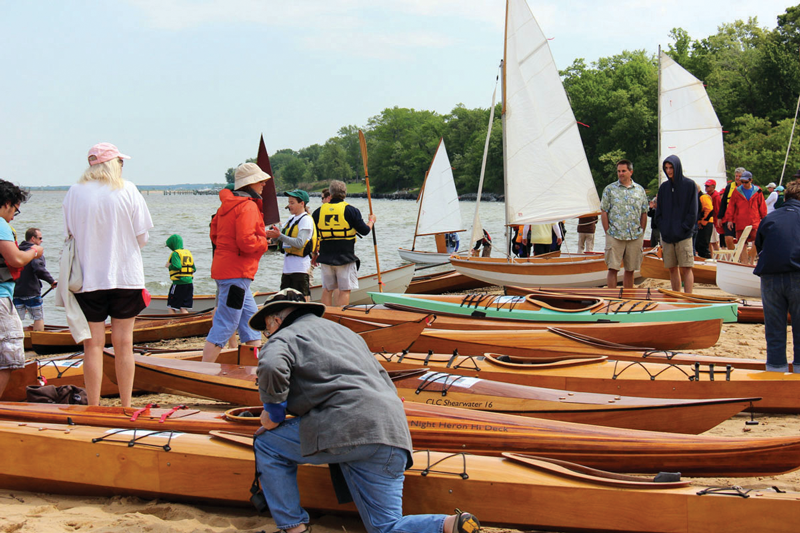 OkoumeFest continues Saturday with an all-day small boat rendezvous on the water at Matapeake State Park on Kent Island from 9 a.m. to 5 p.m. Attendees can test-drive (or paddle, sail, or row) nearly every model of canoe, kayak, paddleboard, rowboat, or sailboat in the CLC lineup—more than 60 boats in all—including some that are making their first appearance on the beach or are too new for the catalog. The event also serves as a much-anticipated gathering for wooden boat builders from across the country, who bring their exquisitely crafted handiwork to show and compete for prizes.
"Okoume" is the species of tropical softwood used almost universally in small wooden boat construction. Begun by Chesapeake Light Craft in 1998, OkoumeFest celebrates small wooden boats and the enthusiasts who build them. The event is free, but RSVPs are requested at clcboats.com/festival.
More than 300 people attended last year's OkoumeFest, attending boatbuilding seminars, having a test run in one of CLC's demonstrator boats, or showing off boats they built themselves. CLC offers awards to amateur-built boats, many of which took hundreds of hours to build and look like exotic furniture. The event draws small boat aficionados from as far away as New England, Florida, and the west coast.
On the huge sandy beach at Matapeake on Saturday, OkoumeFest is an opportunity to admire and enjoy beautiful boats, but also offers family fun for all ages. There's even a kids' table where little ones can build and decorate free boat models. Attendees are encouraged to bring their own home-built boats to show and use on the water.