Fall has arrived in Chesapeake Country. With the cooler weather, area boatshops are finishing up summer work and planning winter storage and repair projects. A good summer season appears to be transitioning into an equally busy winter.
Mike Bickford of Campbell's Boat Yards in Oxford, MD, checks in with an upbeat report. "Campbell's Bachelor Point Yacht Company remains busy on many fronts. As the Cummins Marine dealer in the area, we are able to supply and install new and refurbished Cummins diesel engines and provide warranty support. We recently replaced a pair of CAT 3208s with two, new Cummins QSB 5.9, 480 HP engines. There was little structural modification needed, and the owner gained efficiency and speed. His only loss was decibels. We have several Awl-grip paint jobs scheduled for this season, including a 39-foot Stanley and a 40-foot Legacy. Jim Brighton takes great pride in his finished product and can guarantee a magnificent looking boat for the 2018 season. Our indoor winter storage space is quickly filling, and outside spaces are limited. Contact us shortly to talk about maintenance, upgrades, and storage."

Dave Hannam with Classic Watercraft Restoration in Annapolis reports: The speedster DV8 2XS is in the shop after its road trip up to northern New York and Canada on the Rideau. The boat definitely lived up to its name. A lot of people got to drive it like they stole it! The 11-foot 1960s Penguin class sailboat VICTORIA, hull #6129, has been fully rebuilt, and the restoration is complete. She will be unveiled at the Annapolis Sailing School to compete in a regatta in late September.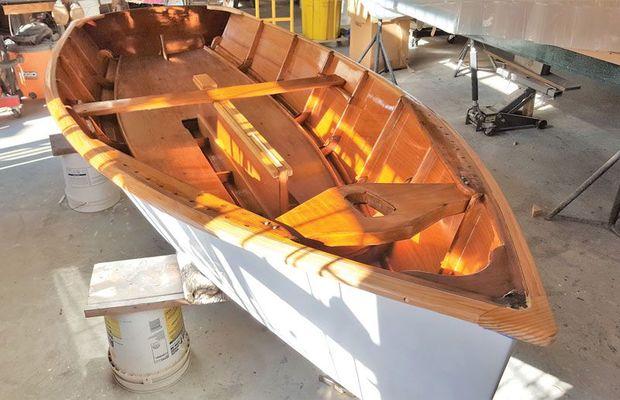 The cute little mahogany skiff Huckleberry Finn restoration is also complete and has started a new adventure with its little 10-year-old captain out west on a private lake. Next coming in to the shop is a 1954 18-foot Chris-Craft Sea Skiff in for a new deck and trim work. When space opens up, CWR will start work on yet another 1956 Century Resorter scheduled for coatings, electrical, and safety upgrades."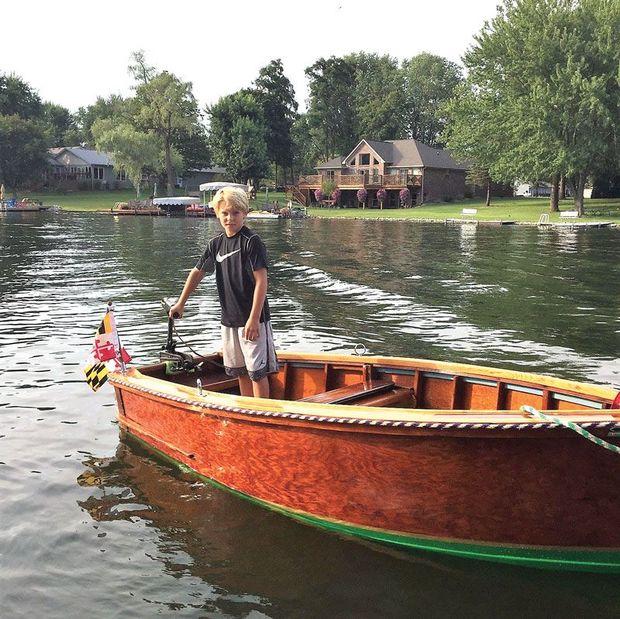 Bethany Ziegler of Chesapeake Bay Maritime Museum (CBMM) in St. Michaels, MD, says, "With fall approaching, the museum's marine railway service season will soon be coming to a close. Led by Shipwright James DelAguila, and with the hard work of RPM Foundation shipwright apprentice Michael Allen and Seip Family Foundation shipwright apprentice Spencer Sherwood, CBMM's Floating Fleet collection saw many repairs and upgrades. Of note, the skipjack Rosie Parks was rid of some troublesome leaking. Jackson or Pot Pie Skiff is in the process of having a rare historical flexible engine shaft coupling repaired, and the Potomac River Dory Boat is being re-powered with a donated marine diesel engine.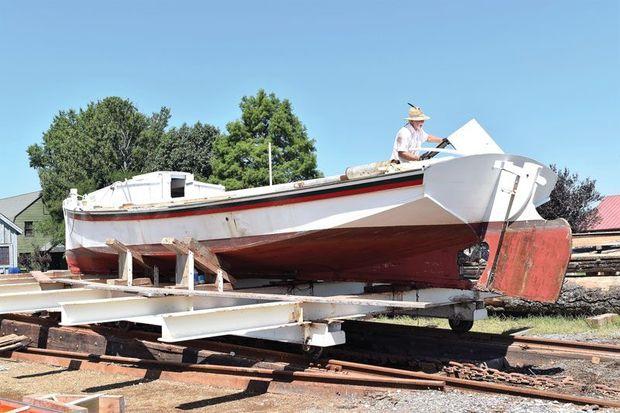 It was an active season for the floating fleet, with seven-log crab-dredger Old Point receiving maintenance just in time for the annual Buy Boat Reunion, as well as multiple shorter expeditions by the Rising Tide Summer Camp program. Buy boat Winnie Estelle was her normal busy self with frequent river cruises, while smaller craft were in service as ambassadors around the region and as support craft for races.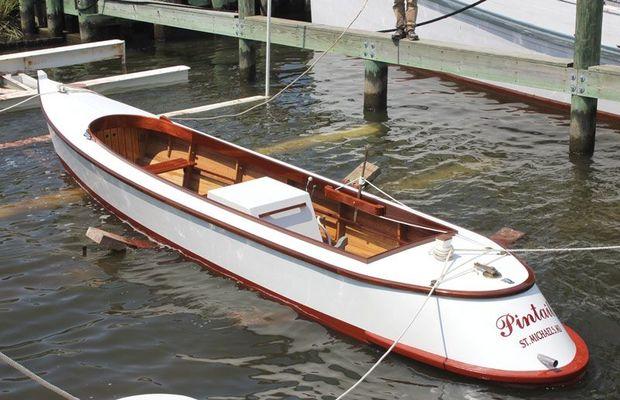 Next up, the Mathews cabin cruiser Isabel will receive general maintenance, and tugboat Delaware will be stabilized. The team is also restoring CBMM's queen of the fleet and National Historic Landmark Edna E. Lockwood by replacing her nine-log hull in adherence to the Secretary of the Interior's Standards for Historic Vessel Preservation. All work takes place in full public view through 2018, when Edna will be launched at CBMM's OysterFest in October. T
racy Cimini from Calvert Marine Museum in Solomons, MD, sends us the following: "The Patuxent Small Craft Guild members are currently restoring a 1957 Wolverine 14-foot runabout made by Wagemaker. See their work in progress on Tuesdays and Saturdays from 9 a.m. to 3 p.m. in the Patuxent Small Craft Center. The last public sail on the Dee of St. Mary's will depart the museum dock at 2:30 p.m. Saturday, September 30. Preregistration is required by calling (410) 326-2042, ext. 41."
Composite Yacht in Trappe, MD, is as busy as ever developing and building new designs. One of these, the CY 46, is described on Composite Yacht's Facebook page. "With an aggressive running bottom and more freeboard than the average Chesapeake Bay deadrise, the new CY46 is well suited for big water. She has a lot of flare, a little tumblehome, and a powder horn sheer, all of which, aside from function, offer lines that are pleasing to the eye. She's designed to run well with a big single or twins, with or without pockets or the keel. The deck configuration is fully custom based on the client's intended use. The hull plug is in the fairing stage, and completion of hull #1 is scheduled for summer of 2018."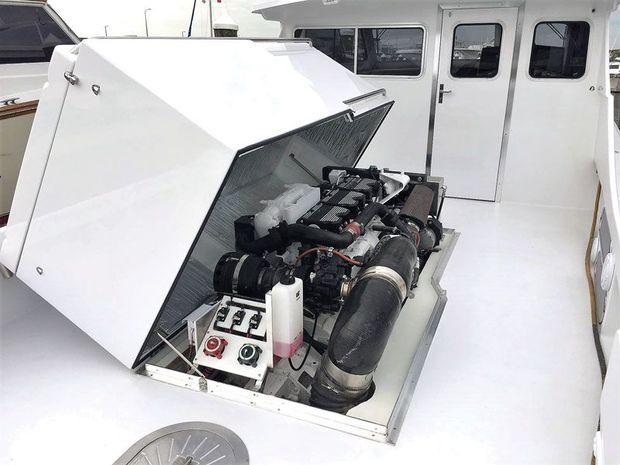 Patrick Mertaugh of Choptank Boat Works in Denton, MD, describes an interesting project on his website. "The Atkins launch I have in the shop has a small leak somewhere in the shaft log area. Since I built the boat, I know the bronze log was bedded in 5200 caulk, so it shouldn't have leaked; but water is very tenacious and usually wins that war. So, the owner and I decided to create a fiberglass tube that surrounds the log and to glue that tube into the wood stern post. By the way, a shaft log is just anything that facilitates sealing up the hole in the boat that the prop shaft runs through. The log can be bronze (usually) or glass (sometimes), and can run all the way through the boat, or just cap the ends of the shaft hole. We used the original shaft log and sheathed it in fiberglass/epoxy. To allow for any differences in thermal expansion of different materials, I coated the log with a polyurethane adhesive/caulk before I glassed it. The next step is to drill the shaft hole oversized to accommodate the larger log. Of course this new hole will determine the alignment of your shaft, so you have to make sure that is right before you go boring holes all willy-nilly. I used a dummy shaft to perfect the alignment of the boring jig, and then set up the jig."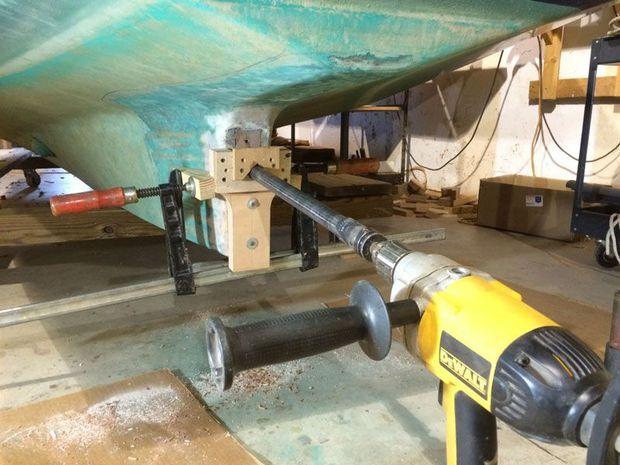 We also hear good news from Carson Forrester at the Forrester Boat Works Shop in Suffolk, VA. "We continue to work on the Wingman Guide services guide boat which will be finished up in September. We also got out on the road to do some work on an older deadrise in which we had to re-plank an area on the starboard side that had damage. We also replaced some rotten deck boards. The shop continues to be busy which is such a blessing."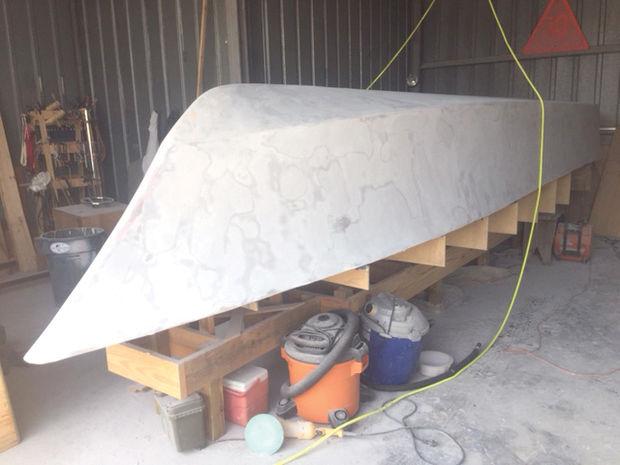 Alex Schlegel of Hartge Yacht Yard in Galesville, MD, gives us an upbeat final report for the month. "What a difference in work load from last year, for the better. Two large projects have kept five to six of the crew busy since late last fall and will continue to for months to come. The rest of the yard is busy with normal jobs… Our varnisher is finishing up six coats on a 28-foot Stanley where she has no covers on the bright work. He stripped, stained, sealed, and varnished the Philippine mahogany wheel house interior on a Ralph Wiley 40 and continues painting the interior of a 55-foot Trumpy. A 1946 40-foot Mathews 38 is in our tent getting the sides and bottom painted. She is powered by a pair of 455 Buick Wildcat 430 Series engines that were made from 1968 to 1976. Seven hundred and twenty horsepower is more than enough for this design.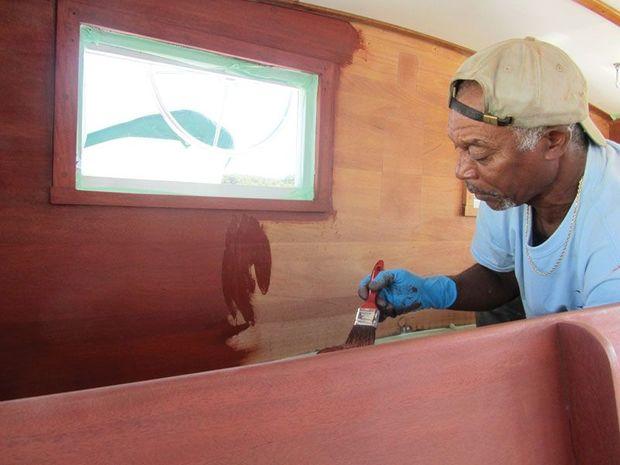 On a Wilbur 30 some of the vinyl on the overhead is not sticking to the foam, a thin layer of which is used to cover the natural roughness of fiberglass laminates. We will glue new vinyl with a fuzzy gluing surface to thin plywood panels and secure these with battens. We have finished rebuilding the bottom of the 55-foot Trumpy on the port side and have started on the starboard side. The original frames were steamed and bent to shape. It is amazing how pliable hard white oak can become when well steamed and how quickly it becomes quite stiff in its new configuration. We are using sawn frames. The aluminum ports have been removed, sand blasted, primed, pits filled, faired, and painted white on the outside and Hatteras off white on the inside."
by Captain Rick Franke