As we slide easily from summer into a typically pleasant Chesapeake autumn, it is good to look back on a busy season for area boatshops and look forward to fall. But the changing weather reminds us that change is all around us, even in the boating business.
We recently received interesting news from Evans Boats in Cambridge, MD. We'll let David Evans Jr. tell you in his own words: "We have just recently pulled our last 50-foot Custom Evans out of the shop! Wound Tight Charters should take delivery of this vessel very soon, pending engine hookups by Cummins Marine. We are currently building our last 43 Evans, made popular by the pirate ships that we built with this mold. The interesting thing about this last 43-footer is that it will actually be built by converting the mold into the hull. This boat will be delivered to Poquoson, VA. Similar to the 43, we are also about to pull our 25 mold into the shop, and will be converting that into our final 25 custom vessel as well. The owner of this boat will name the vessel The Last One, since this will be our final 25 custom."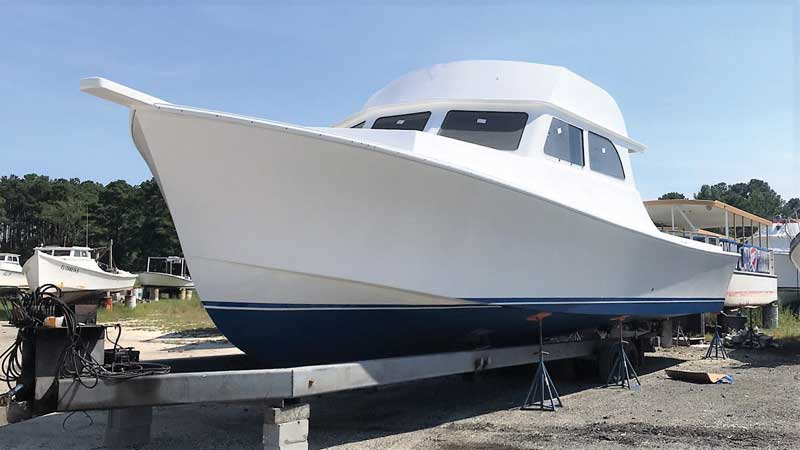 "The time has come for the boat building chapter of our business to end. In addition to everything you've just read, we have repair and restoration jobs in the shop and are still taking more! With such a high demand, we have decided to focus solely on the restoration side of this business. Chesapeake Boats, just a mile or two up the road from us, has purchased our 50-foot and 38-foot molds, so those designs will still exist and be available for purchase from David Mason. We are excited to build our final custom boats and even more excited to continue bringing folks' old boats full of family memories back to life through marine restoration for years to come." 
Evans Boats launched its first custom boat in 1982.
Nancy Bray Booth of Hartge Yacht Harbor in Galesville, MD, reports on a busy summer. "Hartge Yacht Harbor has been working on replacing the fuel tank on a 1989 Sea Ray 440. The only way to remove the tank was to cut a large hole in the side of the boat and pull it out. We were able to remove the tank and replace it with a custom fabricated 200-gallon tank. The fiberglass panel was replaced, the seams were patched, the double boot stripes were applied, and the hull side looks beautiful. Hartge Yacht Harbor was very busy with our annual Barnacle Buster special which includes hauling, power washing, one zinc, and launching at reduced rates. In the paint building is a Feeling 55-footer for a complete hull-side repair and paint. The boat was damaged in a hurricane and will require some major repair on the starboard side prior to applying Awlgrip on the hull. HYH is ready to schedule boats for winterization, fall hauling, and shrink wrapping."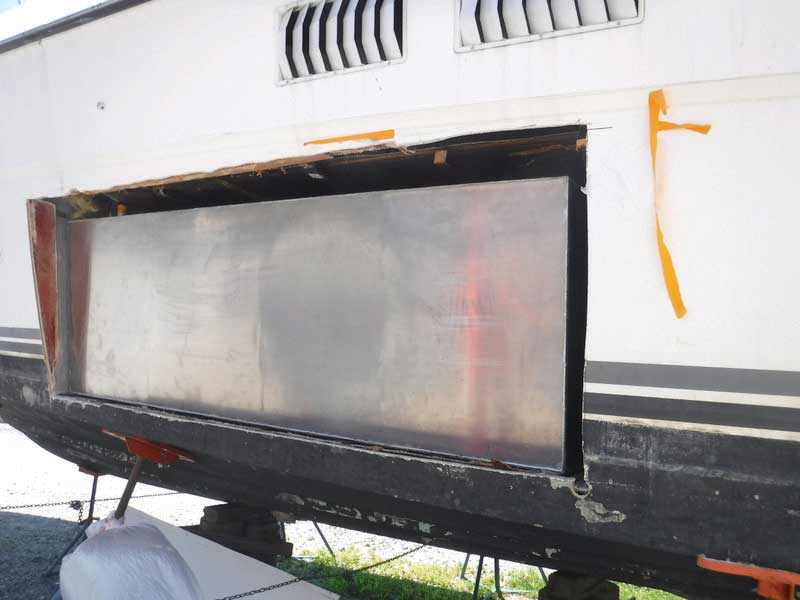 We have been following the two-year restoration of the nine log Bugeye Edna E. Lockwood at the Chesapeake Bay Maritime Museum (CBMM) in St Michaels, MD. As the project nears completion, we would be remiss if we did not acknowledge the unsung heroes of the sailing oyster fleet: the push boats. Since the oyster dredges could only be used under sail, dredge boats did not have auxiliary engines. Motive power for calms and tight-quarters maneuvering was provided by the push boat. These small powerhouses were carried on davits on the stern of the dredgers until needed. Then, they were lowered into the water, their reinforced and padded stems nestled into the transom of the dredger, and secured to the larger boat by lines from each quarter. Push boats are essentially floating engine boxes. Typically they have over-sized engines and propellers and no rudders, the steering being provided by the larger boat. Edna's push boat has an 80-hp four-cylinder 4B Cummins diesel. The Skipjack Rosie Parks's pusher has a 150-hp four-cylinder Vetus Hyundai diesel. Both boats have 18x12 propellers.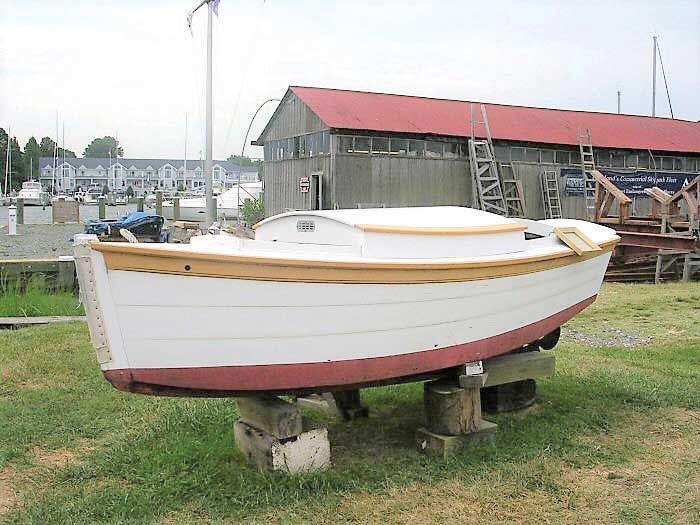 CBMM marine mechanic Josh Richardson reports that both the push boats have been serviced ahead of the fall season: engine and oil filters, fuel filters, gearboxes, raw water pumps, and sacrificial anodes. For Edna Lockwood, this work to her push boat is one of the final steps in completing the restoration of this National Historic Landmark. With a brand-new nine-log hull, Edna will relaunch at CBMM's OysterFest on Saturday, October 27.
Alex Schlegel of Hartge Yacht Yard filed his report about busy summer days in Galesville, MD. "On a typical summer day at Hartge Yacht Yard, this is what is going on with the boats in the yard. We are also working on a number of boats in nearby marinas. A Fortier is having the cockpit decks rebuilt and new fuel tanks installed along with new fuel lines and wiring in the area. A Chris-Craft center console is waiting for new fuel tanks to be installed, having the fuel system, hoses, and other parts replaced after sitting unused for many years. Hull-deck joint, and rub rail damage was repaired earlier. A 45-foot powerboat has wet core throughout the bottom, so the boat sits as the owner is thinking about what to do next. A Back Cove 33 is up for bottom painting, and a Smart Start was installed for lower electric draw during the air conditioner startup."
"A Sabre 36 express is prepared for loading on a transport truck for a new owner. The 55-foot 1950 Trumpy is having new rub rails installed, while work continues on electronics, electric, and plumbing. A Sabre 42 is having a new inverter installed and a lot of work on a hydraulic aluminum dinghy lift system that was left without new anodes for too long. A Californian 43 Trawler is being painted top to bottom with multiple upgrades to systems and modifications to fit in the European canals. A good-looking launch, a Pulsifer 22, came here on a trailer and is having deck, cockpit sole, and some varnish refinished. A 30-foot custom center console had a fuel problem. Stainless steel plates were installed for convenient access to the fuel tank pick up tubes. The problem was just a loose fitting. We are also in the middle of similar projects on about a dozen sailboats."
Dave Inglehart of Mathews Brothers Boat Works in Denton, MD, also reports a busy summer. The fourth Eastport 32 that Mathews has built is in the shop for some last-minute details after a prelaunch test. Other than that, she's ready to be delivered to her owner. Dave also described a unique conversion they recently completed. An owner of a Robbins 29 decided her workboat configuration was not comfortable for his family. Mathews removed the deck and installed a Patriot 29 deck and cabin module in its place. Other projects include the ongoing manufacturing of the small "Mini-Boats" for the Educational Passages organization of Kennebunkport, ME.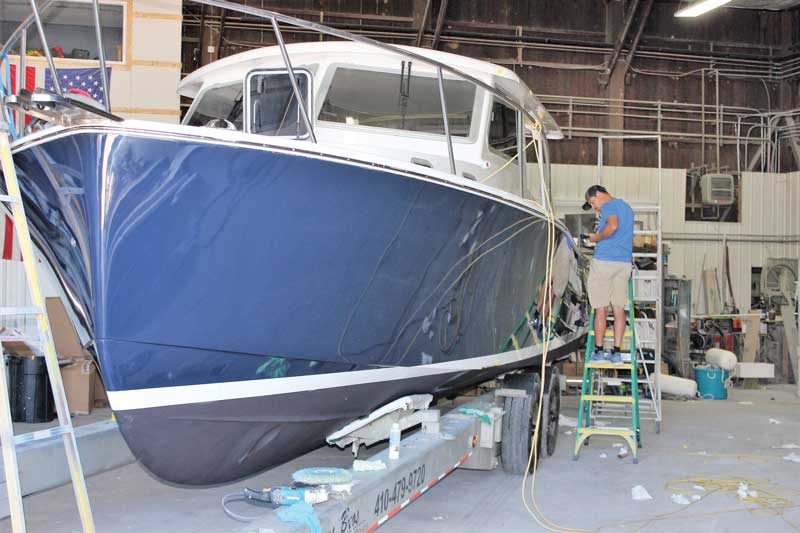 Jerry Lecompte of Dockside Boat Works in Easton, MD, is staying busy. A current project in his full shop is the restoration of a 1950 Chris-Craft Sportsman. This restoration includes the rebuilding and reinstallation of the original 105-hp Hercules Chris-Craft flat head six engine. Other projects include restoration of a relatively rare 22-foot 1950 Chris-Craft Sportsman Sedan and a 1955 Century Resorter.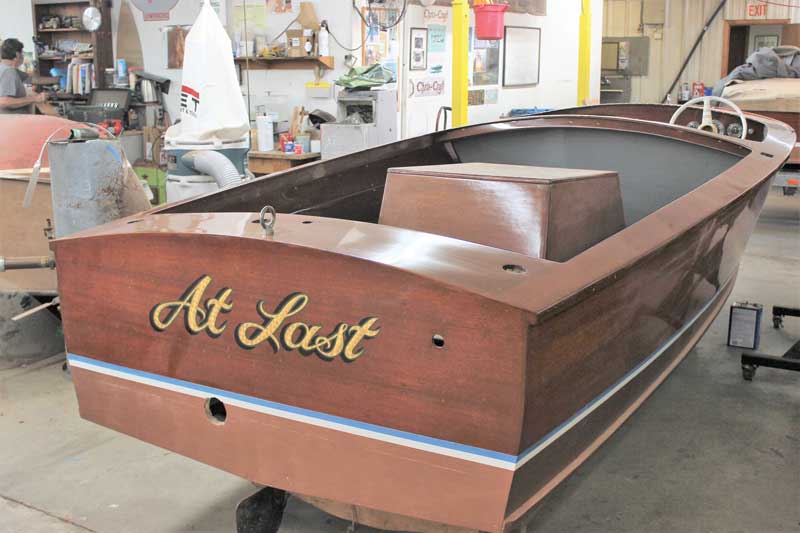 Judge Yachts in Denton, MD, is having a busy summer. Erik Zseltvay reports that they have four boats in the rigging bay, where the boats are completed and all equipment is installed. There is a Judge 265 Center Console and three 27 Chesapeakes being fitted out in the bay. One of the 27s is completed and on its trailer and ready to deliver to the owner. Next door in the assembly bay a 24 Chesapeake, a 27 Chesapeake, and a 36 Chesapeake are in various stages of completion. Erik echoed the theme heard in most shops this summer that there never was a summer lull.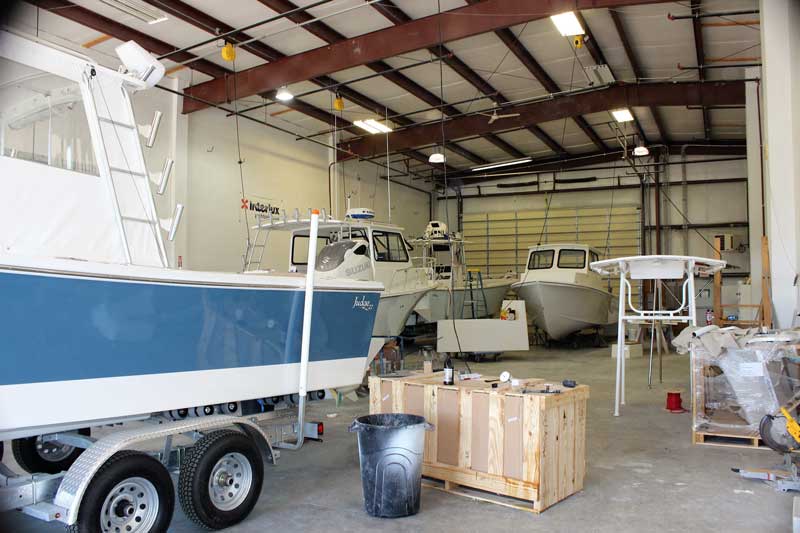 By Captain Rick Franke