There can be no doubt; fall is here. Skeins of geese in a blue cloudless sky, the fattest crabs of the season, preparations for impending boat shows, football games, and the blossoming of shrink wrap in area marinas leave no doubt that winter is not far away. Labor shortages continue to be a problem for most shops, but the uptick in business associated with winter storage and repairs is good news.
A report from Denton, MD's, Mathews Brothers' Geniene Nieves Vigeri
reflects busy preparations for fall and winter. "With the return of fall, Mathews Bros has already begun hauling, winterizing, and tucking boats away in our Indoor Boat Storage facility. Space has been filling up quickly, and we expect to be at maximum capacity once again this year. We've wrapped up the new Eastport 32 build, and hope to concentrate on our new 26 model over the winter. We will be hosting our seventh annual Fall Festival on Saturday, October 28 from noon to 4 p.m. at our main shop located at 408 N. 10th Street in Denton. We will have light fare and entertainment—everyone is welcome to join us!"
Tracy Cimini of the Calvert Marine Museum (CMM) in Solomons, MD,
checks in with this report. "The electric crab scrape
Carol Jeanne
commissioned last winter at the Patuxent Small Craft Guild at Calvert Marine Museum received some last-minute tuning up before setting off for the Wye Island Electric Boat Marathon. This was held the first week of October in St. Michaels, MD. Tim Scheirer, CMM's resident artist, provided the new transom decal, and the boat also sported a new paint job for the race. Her Thoosa 7000HT motor and 48-volt battery equipment came from Annapolis Hybrid Marine. Bill Wright, the boat's owner, spent the weekend in St. Michaels for the marathon on Friday and the Mid-Atlantic Small Craft Festival that followed on Saturday and Sunday."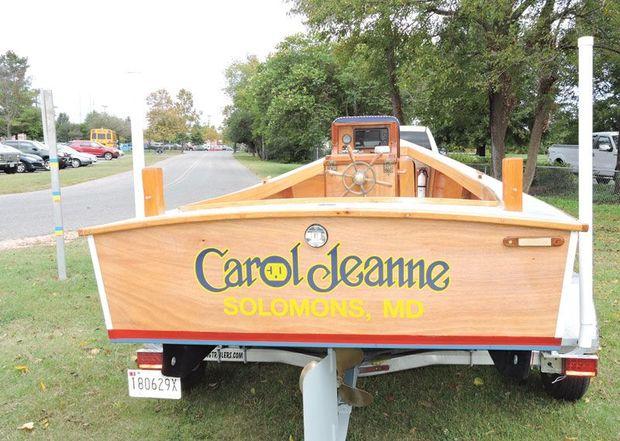 Bethany Ziegler of The Chesapeake Bay Maritime Museum (CBMM)
sends us the following. "CBMM boatyard manager Michael Gorman reports that a major step has been made in the historic restoration of 1889 bugeye
Edna E. Lockwood
, with her existing topsides lifted by crane to sit directly above her new nine-log hull.
Edna Lockwood
represents the last of her kind, as the oldest historic log-hull bugeye still under sail. In mid-September, the topsides were successfully transferred to sit just above the new hull, which shipwrights finished shaping earlier this year. At the same time,
Edna's
original 1889 hull was moved to the other side of CBMM's campus, where it will eventually be put on display. The next phase in the restoration will see shipwrights begin the process of marrying the two sections of the boat and jacking the bottom up to meet frames. New stems, hatches, and additional structure will also be installed this fall, and sails will be sent out to have new ones made. The team is restoring CBMM's queen of the fleet and National Historic Landmark
Edna E. Lockwood
by replacing her nine-log hull, in adherence to the Secretary of the Interior's Standards for Historic Vessel Preservation. Shipwright apprentices working on the project are generously supported by the Seip Family Foundation and the RPM Foundation.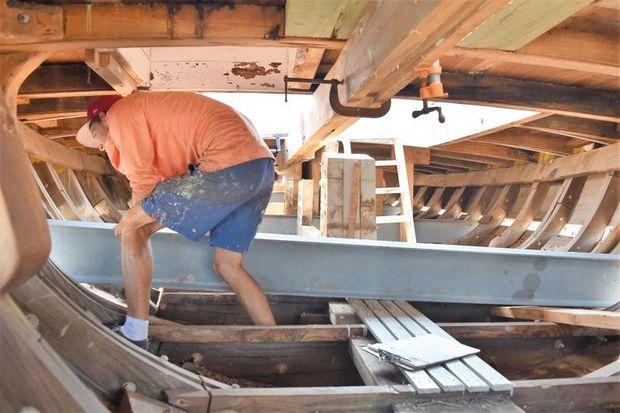 All work takes place in full public view through 2018, when
Edna
will be placed on the marine railway and launched at CBMM's OysterFest in October. To keep up with the project, including progress update videos, visit
ednalockwood.org
. For more on the Chesapeake Bay Maritime Museum, go to
cbmm.org
."

Patrick Mertaugh of Choptank Boat Works in Denton, MD,
has some interesting thoughts on his website about a neglected small boat construction method: using plywood. "With the high quality plywood and epoxy adhesives available today, some very nice boats can be built of plywood. All it takes is a designer that has a good eye and knows what plywood can and can't do. Just look at the designs of Karl Stambaugh, Sam Devlin, Reuel Parker, Atkins, and many others for some great plywood boats. There is a caveat to the plywood choice, however. If the plywood is stamped "made in China," send it back as quickly as you can. I have a horror story about Chinese marine plywood. Ask me about it sometime, but be ready for some colorful language."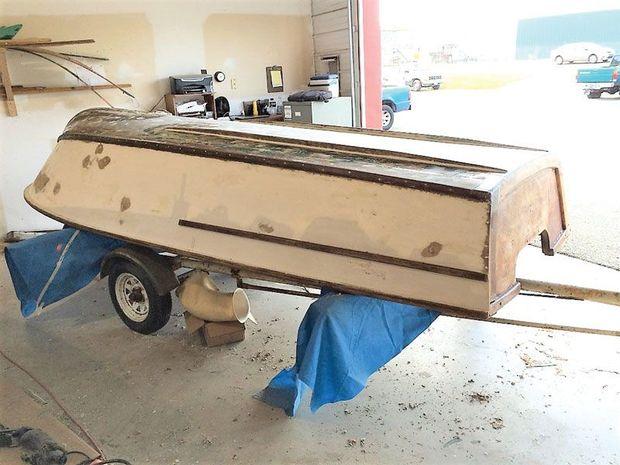 From Hollywood, MD, builder John Cook
reports that the log canoe
Eve
is nearing completion. Shortly he will be turning the canoe right side up and installing the mast step and partners.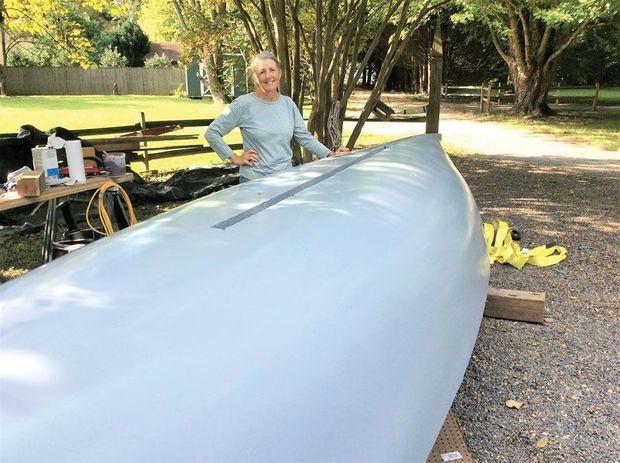 Asking a lady her age is not good manners, and
Miss West River
, currently in
Buster Phipps' shop in Deale, MD,
is aging too gracefully to care. The Lady is a 28-foot open classic bay built wooden box stern deadrise with a vee bottom, carvel planked over sawn frames. She was built in 1979 by Waldon Brothers in Deltaville, VA, for Galesville waterman Florin Windsor. She is in for some cosmetic work, mainly new paint. She'll be back in the water shortly.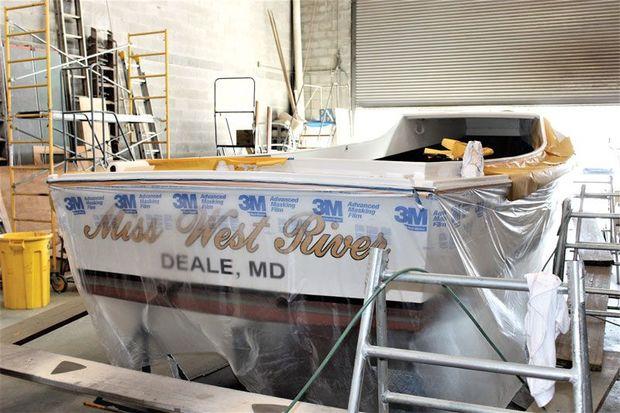 In Edgewater, MD, Joe Reid of Mast and Mallet
has a 27-foot Wayne Goddard custom in the shop for a complete refinishing. Joe also reports a good backlog of winter work in the pipeline.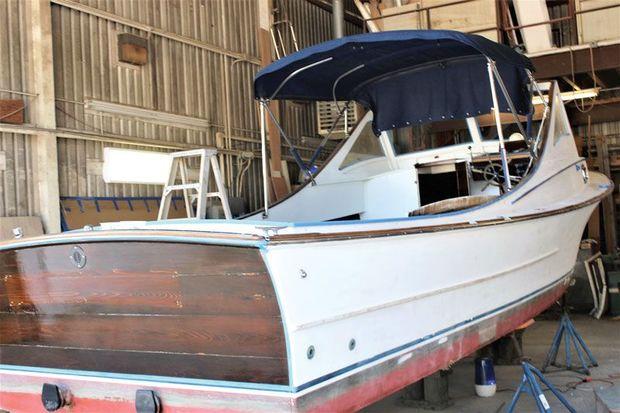 In March of 2016 this column profiled a major restoration project involving two Rybovich sport fishermen by Reid Bandy and his friend Mark Hall. Nearly two years into the project, I stopped by
Bandy Boats at Casa Rio Marina in Mayo, MD,
to see how they are doing. Mark's boat is almost complete, awaiting drive line and interior installation. Reid's boat is essentially done. It is outside on jack stands and needs only a few fishing touches. Both boats are scheduled for early spring launches and sea trials.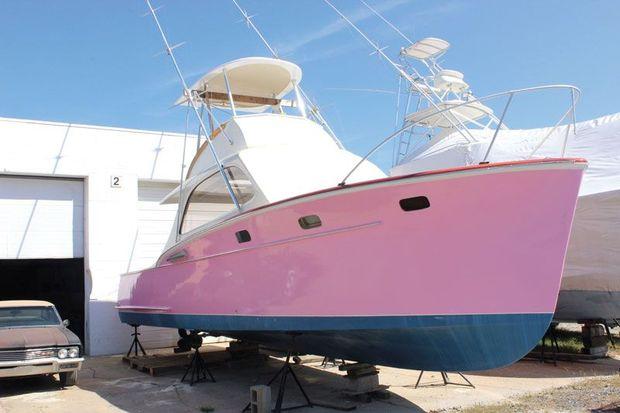 What Reid and Mark have done with both boats is to retain the outward appearance of the classic Rybovichs, but used modern materials and techniques to make them stronger and lighter. Reid estimates they have reduced the weight of the boats by three to three and a half tons. A lot of that saving came from removing the original twin engines and substituting a single diesel engine with a hull redesign to a tunnel or pocket drive with a nearly flat shaft angle. Reid's boat sports a bright pink hull. She retains her original name,
Timid Tuna
, and was supposed to have been built for one of gangster Al Capone's lieutenants. Anything is possible, especially with boats and Miami, but the build date of 1955 makes it a bit of a stretch since Capone went to prison in 1933. It's a good story anyway, and that's half the fun of old boats. Reid Bandy always seems to have something else interesting going on, and this visit to his shop was no exception. When not working on
Timid Tuna
, Reid is restoring a 1928 Penn Yan Ceestepper. This boat is a feather light, outboard-powered wooden racer with a unique two-step hull that includes sponsons on each quarter. Stepped planing hulls were in use as early as 1910 and ultimately evolved into the modern three point hydroplane in the late 1930s. Transitional types such as the Ceestepper were very fast but difficult to control in turns.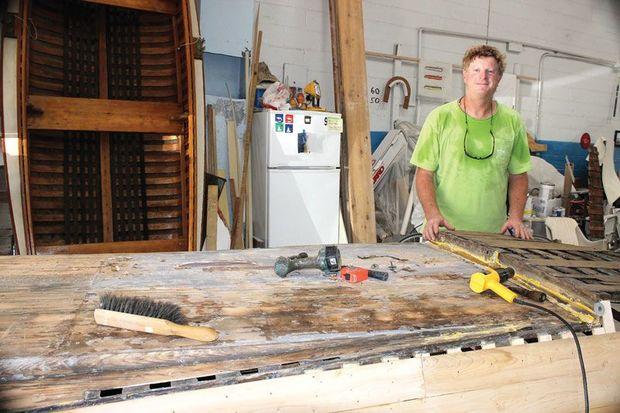 Penn Yan originally built mainly canoes, and not surprisingly the boats are planked over frames and covered with canvas and then painted, just like canoes. Surviving Ceesteppers are very rare and many have had the original construction replaced with plywood. Reid plans to restore his to the original specifications. Ceesteppers were originally powered by Johnson opposed twin piston outboard motors, and Reid just happened to have the exact model in his antique outboard collection, so when he came across this boat, he couldn't resist.
More Photos:
[gallery link="file" ids="22942,22943,22944,22945,22946,22947"]
by Captain Rick Franke