The record-setting fall boat shows are behind us, the long lazy days of summer are a fond memory, and the winter haulout frenzy has begun. While the Covid variants are still around, the pandemic no longer dominates our lives. Many of its effects still linger in supply line delays and shortages as well as labor shortages which have seem to have become permanent problems. On the plus side, this second post pandemic winter season looks to be a busy one for area boatshops.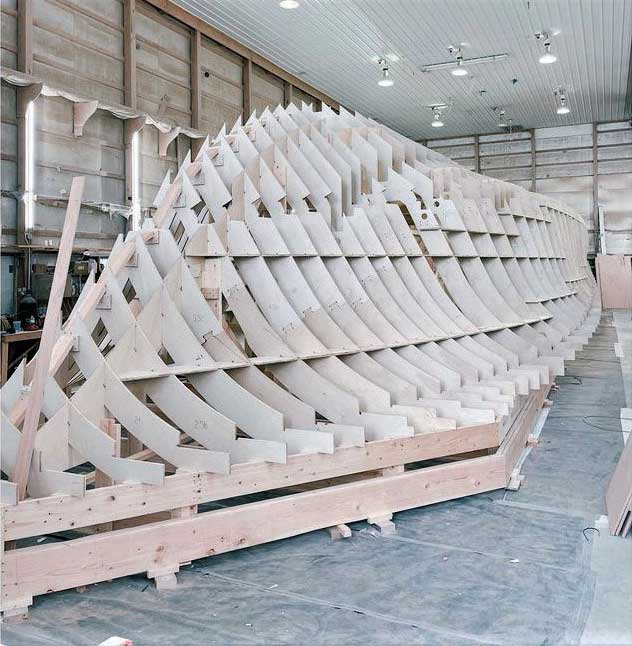 David Jr. of Evans Boat Repair in Crisfield, MD, sums it up well. "We are still slammed at our yard in Crisfield. Watermen are preparing to switch gears from crabbing to oystering, so the railway is packed. We also continue our day-to-day operations building and repairing boats. Currently on our construction side, we are wrapping up a custom 50-foot Evans as we wait on the USCG for final COI (Certificate of Inspection) inspections. We are also making progress on a custom 36-foot boat for pleasure use in the Outer Banks. We plan to begin construction on a new 43-foot Evans with COI in late September.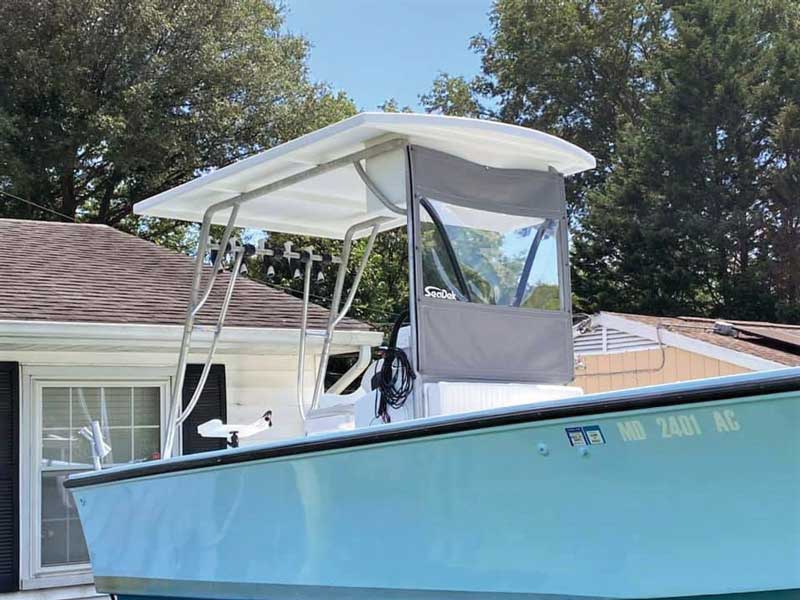 "On the repair side, we are now booking into 2022. We have a variety of repairs from Jet Skis to large refit jobs. From Mako pleasure craft restorations to Deltaville workboat restorations, our shop is diligently continuing to wrestle against an economy in shambles, struggling to get materials, and fighting the price increases at every turn. Nevertheless, we recognize that God has been good to us, even amid a pandemic and economic distress!"
The same observations are echoed in the following excerpts from the Windbag, the newsletter of Worton Creek Marina in Chestertown, MD. The latest copy warns slip holders that winter storage is filling up fast. "We are anticipating a full house again this winter," is the way owner John Patnovic put it. "The winter worklist is almost filled, and the marina is planning to replace an existing dock with a floating dock. Also, winter plans include some bulkhead replacement as well as removal of the existing underground fuel tanks and replacement with above ground tanks." It sounds as if it is going to be a busy winter at Worton Creek Marina.
We have not heard from occasional contributor Smokey Glover for a while. No wonder. It seems as if he's been busy, according to the following news release.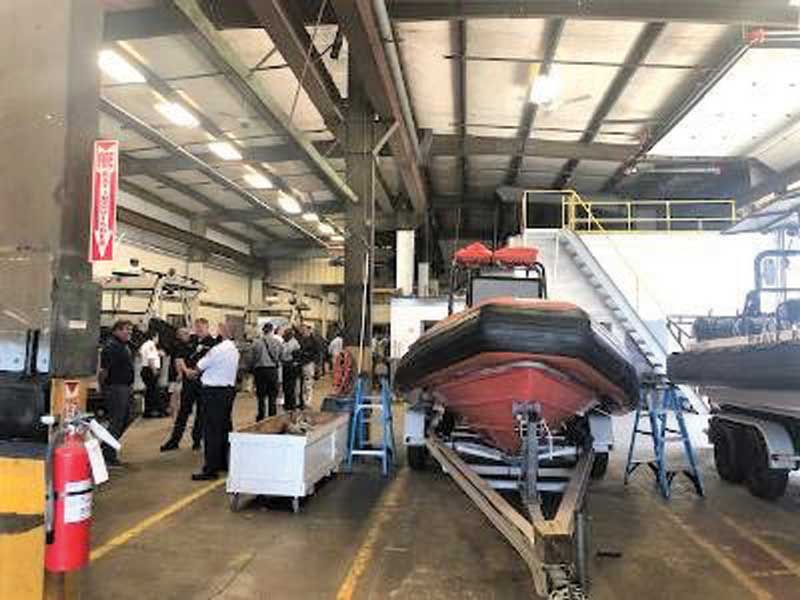 "Lake Assault Boats, a leading manufacturer of patrol, fire, and rescue craft, and a part of Fraser Industries of Superior, WI, has opened a 14,800-square-foot repair, service, and maintenance facility in Portsmouth, VA. Marine industry veteran, Smokey Glover, along with his team of five highly regarded and experienced technicians (all formerly with Willard Marine) will lead and support the operation. 'We are beyond excited to add a large and well-equipped hub facility, led by a team with nearly 100 years of experience servicing craft similar to the types that Lake Assault Boats manufactures,' said Bob Beck, director of sales and marketing at Lake Assault Boats. 'When the opportunity presented itself, we closed on an agreement within a week.' That's how much we value this transaction. I'm very proud of my team, and grateful that we are able to stay together as we join Lake Assault Boats; I think it was meant to be,' said Glover, newly named east coast director at Lake Assault Boats.
"'Our group is poised to hit the ground running. We've got an excellent customer base, a significant backlog of business, and the ability to service any and all brands.' Prior to joining Lake Assault Boats, Glover was the East Coast director of operations for Willard Marine. Before that, he served with the U.S. Navy's Naval Sea Systems Command (NAVSEA) and Combatant Craft Division as a mechanical engineering technician and as a supervisor of shipbuilding conversion and repair of US Navy surface ships and aircraft carriers. Together, the five technicians on his team averages more than 15 years of industry experience each. Lake Assault Boats' new facility is centrally located in the heart of Portsmouth's marine industry at 3501 Shipwright Street. The full-service operation will focus on repair, overhaul, and maintenance services. The team can be dispatched on an as-needed basis to locations anywhere around the globe." 
Boat builders at Chesapeake Light Craft (CLC) in Annapolis, MD, are nearing completion of a customized Candlefish 16, an outboard-powered fishing skiff designed by Sam Devlin. Devlin collaborated with CLC to add a raised floor, among other tweaks, to suit the client's fishing itinerary. CLC, located for the last 26 years at 1805 George Avenue in Annapolis, currently employs about 25 boat builders, designers, and admin. staff. According to owner John C. Harris, there are usually two or three custom projects of this size in progress at CLC throughout the year, in addition to ongoing production of the company's catalog of build-it-yourself boat kits.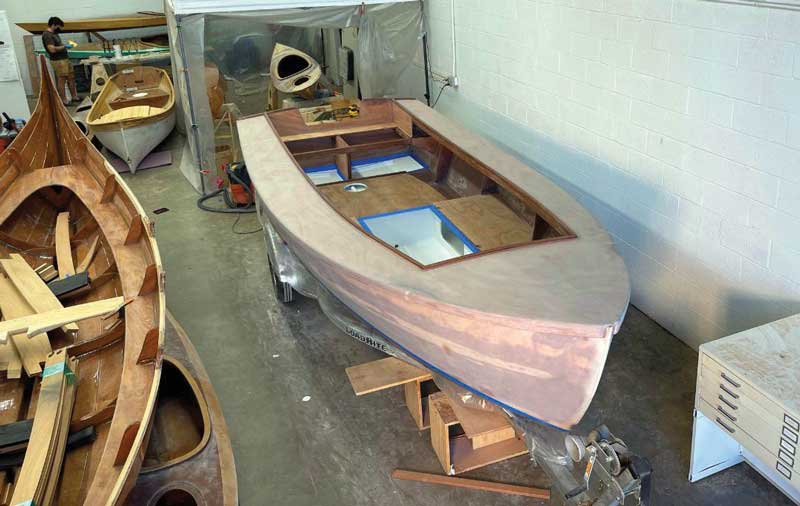 Buster Phipps of Phipps Boat Works in Deale, MD, has an Atlantic 47 Motor Yacht in his shop. In addition to exterior varnish work, there is extensive damage to the interior teak paneling and floor in the forward cabin. According to Buster, "The damage was caused primarily by a faulty forward hatch installation. The installer not only did not bed the hatch properly, but he also cut a square hole in the deck and installed a hatch with rounded corners. The gap on each corner is enough to stick your finger in. No wonder there is bad water damage." In reply to our question Buster said he is almost overwhelmed by work for this winter, "As people use their boats more, they find more problems and things to change, and they wind up here. I still am two men short and can't find anyone to hire," he explained. "Supplies are still a problem, but the manpower shortage is the real killer."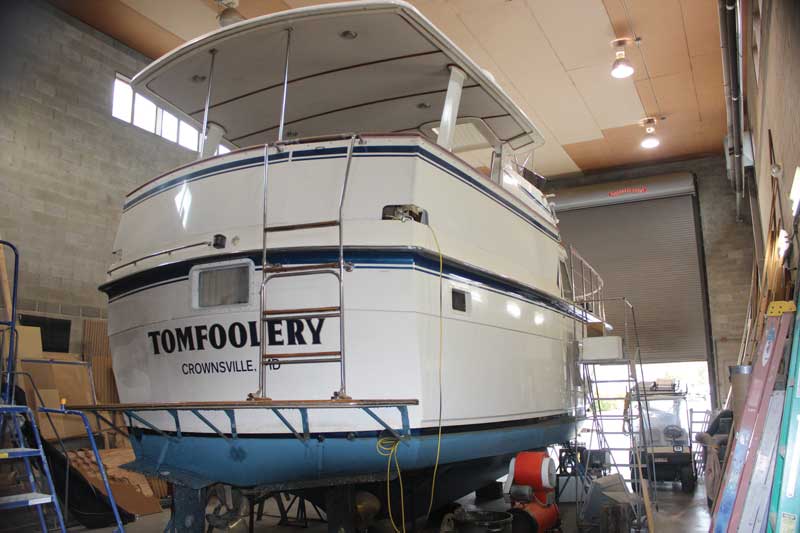 Over at Zimmerman Marine in Tracys Landing, MD, they have Ohana, a 1995 Bertram 50 in for a repower. The boat's original Detroit Diesels have been removed and twin MAN V8 1000 diesels are being installed. In order to gain access to the engines it was necessary to remove the flying bridge and the cabin top. The new engines have been delivered and are waiting on the shop floor.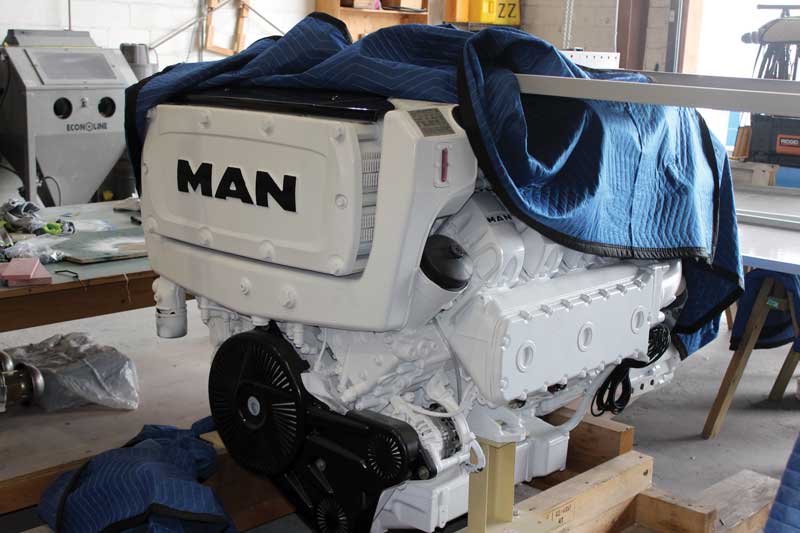 At Osprey Marine Composites in Tracys Landing, MD, J.J. Williams reports a full house as usual. Current jobs include a Nordhaven 60 being soda blasted in preparation for a barrier coat and bottom paint and a 1994 Donzi runabout in for a complete refinishing. J.J. also bemoans the manpower shortage. "Even when you find someone to hire, they don't want to work. The concept of a hard day's work for your pay seems to be out of fashion," he complained. "And the younger ones don't seem to want to get their hands dirty; they just want to play video games."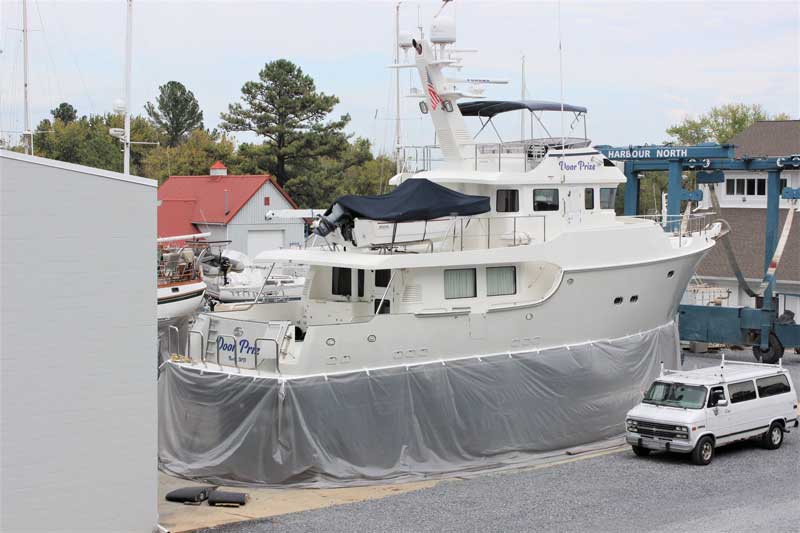 Supplies are also a problem. "We can get most small stuff, but when you need high-quality resin in the large amounts we need, it is all but impossible to find. I can't believe that it's all sitting on a container ship somewhere that they can't unload, but that's what they tell me," he said with a rueful laugh. "Our winter work looks good, but it is a little surprising that we are seeing so many wet core problems. Last year it was blisters; this year it's wet cores. Who knows why?"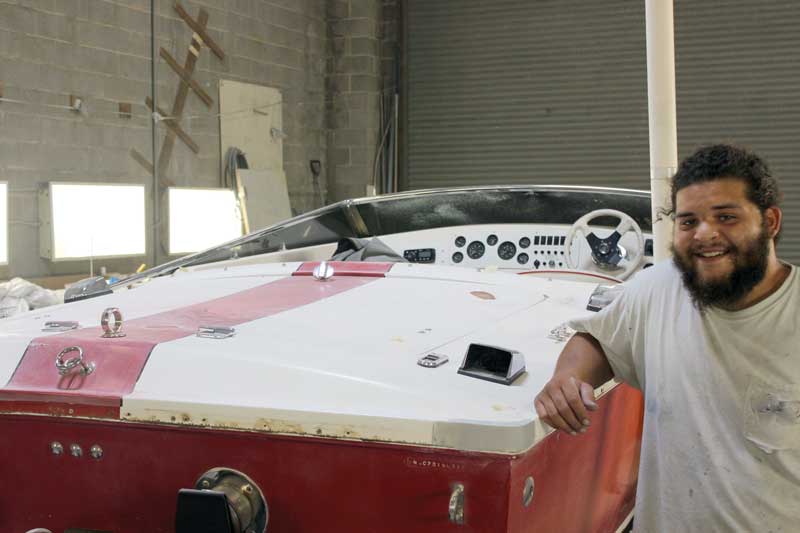 We haven't heard from Rob Hardy at Composite Yacht in Trappe, MD, for a while, but it sounds as if he's been busy. "In the shop we currently have a 32-foot Chesapeake model, three 46s, and the 55. We anticipate sea-trialing her in the next two weeks. We sea-trialed one of our 46s this week. This is hull number one of that series. We also have a 45 Cabo Express in our paint shed that has suffered from the gel coat crazing malady that we are remedying. She's getting a full epoxy coat and a paint job."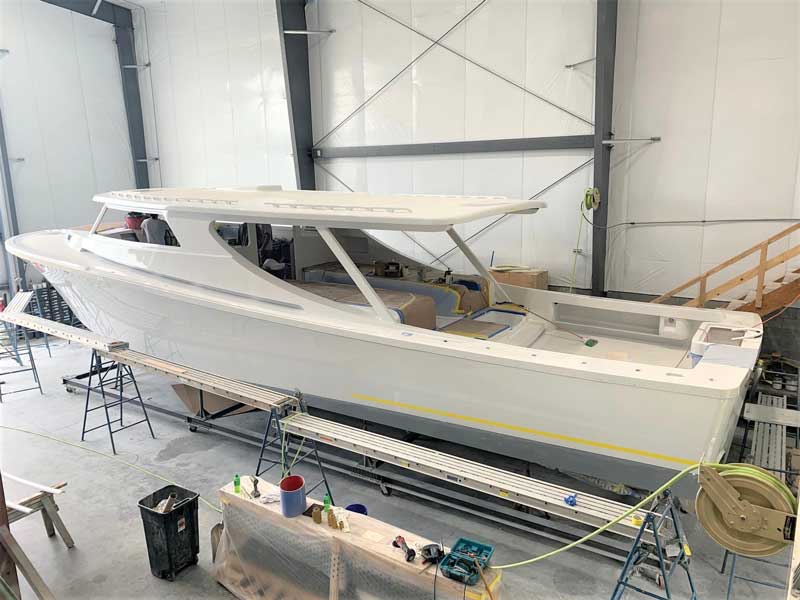 Rob also shared some interesting news about how he's solved his winter storage problem. "Composite Yacht has purchased the marina next door. All of our service, repairs, repowers, and storage are all at the marina now. We are focusing wholly on new builds up here at the main shop at Composite." Rob's short comment on the labor and supply shortage was, "It's horrific. It's not just industry wide, it's nationwide. I don't have the answer, but it is really a very difficult time to be in business."
Despite the lingering shortages and frustrations brought on by Covid, seems that area boatshops are alive and well and anticipate a busy winter season. Enjoy the last remaining fine autumn weather, get out on the water if you can, and we will be back next month. 
By Captain Rick Franke