After this summer of record rains, heat waves, and a debris-filled Bay, all topped off by a hurricane scare, we could certainly use some of the quiet, peaceful weather we often have this time of year. For the November 2018 Boatshop Reports, most area shops report that, despite the unusual weather, they remained busy this summer.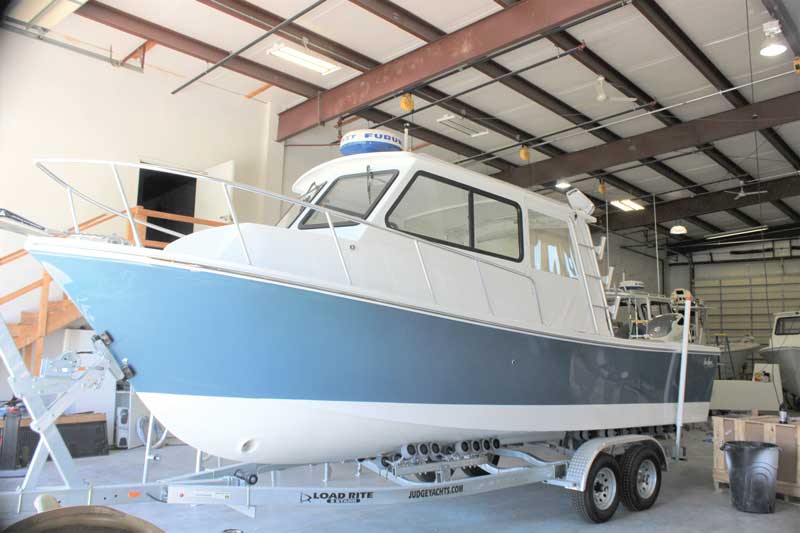 November 2018 Boatshop Reports
John Patnovic at Worton Creek marina in Chestertown, MD, sends us this update. "We continue to be very busy. Work continues on our biggest project: the 74-foot Spencer sport fisherman. We have finished vacuum bagging the bottom laminate and have started fairing the bottom. Her new MTU M96L, 2600-hp engines are installed, and we are in the final stages of running gear installation. Electrical work is about 80 percent complete, and we hope to sea trial in October. Readers are invited to visit us at the Annapolis Powerboat Show, tent G1, to learn more."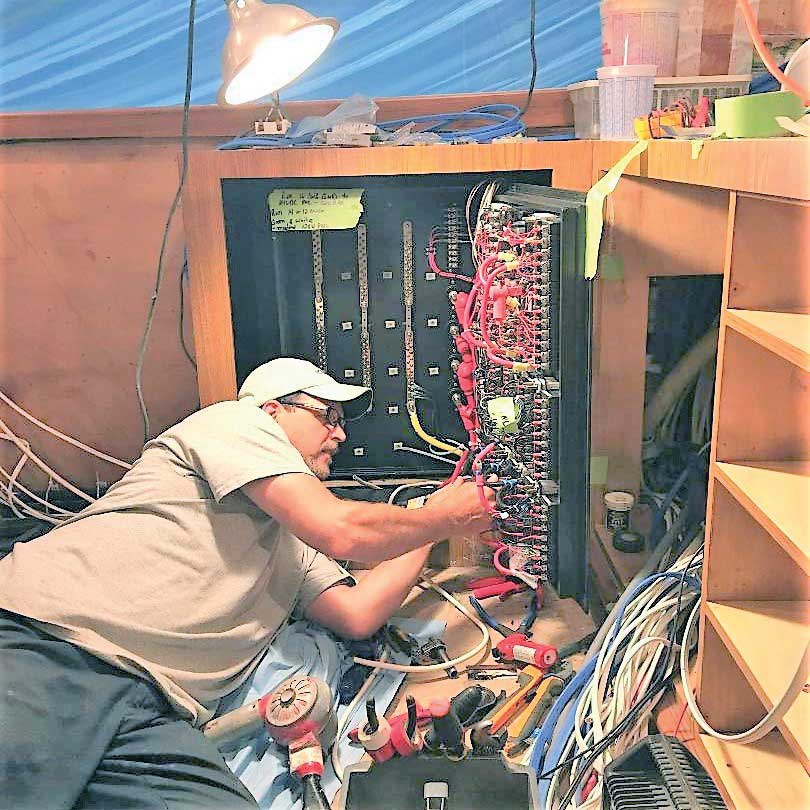 Alex Schlegel at the busy Hartge Yacht Yard in Galesville, MD, says, "Most everyone is using their boats and putting off repairs until the end of the season. In addition to the typical repairs, we're seeing that the extensive rebuild of the 1950 Trumpy is shaping up, and she'll be launched this fall. We have six men on the Trumpy: three carpenters putting the interior back together and caulking a few open seams on the topsides, a mechanic redoing the plumbing, an electrician installing new wiring and electronics, and a painter on the hull sides and interior."
"Other work: a Grand Banks 42 had the bottom soda blasted and is being prepped for antifouling paint; a Tiara 35 is here for generator repair; an Albin 32 is having fiberglass work to the aft end of her keel; a varnished cabin side Bruno & Stillman 42 came in on a truck from West Virginia; a 30-foot fiberglass catamaran (essentially a screened in porch) is hauled for leak repairs; and a wood Pulsifer 22 is in the slings while her planks swell."
We are used to Nancy Noyes sending us unusual reports from Chesapeake Light Craft (CLC) in Annapolis, MD, and this month is no exception. "If you were watching CLC's live shopcam during August, you'd have seen some unusual craft taking shape. One of the newest actually wasn't designed for the water: it's a reception desk for the Annapolis Boat Shows' brand-new headquarters at City Dock. Designed by CLC's Dillon Majoros, cut on their CNC machine, and built by staff boat builders Andrew Schroeher and Travis Guthrie, the project uses CLC's patented LapStitch stitch-and-glue method to evoke a traditional lap strake watercraft. The 'hull' is painted a classic white, while the 'deck' is a nod to the traditional teak and holly used in fine yachts for generations."
"This was a fun project, and we're really happy with the way it came out," says Dillon. "If people start asking, 'Does it float?,' we'll know we did our job!"
Noyes adds, "This fall, the CLC workshop will be humming with the WoodenBoat School's series of off-campus build-your-own-boat classes, followed by another two-week Build-your-own CLC Teardrop Camper class in November. Feel free to drop in and watch live on the CLC shopcam at clcboats.com/shopcam.
Joe Reid at Mast and Mallet in Edgewater, MD, says, "Currently we are still restoring the Cape Dory Typhoon we started in July. The exterior gelcoat repairs are completed and exterior painting is near completion. All new teak wood is being fitted and installed next. All original bronze hardware will also be installed. Another restoration we've started is a 17-foot Boston Whaler. She has all her gelcoat repairs completed and double primed with Interlux epoxy primer. Top coats to be applied this winter. We are also repairing damaged guardrails on a CSY 44, with paint work to follow. As a sideline, I finally sea-trialed the Chesapeake 22 we've been building as a shop project boat. It's like previous 22s we built with inboards, fashioned to look similar to Smith Island crab scrapes. This boat is different in that it has an outboard in a well. It has a double-planked bottom of cedar and single-planked sides of cedar, all glued with epoxy and sheathed in fiberglass. Powered by a 90-hp Evinrude E tec, she really scoots."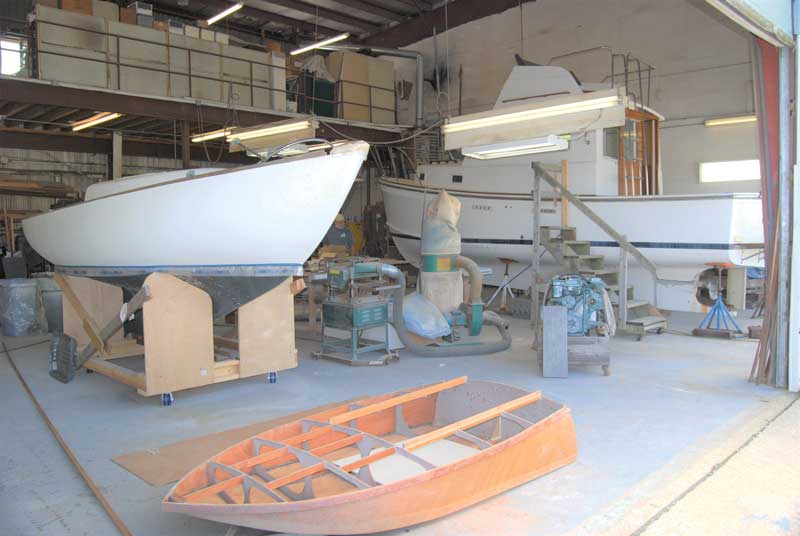 Rob Hardy of Composite Yacht in Trappe, MD, has a lot going on. "The CY55 mold is complete, and it should be on the road to our facilities for final surfacing as I type this. The CY46 systems are well underway, but for a USCG-inspected vessel we do take a little more time as we document everything in more detail. The mold for the walk around bridge deck is complete, and we're making the plugs for her other parts such as the live well and helm pod. We also recently started on a 35-foot build, which is on the Markley 35 hull, which we own the molds for. This one will be powered by outboards and will have an extended cabin with an emphasis on cruising. The yard remains very busy as we come around the bend on major upgrades on a 55-foot Little Harbor, as well as a number of other projects, such as the rehab of a little Bertram Moppie, and the constant paint jobs. Of course we have the metal shop making cool stuff like a polished stainless dry stack for a keel cooled deadrise work boat."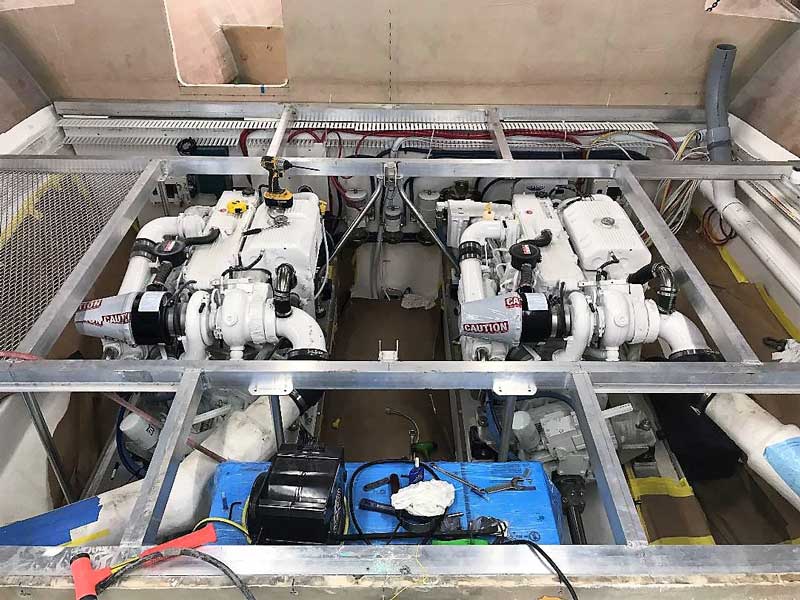 Dave Hannam with Classic Watercraft Restoration in Annapolis reports, "This month has been all about the Power Blocks! We continue on the last leg of getting one of the last mahogany 1966 Shepherd 19-footers ever built up and running. All coatings and interior have been restored. The Ford 302 has been revived and is starting to purrrr. Also, the motor shop has been very busy with a fresh AMC 327 waiting for a new upgrade install in an old classic, the Century Resorter 17 foot. A Ford 289 small block is coming together for an upcoming woody project on the agenda."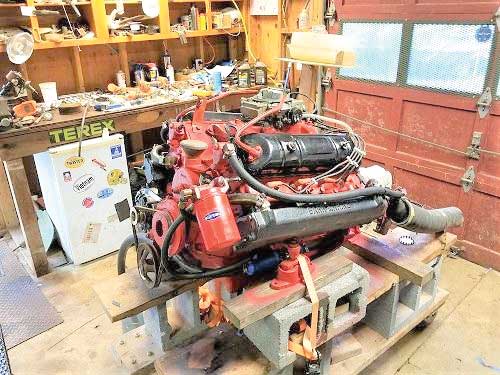 Shipyard Manager for the Chesapeake Bay Maritime Museum (CBMM) in St. Michaels, MD, Michael Gorman, reports that two years of work on the National Historic Landmark the 1889 bugeye Edna Lockwood came to an end with her relaunch at CBMM's OysterFest in St. Michaels on October 27. "With the completion of planking and fairing this fall, the shipyard crew then finished caulking all seams, knifed in seam compound, and gave the bugeye a couple of coats of paint. Her decorative red bead has been painted and trailboards have been installed. Edna has now been floating for a few weeks and swelling up nicely… Shipwright apprentice Michael Allen is working on some windows. Seip Family Foundation shipwright apprentice Spencer Sherwood installed her trailboards and built out the trim that goes around them, and apprentice Zach Haroth headed up paint and lead flashing details that protect various bits topsides, while also putting in final bolts in the deck structure. Apprentice Sam Hilgartner built the new standing rigging for Edna in CBMM's Corn Crib. This marks the first time CBMM has built its own rigging, providing a much-needed upgrade to Edna and her ability to undertake a National Park Service-funded Heritage Tour next summer. The final steps in the project will include pulling out Edna's masts, putting on the new rigging, and stepping them. After this, her push boat and centerboard will be installed, and booms and sails created by Traditional Rigging Co. in Maine, will be added. For more details, visit ednalockwood.org."
Hank Reiser of Marine Service, LLC at Pocahontas Marine Service in Edgewater, MD, is working on the restoration of a 1951 35-foot Chris Craft Commander. The owner bought the boat sight unseen and brought her to Hank for replacement of the transom, aft cockpit, and some after hull planks. The Commander was probably originally powered by twin Chris-Craft Hercules K or KL sixes, but was repowered at some time in the past with twin Gray Marine 237 Fireball V8s.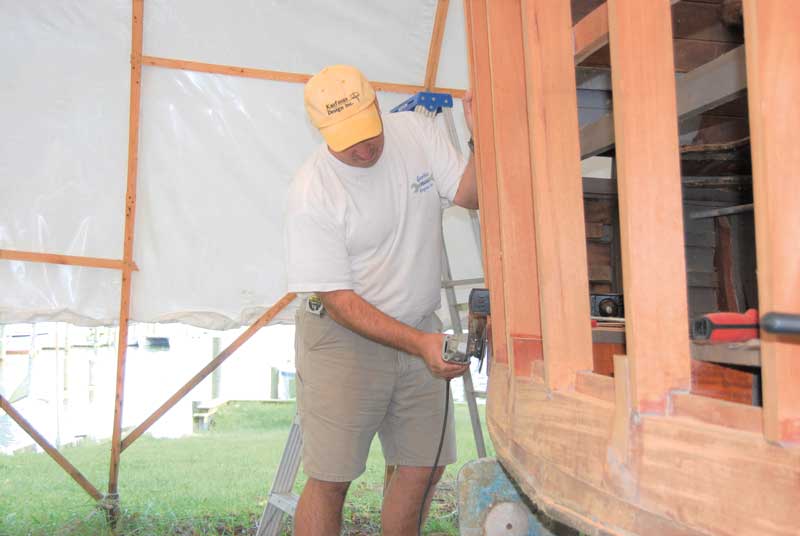 Among other projects in Hank's busy shop is a mid-50s Lyman 23. The plan is to have both boats completed and ready to show at the Antique and Classic Boat Show next June.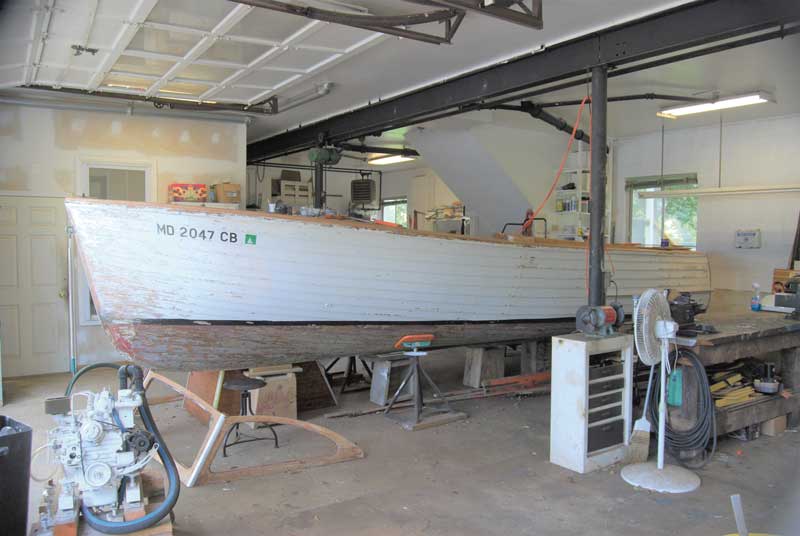 Tom Gunther of Gunther Marine in Edgewater, MD, says they had a good clean up when they had to get everything out of the shop for the hurricane, but everything is back now and a lot tidier. They are in the middle of repowering a Catalina 30 with a new 27-hp  Kubota D950 diesel.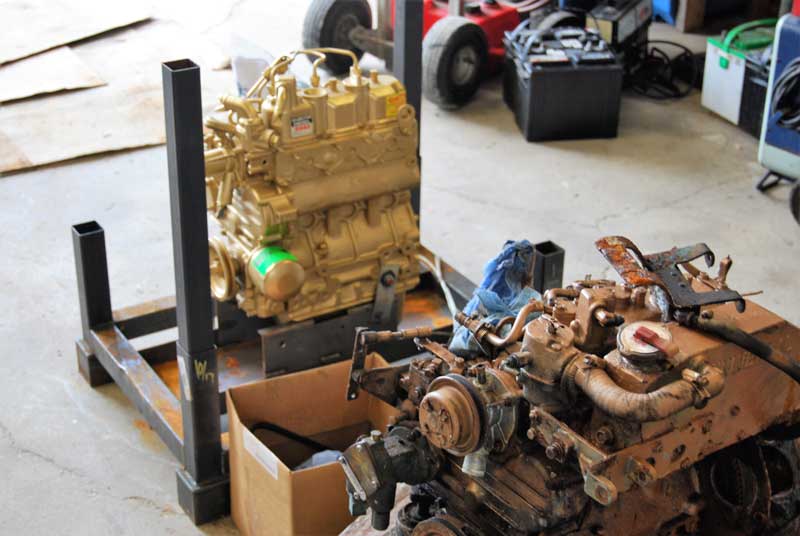 By Captain Rick Franke