This series is about one woman's solution for cruising: buying a trailerable boat. Last month, I started this mini-column with an overview of how to go cruising on a trailerable powerboat and do it with limited time, on a tight budget, and possibly alone (although this is the perfect couple's cruise as well). The idea is to use the boat as an RV of sorts while in transit and then launch at the destination and continue exploring well beyond the highway. In this part, let's look at boats that would work, propulsion plusses and minuses, and tow vehicle needs. Then, we can put some numbers around these necessities and hope your banker doesn't have a stroke.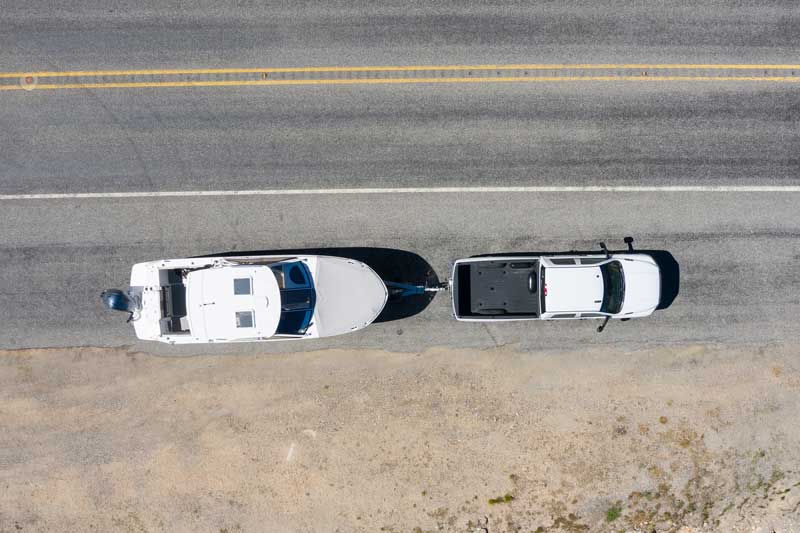 Towing a boat around the country and exploring lakes, rivers, and coastlines is pretty basic, and a hardy individual could do it with an SUV towing a ski boat. (I did that for two weeks on Lake Powell, tossing my sleeping back on a sandbar at night but the scorpions were off-putting.) These days, I'm not into roughing it. My back hurts when I sleep in a makeshift bunk, and I'm cranky when I'm cold and wet. I'll stand watches and sleep in my foulies for a short time, but this is meant to be an adventure and celebration, not a chore. If I'm not comfortable, safe, and happy, I won't last long, and neither will anyone who may join me for a leg. (Although I may be planning to go this alone, I'm not a hermit and I fully expect to have friends who suddenly become available when they sense a free cruise in the offing.)
Boats
I'm targeting mini-trawlers and small cuddy cabin styles 24-32 feet—basically pocket cruisers. Depending on the boat's beam (and state regulations), you may need a permit to tow boats over 30 feet LOA. Jeff Messmer, founder of Ranger Tugs, says their Ranger 27 is the maximum size for towing without a permit. This tiny trawler has a beam of eight feet, six inches, a suite of Garmin electronics including autopilot, a full galley with a propane stove (no genset needed for cooking), a master stateroom forward, and an enclosed head/shower compartment. It also has a nice foredeck for lounging and anchoring, and an aft cockpit with seating for four. It even has an optional dinghy lift to carry a tender.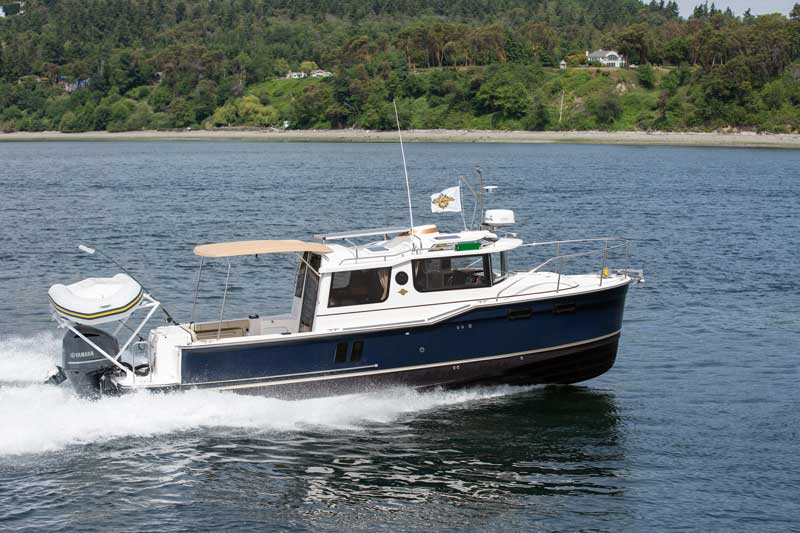 Ranger's sister company is Cutwater and if you can't wrap your mind around a shippy-looking trawler, a Cutwater 24 or 27 is sportier and will provide most of the same amenities. Both brands have "guest bunks" with cushions tucked below the cabin sole. (My guests will have to be agile.) Alternately, I could use that space for tubs of supplies and convert the dinette and hi/lo table to a temporary bunk. Guests needn't be too comfortable lest they want to stay too long. 
The 30- to 32-foot models of both brands get downright luxurious with more space, wood paneling, outdoor electric grills, and even tiny flybridges. My preference is simpler, smaller, and lower to reduce windage and have less to break and to fix. I'd rather have a bracket on the cabintop for a kayak or a SUP. Few companies get more creative with seating options or innovative use of space than the two above, so there are few tradeoffs in terms of comfort.
Other boats to consider include the 28-foot Aspen C90 catamaran. A 10-foot beam may require a permit, but it also creates a lot more space in the interior and the cockpit. There's a king-sized bed in the master, a quarter berth for a guest, and lots of stowage space. The great thing about cats is that they're steadier both under way and in a rolly anchorage, so you stay on your feet during the day and get good sleep at night.
Another candidate is the 27-foot Beneteau Antares 9 which is more of an express boat but still has a full master cabin plus guest quarters, an interior dinette and galley, and a nice helm station complete with a side door, so a single-hander can step out to manage dock lines quickly. 
Propulsion
Most of the models above are available with outboards, and those have some benefits. Outboard motors move the power aft onto the transom or swim step so that there's more room inside the boat for stowage or living space. Outboards are also easier to access for maintenance or repair, and if one is beyond help, it's easy to pluck it off the transom and repower with a new one. Most of the boats above will have single or twin 200- to 350-hp engines that will even get a "trawler" up on plane so that you can make port before dark or outrun a storm.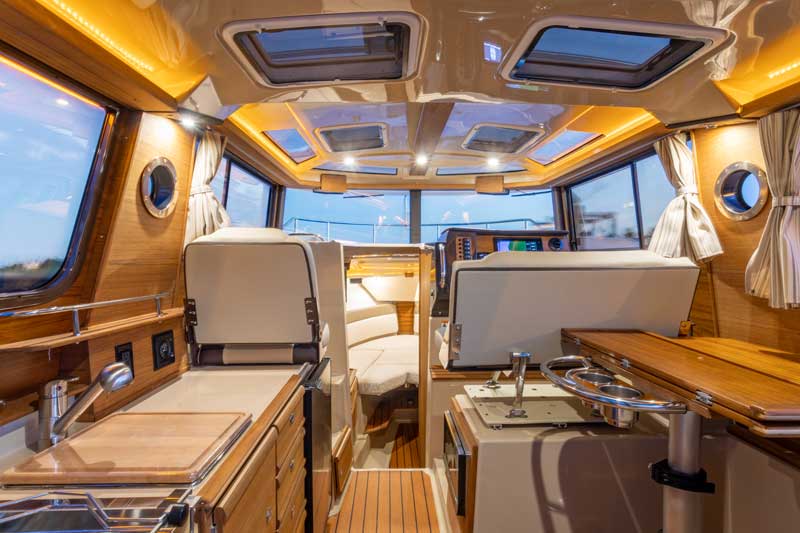 Another benefit of having twins is redundancy. If one engine goes down, you're not stuck. That's huge for anyone like me who's not a mechanic. The Cutwater C-24 also has a 10-hp auxiliary get-you-home engine. You can troll when fishing or use it in an emergency. 
Of course, inboard diesel engines have their own appeal. The fuel economy is excellent, and that translates to a greater range between fuel stops. Diesel inboards like the Volvo Penta D3 on the Aspen C90 have the power to plane but are workhorses that will last for years, and that's great when buying a used boat. Some of the models above like the Beneteau Antares have optional bow and/or stern thrusters so slow speed maneuvers, even with a single outboard, are fairly easy. 
Tow Vehicles
The models above are available with double or triple-axle aluminum trailers, and the boats' dry weights come in between 7000 and 10,000 pounds. (The Aspen cats may be bigger, but they're also relatively light.) A three-fourths ton or one-ton diesel pickup should be able to manage any of these. Add a lockable shell or topper for more on-the-road stowage space. A double cabin or six-passenger truck will have room for a guest, their luggage, and even Fido if he comes along in the back seat. 
Pricing
Prices for the Beneteau Antares start around $90,000 new. The smaller Rangers and Cutwaters run $140,000 and rise dramatically with size and options. Aspens will set you back quite a bit more—around $400,000. Prices will vary with outfitting, engine choices, and size. Heavy-duty pickups will run $40,000-$55,000.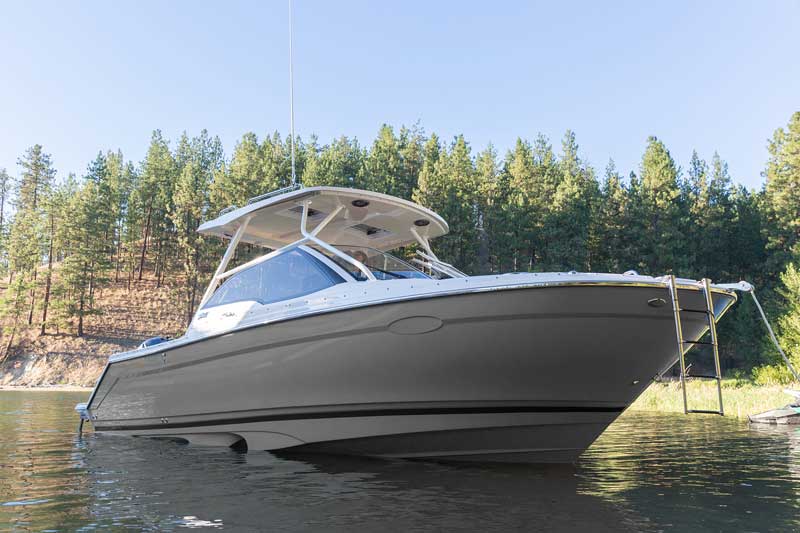 Buying new is great since there are boat and engine warranties and dealers to go to if things break. However, as with cars, boat prices drop dramatically when you "drive them off the lot," so consider pre-owned models with low engine hours and light wear. You could save 30 percent or more.
Granted, none of this is exactly "tight budget" material but compared to cruising on high six- and seven-figure vessels, trailerable pocket cruising is a bargain. Now you just have to figure out how to make your banker see it that way. 
By Zuzana Prochazka
---