One of the best parts of boating is the freedom to anchor anywhere and enjoy the peace and quiet of a secluded spot or the opportune access to a bustling waterfront area. We've dropped our anchor in so many settings around the Chesapeake and along the Intracoastal Waterway (ICW) and been lucky to find just what we were looking for at each location.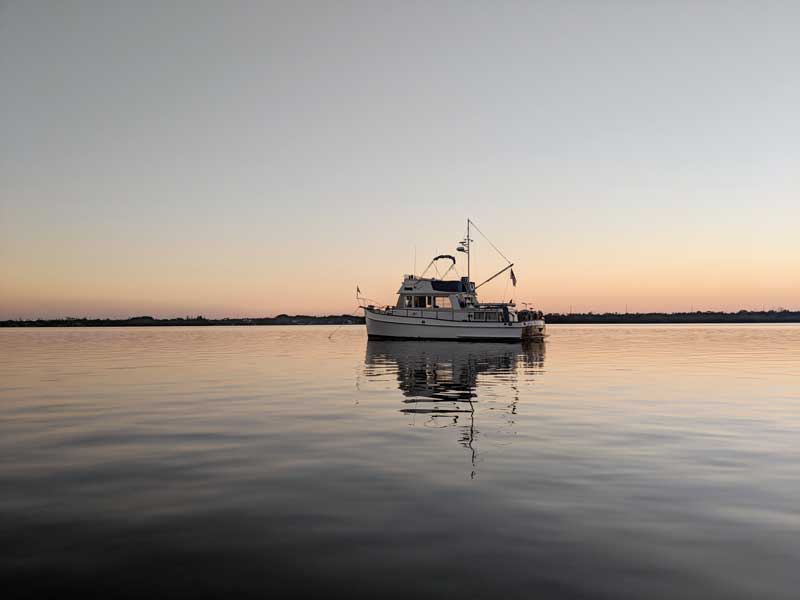 Each anchoring location choice has certain safety concerns, as well as different concerns for amenities, depending on what you're looking for and your goals for your boat trip.
Safety concerns include:
1. Swing room – The rule of thumb for how much anchor rode to put down is five to seven feet for every foot of depth, based on weather and current. The more wind and current you're fighting, the more rode you'll want to lay down. It's important to remember that the anchor does the holding, but it can't hold well unless it's dug in; the chain in front of the anchor ensures that.
2. Wind protection – Consult your weather forecast and consider the prevailing wind direction for a location. Put a thick line of trees or a tall bank between your boat and where the wind is coming from. Wind protection will make for less wave action rocking your boat. "The more chain the better the hold," as they say in the trade.
3. Holding – the type of material the bottom is made up of is a major part of the decision about whether or not to anchor in a given spot. Plow anchors typically plow a furrow through the muddy bottoms that are predominant in the Chesapeake, while the scoop or fluke anchors are more effective elsewhere.
4. Current – You'll need to be mindful of tidal flow strength and direction. As current goes in and out, your boat will turn, possibly causing your anchor to become dislodged and your boat to drag in a strong current.
5. Wake Protection – In an area where there's quite a bit of boat traffic, you may want to position yourself away from that activity, so the passing wakes don't rock you about as you're enjoying life on your boat. Some people seem to be unaware we boaters are responsible for our wakes.
Beyond the criteria that apply to every anchorage for safety concerns, a captain's choice of location will vary based on the needs of the occasion. A crowded spot will have different requirements than a secluded backwater. A heavily trafficked area or a relatively shallow area will need careful anchoring to ensure good holding. How long you expect to be in a location will also affect the site you choose.
After safety issues are addressed, a good spot to anchor for an overnight or longer will include:
6. Shore Access – We recently dropped our anchor in a spot that was a marked anchorage and was plenty big enough and safe enough, but it was surrounded by miles of one- or two-foot deep water. Shore access for this anchorage was not great because any dinghy ride would have been very long, and there wasn't a beach or dinghy dock handy. If you're just staying overnight or don't plan to leave the boat, a spot like that is beautiful and humbling.
7. Ease of Shopping and/or Restaurants – A short ride to a sanctioned dinghy dock that opens up into a safe, walkable area of town that meets any shopping and entertainment needs is a real gem to find. Many city parks have great dinghy tie up locations, and a great many marinas have dinghy docks you can use for a very minimal fee. You may also want a short ride to a nice waterfront spot for dinner or cocktails. Plenty of waterfront restaurants have docks accessible by dinghy or small boat and welcome all comers.
8. Pet Friendly – If you have furry family members, you'll need to make sure your anchoring spot has a place to take your pets to shore, so they can do their business and you can clean up after them. Try to find a spot where they can stretch their legs too, as they'll need exercise as much as we do or more.
9. Cell Service and/or WiFi – Last but not least, most folks will want communications. In the Chesapeake or anywhere along the coast, you'll always be within communications range on your VHF radio. If your goal is to get away from everything to find some peace and quiet, you may actually have some difficulty getting fully out of mobile phone service range. However, if you want to be able to contact family and friends and tell them about your wonderful vacation spot, most places in the Chesapeake will have no trouble getting mobile phone service.
Anchoring Etiquette:
Courtesy BoatU.S.
Come in slowly. When you're weaving your way through an anchorage, pass behind anchored boats, and if you come in fast enough to overturn somebody's lunch, you'll likely get an earful.
The first boat sets the precedent. Anchoring is on a first-come, first-served basis. If you arrive later in the day, don't anchor too close to other boats, or in their swing radius.
Once the hook is down, don't just hop in the dinghy. Nothing screams newbie louder than tossing an anchor over and leaving before your boat has settled back with the wind and really "set" its hook. An anchor has to grab the bottom, dig in, and set to really hold.
Sound and scent carries farther on the water. Don't be that person who leaves your cellphone behind to ring at all hours. If you need loud tunes, use headphones. If you must run a genset for your air conditioning and icemaker, anchor near other boats similarly equipped. Scent also carries far on the water. Perhaps the worst thing a boater can do is pump the head overboard in an anchorage. Not only does it smell, it's illegal.
By Elizabeth Kelch