The National Aquarium in Baltimore plans to install a network of floating wetlands between Piers 3 and 4, creating habitat for native species, gradually improving the harbor's water quality, and reconnecting residents and visitors with the natural world right at the water's edge. The installation of floating wetlands—made up of plants native to our coastal region—will bring the Chesapeake Bay within reach for visitors and students from the community and around the world.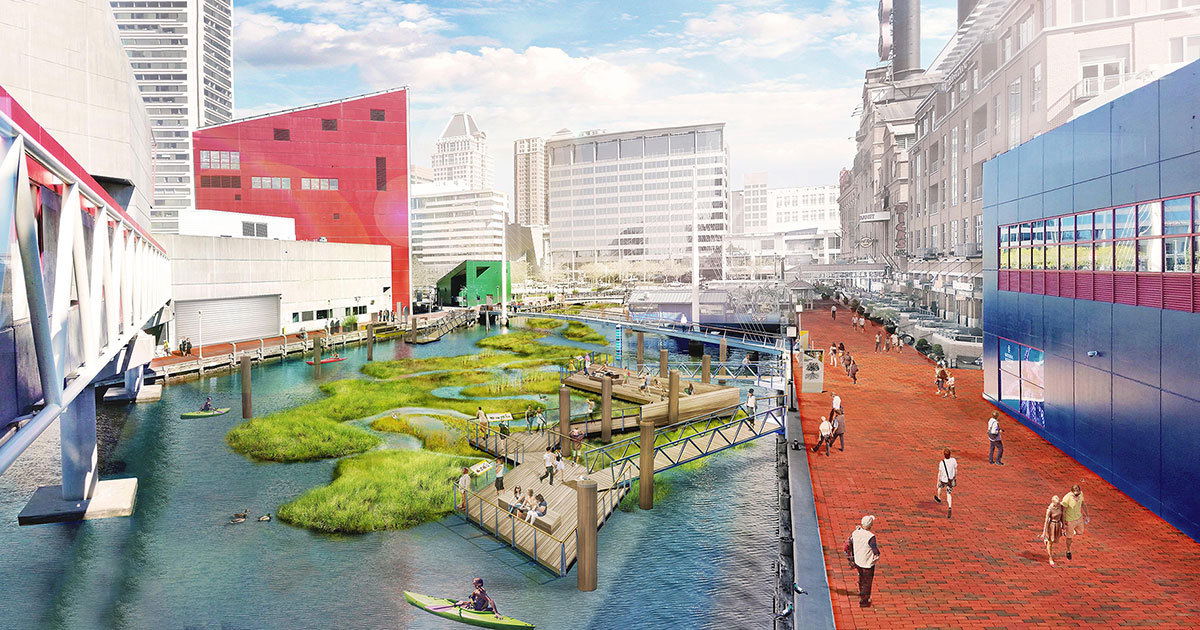 Currently, a floating wetland prototype is in place, serving as both a successful example of how these installations can support wildlife and as an educational tool for the Aquarium's What Lives in the Harbor program, which gives Baltimore City Public Schools' sixth graders hands-on learning opportunities to engage with a slice of the Chesapeake Bay.
The floating wetland prototype was installed in August of 2017 with 1441 plants. Each island consists of a porous base that offers growing surfaces for beneficial microbes. National Aquarium staff and volunteers planted native grasses into the floating wetland prototype, allowing the pollutant-absorbing roots of native aquatic plans to reach the water below. These grasses, which are planted at tiered heights, mimic a natural wetland's microhabitats and support many different species. 
Now, the vision for an expansive, vibrant waterfront ecosystem will soon be realized thanks to the help of donations from organizations and individuals who believe in the project and its tremendous benefit to Baltimore City. A total of $11 million has been awarded to date from both public and private funders, to support the goal for a greener waterfront.
Major private donations recently received include CFG Bank, the waterfront campus project's lead sponsor, with a generous $3 million gift; $2 million from the Whiting-Turner Contracting Company; $1 million from Constellation, an Exelon Company; $1 million from Mary Catherine Bunting and $500,000 from the Bunting Family Foundation. These latest gifts serve as a tipping point in funds raised for this important project that would not otherwise be possible.
For more information on donors and the future of the project, click to the National Aquarium's website.