Chesapeake Bay Crossing Study UPDATE: 
The Maryland Transportation Authority and Federal Highway Administration have released a draft of 14 possible options for a new Chesapeake Bay crossing. Find full maps here.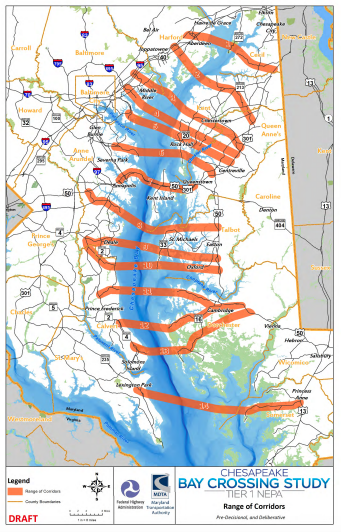 The purpose  of the Tier 1 NEPA Study is to consider corridors for providing additional capacity and access across the Chesapeake Bay in order to improve mobility, travel reliability, and safety at the existing Bay Bridge. The Tier 1 NEPA Study is evaluating potential new corridor alternatives that will include assessment of existing and potentially expanded transportation infrastructure needed to support additional capacity, improve travel times, and accommodate maintenance activities, while considering financial viability and environmental responsibility.
Stay tuned for upcoming spring open house dates and locations. Click here to submit comments.
---
(This post was originally published in 2017.)
In 2016, Maryland Governor Larry Hogan announced that the Maryland Transportation Authority (MDTA) would begin a study to identify the location of a new Chesapeake Bay crossing with consensus from Eastern Shore Counties, since state law requires a majority of them to agree. In November 2017, the MDTA hosted an online public meeting regarding the project.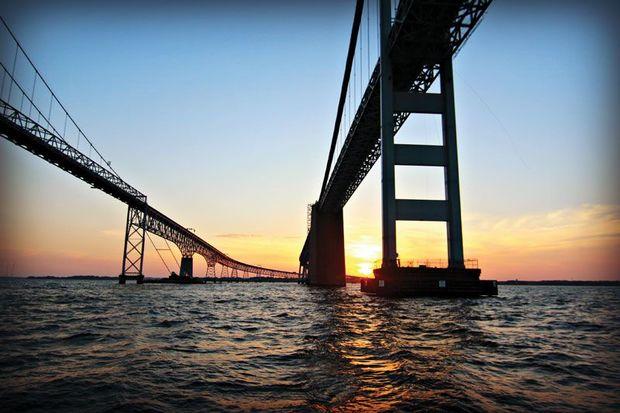 MDTA
The MDTA is affiliated with but independent from state government, so it does not receive funding from the General Fund or the Transportation Trust Fund, nor does it receive any tax dollars. The $5 million study will explore potential funding options and is expected to continue into 2020.
Bay Crossing Study
The Chesapeake Bay Crossing Study: Tier 1 NEPA (Bay Crossing Study) is a National Environmental Policy Act (NEPA) study that will result in the identification of a preferred corridor alternative to address congestion at the Chesapeake Bay Bridge and evaluation of its financial feasibility. The Bay Crossing Study will evaluate current and future traffic demand across the Chesapeake Bay. The study area is a broad geographic area that includes the entire length of the Chesapeake Bay in Maryland, spanning approximately 100 miles from the northern end near Havre de Grace to the southern border with Virginia between St. Mary's and Somerset Counties.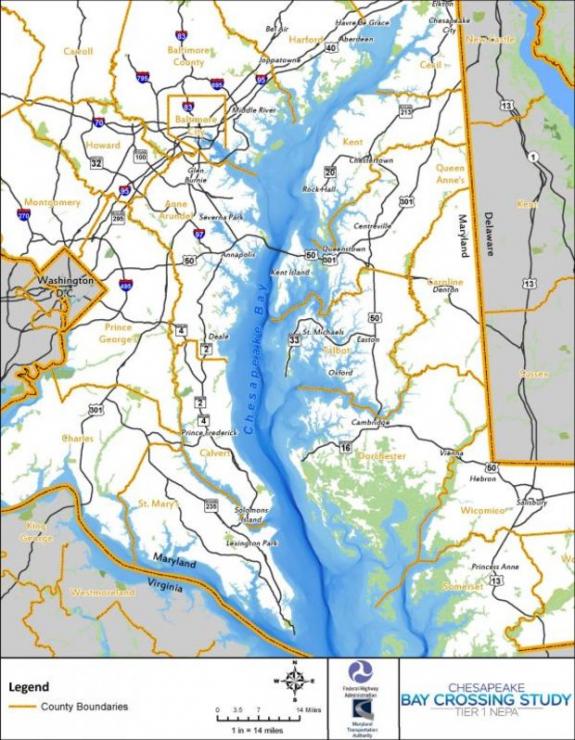 The study aims to accomplish two things:
Identify the corridor of a new crossing.
Assess potential financial viability.
Part of the process also includes reviewing past studies. The location for the existing crossing at the Bay Bridge was chosen in the 1930s. The original span opened in 1952 and the parallel span was added in 1973. Since that time, population and job growth has increased significantly on both sides of the Bay. In 2014, annual traffic was measured at 25.5 million vehicles. The Bay Crossing Study hopes to address that congestion in the future. Watch the full presentation below: