Winter has finally retreated, the shrink wrap is coming off, and the boating season is beginning. Think spring!
Dave Hannam with Classic Watercraft Restoration in Annapolis reports that it (spring) is definitely varnish season! So what exactly does that mean? "It entails tons of hours spent painstakingly sanding mahogany planks in between multiple coatings just to get your classic woody back up to factory specs from 50 years ago! But the time spent sure is worth it, Gin Mill, the 22-foot Hacker-Craft restoration job is complete, and she is shining like a piece of jewelry... just don't tell your wife. And a gem she will be this spring back out on the Bay. On another note this year's St. Michaels Antique Boat Show theme will be Classic Ski Boats. Hannam has already started on a Century Resorter, the most popular of ski boats back in the 60s and plans to have the restoration complete, just in time for the show this June."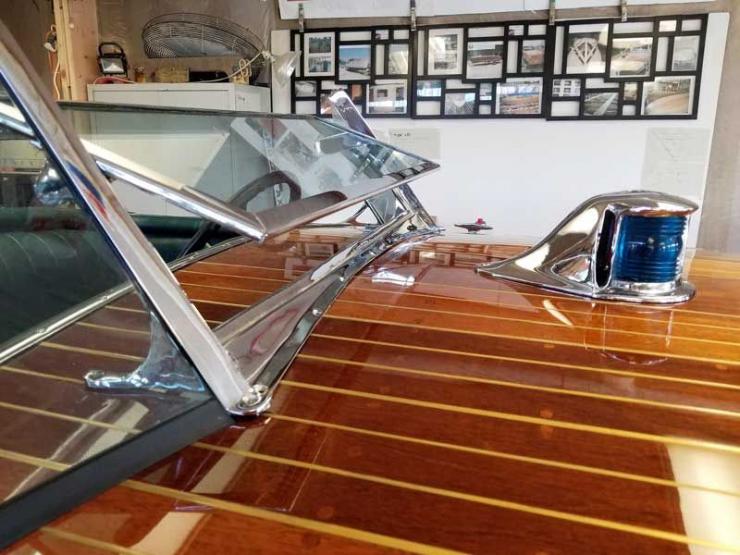 Nancy Bray Booth has been keeping the paint shop busy at Hartge Yacht Harbor in Galesville, MD. "Hartge Yacht Harbor transformed a new 25-foot Chris Craft solid white boat from boring to beautiful with a bit of preparation and some deep blue Awlgrip. It required removing the engine hatch cover and bringing the blue paint up to meet the cushions. The result is remarkable. The restoration of the Waesque 32 continues inside the paint building. The preparation will soon be complete, and the boat will be moved into the paint booth for deck spraying. The Viking 46 deck repair is almost complete. The boat will be hauled for bottom painting and then transited to Ocean City for fishing season."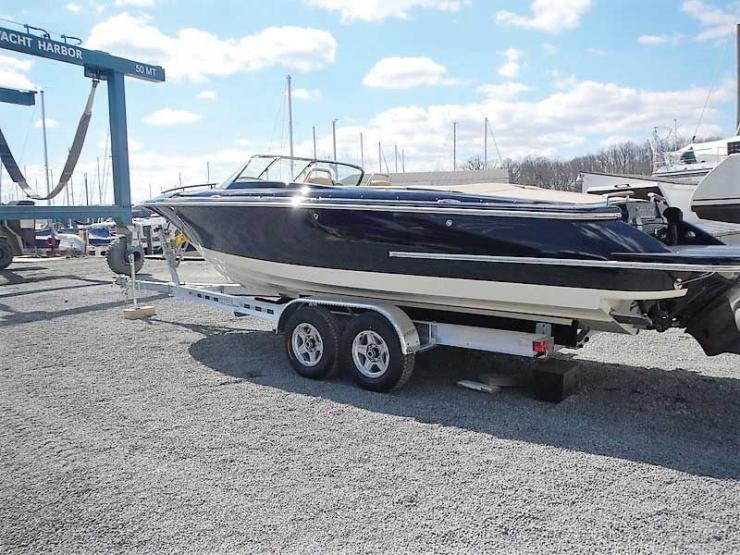 The Chesapeake Bay Maritime Museum in St. Michaels, MD, has officially announced its next major shipyard project: a restoration of the 1912 tug Delaware. The restoration will begin with lofting this winter following the launch of the 1889 bugeye Edna E. Lockwood in October 2018 and start in earnest in January 2019. "This is a full stem-to-stern restoration," said CBMM shipwright James DelAguila, who will serve as lead on the project. "We're excited to get started."
With work taking place in full public view, CBMM's shipwrights and apprentices will begin work on Delaware's keel, stem, and horn timber in early 2019 and then progress to framing and planking in the latter half of the year. Work on deck structures will follow, with the project anticipated to take two years. Built in Bethel, DE, by William H. Smith, Delaware once hauled scows on Broad Creek—often laden with lumber—and towed ram schooners to and from Laurel, DE. Occasionally, she carried parties of young people to Sandy Hill for day trips on the Nanticoke River. Donated to CBMM by Bailey Marine Construction in 1991, Delaware is now a member of the floating fleet on display along CBMM's waterfront campus.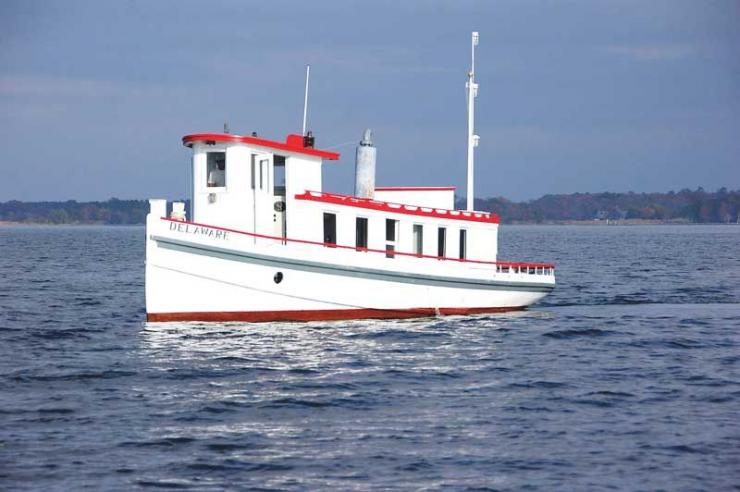 This project will run concurrently with and adjacent to the build of a new Maryland Dove, a joint effort between CBMM and the Historic St. Mary's City Commission (HSMC). Dove, a replica of the late 17th-century trading ship that brought the first settlers to what is now Maryland, is owned by the state of Maryland and operated and maintained by HSMC. Construction on Dove will also begin in January 2019. "This is a truly exciting year for CBMM, thanks in large part to the flurry of activity in our shipyard," said CBMM president Kristen Greenaway. "Working on these unique vessels helps us further tell the story of the Chesapeake Bay and the state of Maryland. We can't wait to share them with our guests."
Last fall we featured boat builder John Cook of Hollywood, MD, as he began building a log canoe in his side yard. The canoe, named Eve, and now in his garage, is nearing completion. John has planned a launch date of May 19. More to come on this story, I am sure.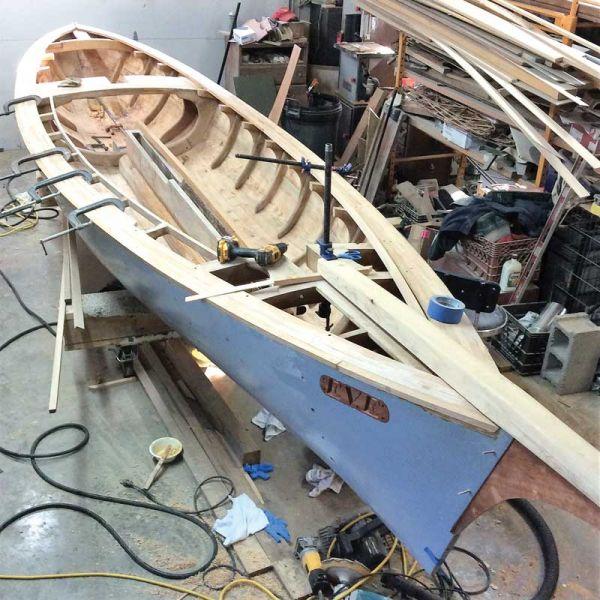 Forrester Boat Works in Suffolk, VA, has had a busy winter and is looking forward to the spring. "We have been hard at work finishing our 23-foot Duck boat for Wingman Guide Service and finishing up the 17-foot Trout skiff that will be for sale shortly. We have also been very busy with maintenance projects all winter. We have a couple of really exciting projects coming up that will start this summer and early fall."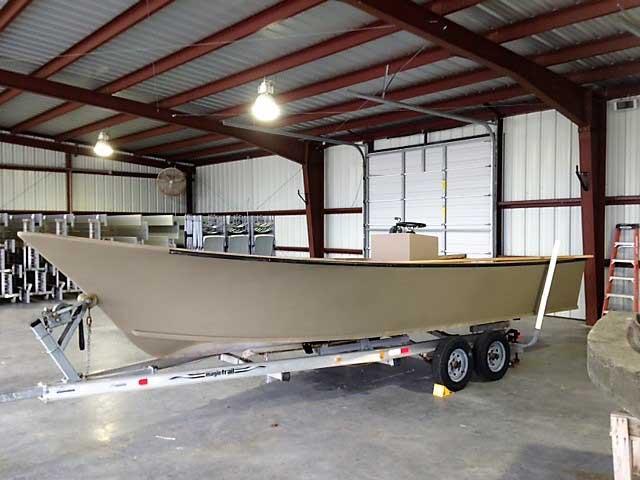 Boat Builders often turn their hands and talents to other projects, and that's exactly what happened when Chesapeake Light Craft of Annapolis's John Harris designed a "tear drop" trailer for amateur builders. "In March, the team of boat builder-instructors helped five crews of students build their own CLC Teardrop Campers in a two-week class in our Annapolis workshop. Additional Teardrop Camper classes also are offered in April and July, with a possible repeat later in the year. The regular spring class series continues with weeklong sessions devoted to rowing craft, kayaks, and canoes, through May 19 in Annapolis before the summer sessions at the legendary WoodenBoat School in Brooklin, ME, the Great Lakes Boat Building School in Cedarville, MI, the Center for Wooden Boats in Seattle, WA, and more. We'll be back in Annapolis with additional classes in September. A CLC build-your-own-boat class is a great way to spend a week's vacation or staycation, with a take-home souvenir much better than a fading tan and a phone full of photos: a completed boat (or teardrop camper) ready for finishing. See the complete schedule here: clcboats.com/classes.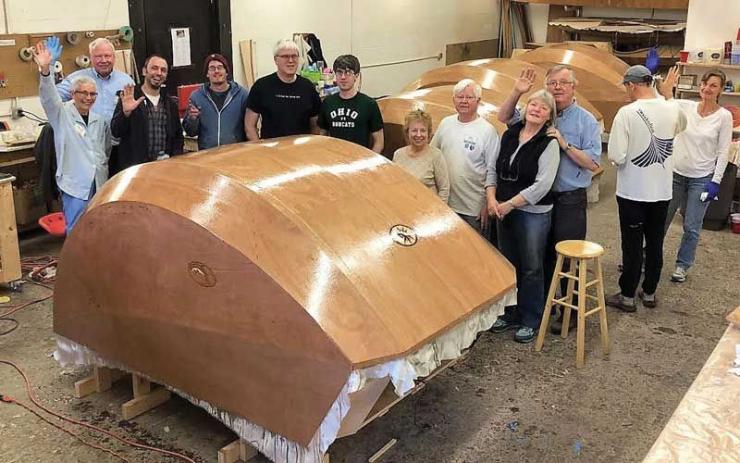 All Annapolis classes, along with whatever else is going on in the busy workshop, can be seen live on Shopcam. Don't forget to mark your calendars for CLC's 20th annual OkoumeFest boatbuilders' rendezvous, including an open house at the workshop on Friday, May 18, with a range of technical seminars on boat building techniques, followed by a full day of on-water fun at Matapeake State Park on Kent Island, where it will be possible to try nearly all of CLC's dozens of boats, on Saturday, May 19.
The crew at Worton Creek Marina in Chestertown MD, has had a busy winter, as evidenced by the following excerpts from the marina's newsletter. "…We were extremely busy on a number of winter boat projects, including a complete galley remodel, a new generator install, major refits on three Bertram 31s, and extensive exterior repair and hull paint job on a 52 Sea Ray. Now that the bottom repairs to the Spencer are nearly done and the hull is structurally sound, we have moved into a new phase of the project. The big news for the month is that we installed the new engines and generators into the boat. This major milestone occurred almost exactly a year after we removed the old engines and gen-sets. The process was very similar to last year, just in reverse.
The next major milestone will be the application of fiberglass to the outside of the hull. This will involve using vacuum-bagging technology, and we have hired consultants to assist us in that process. Once that is complete, the next step will be repairs to the strut and rudder area and installation of the new sea keepers. Then, we can move on to final reassembly of the boat. In other news we bought another distressed boat. This one is an 83-foot Burger yacht that sustained hull damage to her starboard side when her fenders failed during one of the Florida hurricanes last fall. It turns out that a concrete bulkhead is a lot stronger than an aluminum boat hull! She also sustained some interior damage to the same side, but otherwise the boat is in great shape. We have already made the necessary repairs to get her ready for the trip north, and John and crew are in the process of bringing her up from the east coast of Florida. Once the boat gets back to Worton Creek, we will hold off working on her until the Spencer is done. We continue to add staff to ensure that the 'distressed boat' projects do not affect our normal boat yard work."
- By Captain Rick Franke