For most area boatshops it has been a busy winter, with lots of work and many shop and marina upgrades. At press time in mid-April, the launching frenzy is in full swing and the outlook for the coming summer season is good. Manpower problems do continue to be worrisome, and supply shortages and price increases have forced many shops to reluctantly raise prices. A new cloud on the horizon, so to speak, is uncertainty about the jump in fuel prices caused by recent international turmoil. Only time will tell if we are looking at permanent increases or a temporary bump. On the positive side, public interest in boating appears to continue to be high. Area boatshops are busy and reflect the increased level of interest. While new boat delivery times are getting slowly more reasonable, owners of older boats are repairing, refurbishing, and enjoying their boats and much of this activity is reflected in this month's report.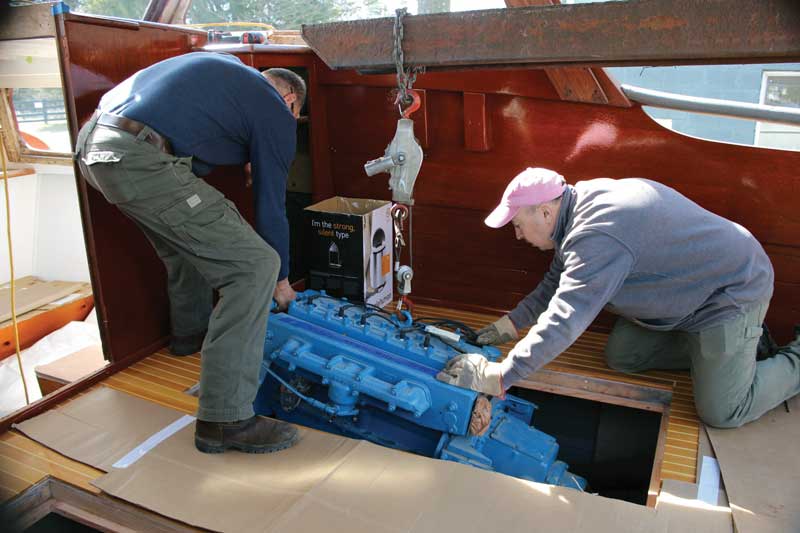 Hank Reiser's shop at Pocohontas Marina in Edgewater, MD, is having a busy spring. When we arrived, there was a 1946 Chris-Craft utility boat in the shop for a varnish redo. In addition, there were five engines lined up on the floor next to the Chris-Craft. Hank was getting ready to install two of the engines in the Chris-Craft Commander that has been a long-term project in the shop. Hank explained, "These are the two engines for the 1950 Chis-Craft Commander we are restoring. They are 1954 145-hp Chris-Craft MLs with an R that stands for reduction. The factory reduction gear is two and a half to one. These were not original to the boat, but they are the original type of engines that were in the boat. We had these rebuilt at La Pointe up in Minnesota, so they are essentially new."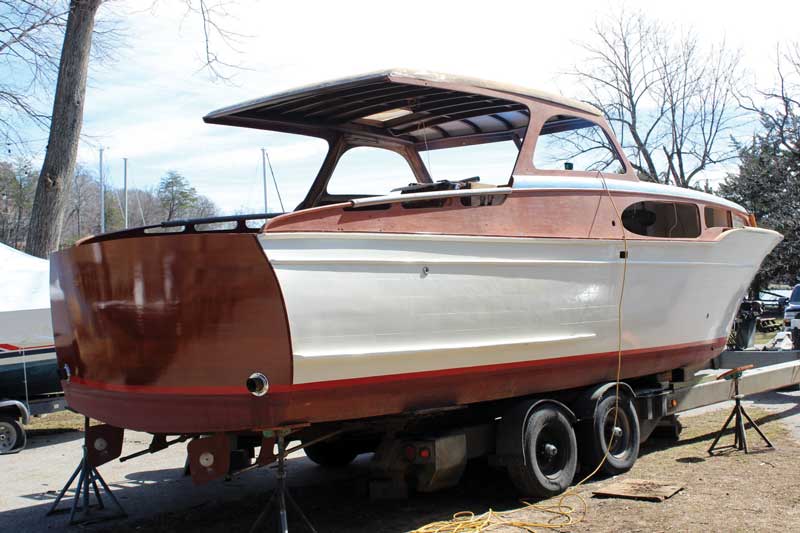 There were also two V8 engines on the floor that Hank described. "Those are Mercruiser 5.0s. They came out of a Sea Ray 31 that is getting a transom plate replacement. The last one is a 1955 Chrysler Crown that's being rebuilt. No boat for it. That's a bonus. That one was a gift." When asked if his crew was ready for the spring launching frenzy, Hank said, "We are getting schedules lined up and getting ready. We still haven't finished our winter work. There's too much to do and not enough people to do it." A familiar refrain this spring.
Jon Clarke, owner and president of Higgins Yacht Yard, checks in with an update. "While we put a few finishing touches on a couple of winter projects, spring work has already begun at Higgins Yacht Yard in St. Michaels, MD. We have taken advantage of the warmer days and our indoor-stored boats to get zincs and bottom paint completed on some of our requested early launch boats. A couple of our seasonal and annual slip holders are already launched and ready in their slips for the season. We anticipate some delays on a few of our custom spring work requests due to supply issues, especially with electronics orders. However, so far, we have not experienced any major shipping delays that have caused work to halt. Some exciting news is that we are getting a new dock built for the marina. This new dock, named "A Dock," is the largest and widest dock at the marina, and can accommodate larger boats up to 110 feet LOA. The dock construction should be completed soon, and we are looking forward to welcoming a few transient guests the first weekend in April."
Mark Wilkins brings us a quick update on progress on the Lighthouse Keeper's Boat at Calvert Marine Museum in Solomons, MD. "Fairing up molds and installing ribbands on the Keeper's boat! Steam bent white oak frames next week... planking stock is here."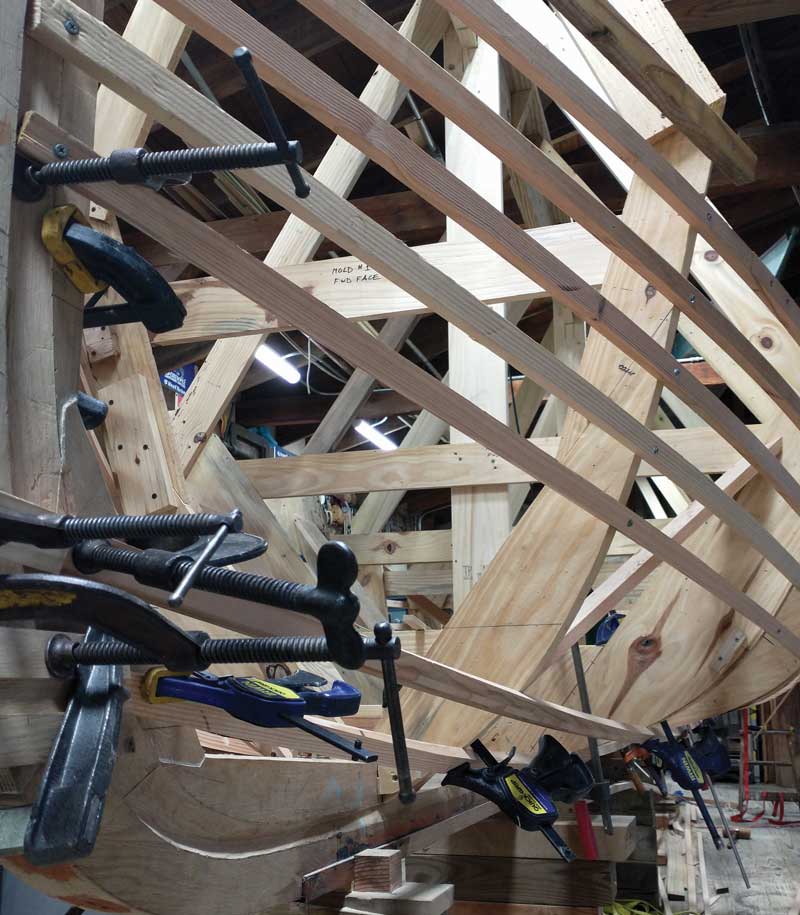 As befits the title of this column, most of the work we report on is done at commercial boat shops and marinas. But every once in a while, we come across a do-it-yourself story that is too good to pass up. What follows is one of those stories. Jim Sargent, a retired NOAA IT engineer and Edgewater, MD, resident, and accomplished wood worker and craftsman, has always had a weakness for classic boats. He especially gravitated to Herreshoff inspired designs. He had an Alerion, which he converted to electric power, but as he entered his 70's he was looking for his "final boat," as he put it. On an April day in 2017 Jim fell in love.  "…It was a good, old somewhat neglected Cape Cod Shipbuilding Heritage Marlin." He spent the next year in a search for a Marlin he could purchase and finally located one in Geneva, NY. Jim bought her and brought her home to his back yard in Edgewater. "I planned to replace the cockpit coamings to look like an original Herreshoff and lower her cockpit sole," he explained. "I thought it would be about a year's job. Never in my imagination had I realized that a one-year project would turn into four years of completely removing the interior, cockpit, and most of the deck, effectively rebuilding the boat from a bare hull. I encountered many challenges that I hadn't expected, and it turned out that there were many aspects of the rebuild that I had to learn how to do."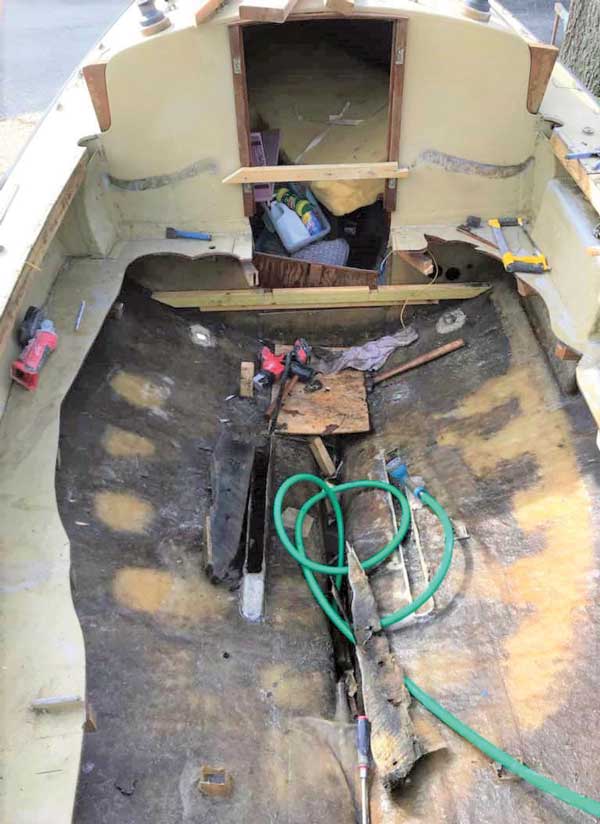 Jim Weaver at Weaver Boat Works has begun construction on a Weaver 45 RH in his shop in Deale, MD. This now makes four boats under construction by Weaver. In addition to the 45, a 70 GK, a 64 GM, and a 64 BW are all in various stages of completion at Weaver's locations in Deale and at Herrington Harbour North in Tracys Landing, MD.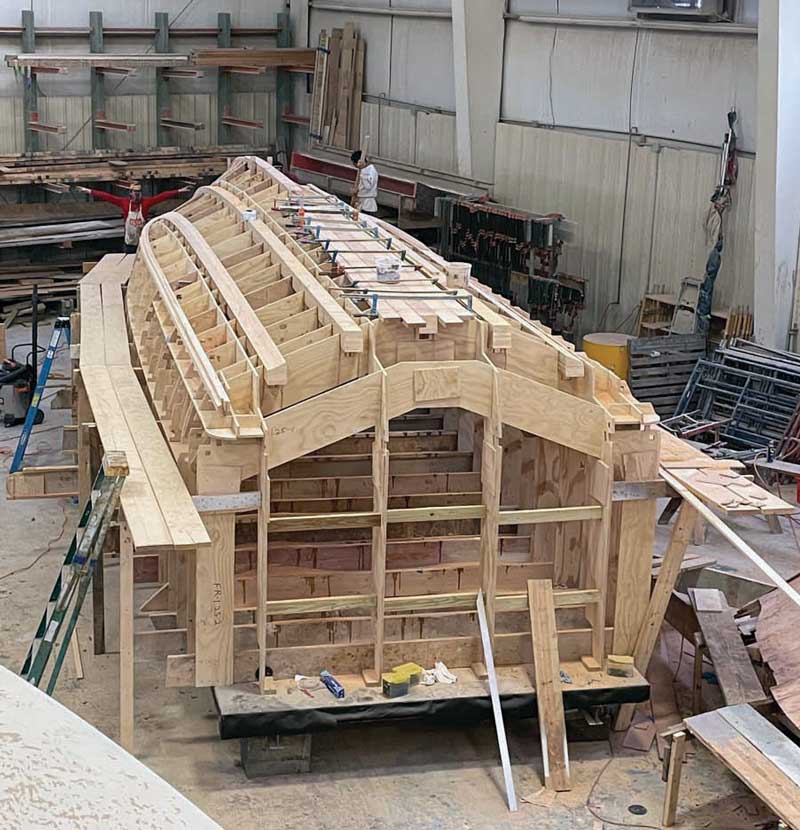 Jake Glover of Ferry Point Marina sends us the following update. "We now offer marine A/C and refrigeration installation, service, and repair. We've prepared to perform this both here at Ferry Point and we offer as a mobile service as well. Of course, our techs certified in Yamaha, Suzuki, Volvo-Penta, Pettit, AwlGrip, and ABYC have been busy getting boats ready and in the water. We have some cool summer projects on the schedule including several AwlCraft paint jobs and a Sonic in for complete transom replacement."
We received the following announcement from Chesapeake Bay Maritime Museum earlier this month. "The Chesapeake Bay Maritime Museum and Historic St. Mary's City will mark a major milestone in the construction of Maryland Dove at 10 a.m. on Monday, March 28, when the ship is scheduled to be moved by crane into the Miles River. This is the first time the ship, which has been under construction in CBMM's working Shipyard since 2019, will be in the water. It also signals the beginning of the end of the project, as the ship will stay in the water while the final stages of construction are finished. A final launch is anticipated for spring of this year."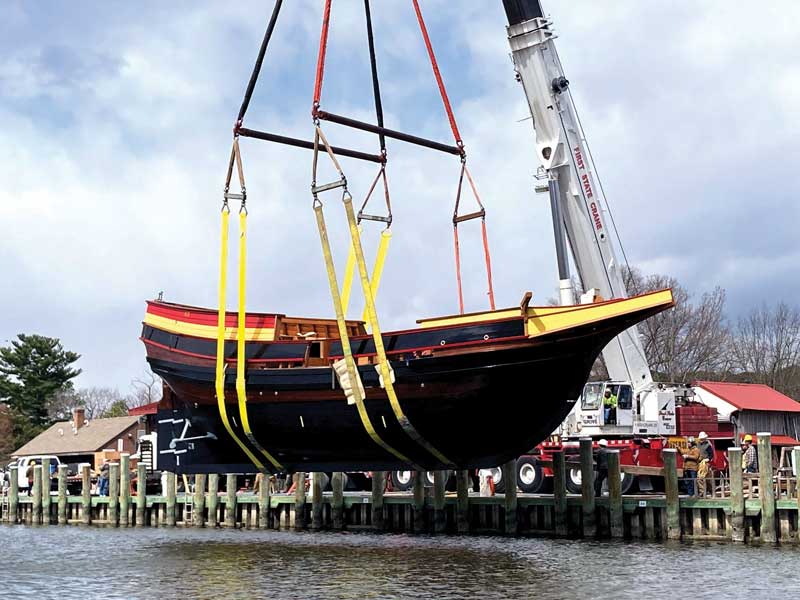 Despite some crane scheduling mix ups and a strong gusty northwest wind (it is the Chesapeake Bay in spring, after all) the splashing went off as planned and the Dove took to the water with no fuss. She floated nicely on her lines and shipped only a small amount of water. The process of fitting out and up-rigging will take some time. A formal launching ceremony is planned for late spring.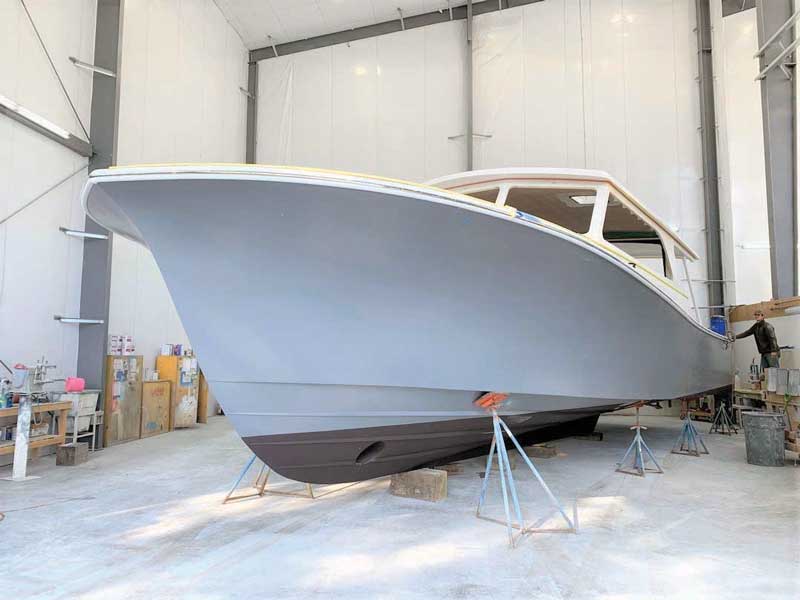 By next month's column the season will be well under way. Let's hope that the positive and optimistic indicators are correct and that we will have another good year. So, until next time, enjoy the spring and early summer on the water.
By Capt. Rick Franke