The University of Maryland Center for Environmental Science (UMCES) recently released the first-of-its-kind Maryland Coastal Adaptation Report Card that gives a snapshot of the current adaptation status in Maryland's coastal counties and establishes a framework for measuring future progress.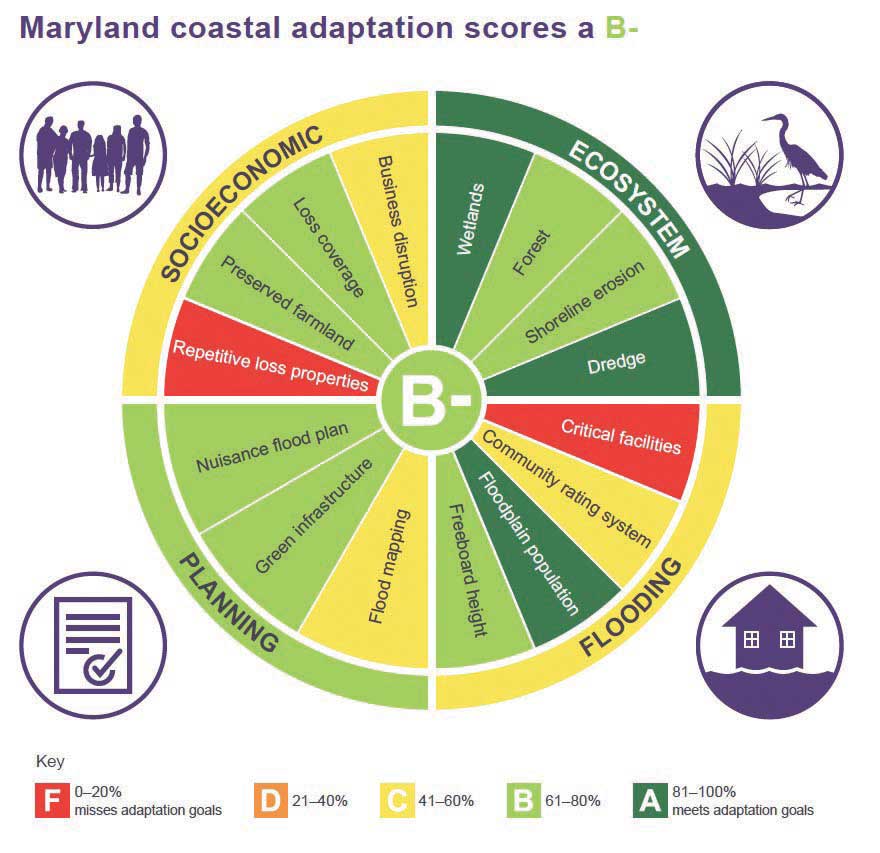 Coastal adaptation refers to the actions taken to improve the ability of a community or ecosystem to respond to and withstand climate change impacts. For example, shoreline protection projects provide buffering against storm surges, and green infrastructure can slow stormwater runoff, reducing the impact heavy rains have on communities. Climate change is causing increasingly frequent and severe storms, hotter summers, warmer winters, sea level rise, and changes in precipitation patterns.
With more than 3000 miles of shoreline and 72 percent of the state's population living and working along the coast, Maryland's coastal communities face particular risk to the impacts of a changing climate. 
The State of Maryland is fairly well-adapted to handle continuing threats of climate change and earned an overall score of B-. Some indicators that were measured already meet, or are close to meeting, current adaptation goals, while others require significant investment to achieve adaptation goals. The report card scored adaptation progress across Maryland's coastal counties through 15 indicators divided in four categories—ecosystem, flooding, planning, and socioeconomic.
"This groundbreaking report card is one of the most important steps we can take to track coastal resilience and accelerate climate progress in Maryland, while setting a shining example for the nation and the world," said Maryland Department of the Environment Secretary Ben Grumbles. "By thinking globally and measuring locally, we are driven to grow greener and smarter and that means slashing greenhouse gases and disaster costs in our communities."
The University of Maryland Center for Environmental Science seeks to lead the way toward better management of Maryland's natural resources and the protection and restoration of the Chesapeake Bay. From a network of laboratories located across the state, UMCES scientists provide sound evidence and advice to help state and national leaders manage the environment and prepare future scientists to meet the global challenges of the 21st century.