On a pitch-perfect autumn day, the twin Mercury 350-hp four-strokes growled quietly and easily pushed the Marlago 37SS out of Back Creek and into the Severn River. Behind us, the Naval Academy stood proudly, and behind it the State House dome was neatly framed. A tourism director's dream postcard of Annapolis, if there ever was one. At the helm was Ned Dozier of Grande Yachts, where he serves as brand manager for Riviera, Belize, and Marlago. Yet, as pretty as the view was, I have to admit as a native Annapolitan I'd seen it before. So I was more keen to take a turn at the wheel of Ned's sleek speedster, especially after he bragged (in a good-natured way) how fast he made it back to his Eastport slip from St. Michaels. Ned gave me the 411 on the boat—the Marlago 37SS is built of fiberglass and composite materials, no wood—as I checked out the cuddy cabin below decks, which is larger than I first thought. The boat sports a single-berth forward of the console. A locking bi-fold door in the side of the helm station leads you below, and natural light enters through lightly tinted, fixed glass windows in the bow. It isn't huge, but spacious enough and functional: SeaLand Vacuflush head, mirror, sink with pull-out shower, and storage appropriate for a 37-foot center console.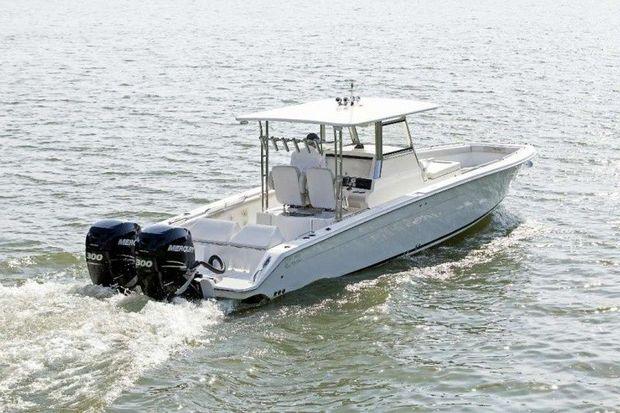 Access to the electrical system and batteries is straight-forward, as is getting to fuel/water separators, bilge pumps, and holding tanks. The forward seating is comfortable, with built-in storage for dock lines, gear, and life jackets. The stainless steel grab rails are well-placed around the cockpit. Aft, there's a removable bench seat, shower, and walk-through transom gate. For those who like to raft up and swim, those standard features, coupled with the telescoping swim ladder with grab rail and transom shower, would be welcomed by families, I imagine. Coaming pads line the gunwales, with indirect LED courtesy lighting positioned underneath. The 37SS isn't just a pretty, go-fast vessel. Standing at the bait prep station, which features a deep sink, I found enough room to rig. Molded into the boat's cockpit are four fish fighting stations. In the stern is the standard built-in 15-gallon livewell; it's on the small side, not big enough for a full day of live lining, but should hold enough spot or bunker to catch dinner. Serious fishermen should opt for the 50-gallon, lighted live well. Speaking of keeping your catch, the Marlago has three, 60-inch fish boxes with dedicated macerator pumps plumbed to a separate tank. I'm a big fan of washdowns—the 37SS has both fresh and saltwater versions. Finally, Ned asked if I wanted to take her for a spin. (I was getting a little worried he wasn't going to.) I hopped up into the helm seat and immediately was impressed: comfortable and adjustable, the latter an important feature for those of us with unstork-like legs. From a dead stop in neutral, I pinned the synchronized dual throttles. There wasn't a real hole shot, and that's due mainly to the pad keel. Engaging the motors was smooth as silk thanks to Mercury's DTS electric shifters. I easily got the boat up to the posted highway speed limit of 55 miles per hour (which we all know no one really adheres to). The test boat's sweet spot for cruising (in our sea conditions) was between 4250-4400 rpms, and at about 40 mph took sharp turns easily. That's where Mercury's power steering earned its keep. Though I wasn't overly impressed with the Marlago's backing down capabilities, I wasn't too surprised: Very few twin outboard center consoles excel in this category. I also appreciated Mercury's SmartCraft VesselView, which makes it a breeze to keep track of the boat's critical engine and boat functions, including fuel consumption, battery voltage, and fuel tank levels. The latest VesselView displays are touch-screen and also provide features like cruise control—nice to have if you're trolling alone—and the Eco-Mode, which recommends the best trim position and rpms for the greatest fuel economy. It also allows for screen sharing with Simrad chart plotters. Speaking of smart views, though all of these modern aids to navigation are awesome, someone still has to steer. I enjoyed an almost 360-degree view from the captain's perch, no troublesome blindspots. With no Bay slop to run through, we created our own. The hull handled them without shuddering, as you'd expect from a center console that combines form with function.
by Captain Chris D. Dollar
Tale of the Tape
Base Price:
$259,000
Draft (Motors Up):
19.5"
Draft (Motors Down):
27"
Bridge Clearance:
8'-4"
Dry Weight (W/O  Motors):
7000 LBS.
Fuel Capactiy:
245 Gal.
Freshwater Capacity:
31 GAL.
Deadrise:
24 DEG.
Hull Length:
37'
Beam:
9'-2"
Pad Keel:
12 DEG.
Max HP:
800