If you spend any time in boatyards, you may have noticed that those who work on and around boats aren't getting any younger. While gathering news for our monthly Boatshop Reports, we often hear from boatyard owners that they struggle to hire younger workers. There are good jobs and quality maritime career opportunities available on and near the waterfront, yet business owners have trouble finding new blood to fill these roles. What should we do about it?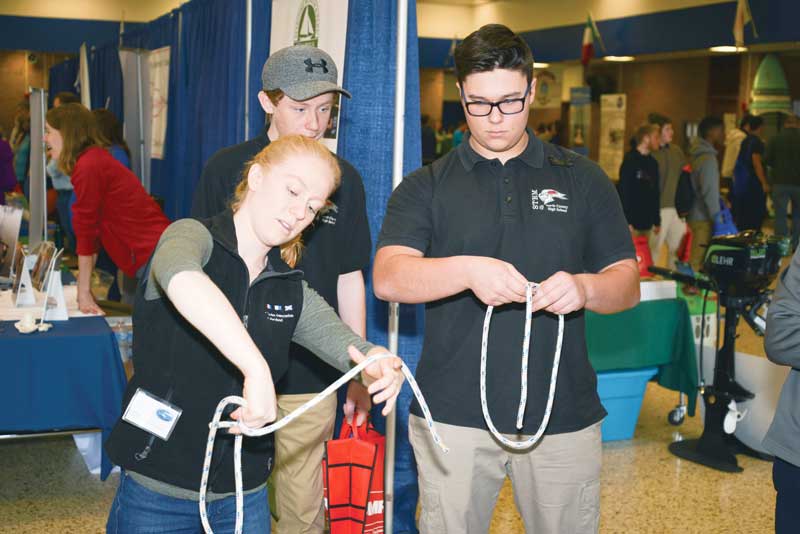 Nine years ago, in an effort to plant the seeds and fill the pipeline of the workforce, the Eastport Yacht Club Foundation (EYCF) and Anne Arundel Public Schools partnered to create a career fair and learning opportunity for middle and high school level students. What is now called the Marine and Maritime Career Expo has been a smashing hit, growing and getting better year after year. More than 400 attendees flocked to the 2018 event.
Marine and Maritime Career Expo
Marine careers from marine biology to ocean engineering and maritime careers from boat maintenance to shipping will be showcased at the 2019 edition on Saturday, February 23 from noon to 3 p.m. at Annapolis High School. 
Exhibitors in the past have included boat builders, maritime colleges, the U.S. Coast Guard Auxiliary, ocean expeditions and research, riverkeepers, tour boat operators, boat sales professionals, boating magazines (PropTalk is a longtime sponsor), full service boatyards, and community boating programs. It doesn't matter if your teenager doesn't know what he or she wants to do for a living—learning about the wide and interesting options is the goal.
Attendees may enter into a raffle for fun door prizes, and many exhibitors have hands-on exhibits to explain their fields. At 12:30 p.m. in the auditorium, attendees are welcome to sit in and ask questions at a discussion about how marine and maritime professionals got started in their fields. PropTalk's Molly Winans has been part of the panel as well as the moderator several times, and will serve as the moderator this year.
If you know a young person who'd like to learn about careers on the water, you won't regret bringing him or her to the expo. Learn more and register (for free!) at eycfoundation.org.