As we work our way through the winter it appears that the off season for boatshops continues to be as busy as anticipated. It does indeed seem that "Boating is Back." The down side of all this activity remains the scarcity of skilled labor. James Thomas of Prestige Marine Services put it this way, "I've been in the marine business for 30 years and guys like me are a dying breed. No one seems to want to work on boats anymore."
On October 1 Hinckley Yacht Services reopened at its former location at Whitehall Marina on Whitehall Creek in Annapolis, MD. General Manager Charlie Petosa reports that they have had a busy winter getting boats winterized and cleaning up and reorganizing the marina. In addition to being a Hinckley dealership, the center will offer a full range of marina services and will develop a unique specialty.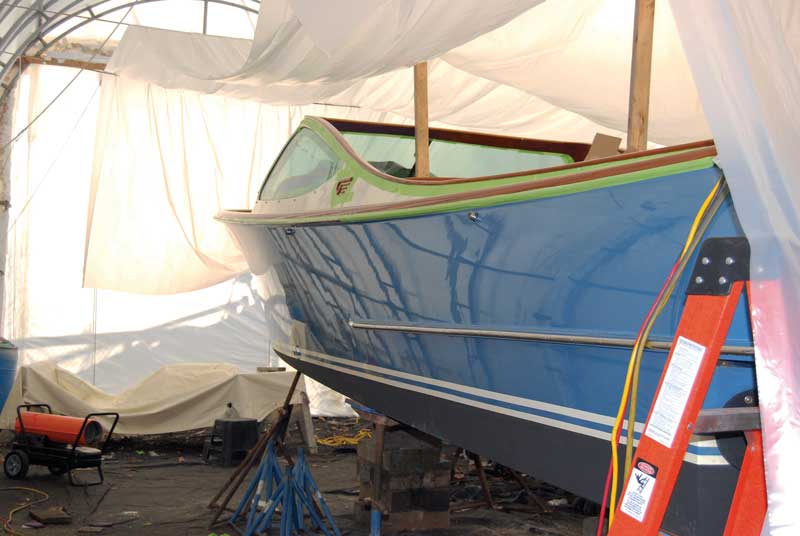 "We estimate that there are over 160 jet-powered boats on the Bay, and many of them are here in the Annapolis area. We intend to specialize in service and repair of those jet boats. Also, the industry, as well as Hinckley, is undergoing a rapid switch to large outboard motors as the most popular form of propulsion. We are a Yamaha dealer and service facility and intend to become the best place to have your outboard motor serviced, regardless of make," Charlie explained.  
Alex Schlegel of Hartge Yacht Yard in Galesville, MD, brings us up to date on the final stages of rebuilding the 1950 Trumpy motor yacht Manatee, describing the process of bringing a 69-year-old electrical system up to current ABYC standards. "For the last two years we have rebuilt the bottom of a 55-foot Trumpy. Improvements to the interior woodwork are now in progress, along with plumbing and wiring work. There was some rewiring done 20 years ago, but with much of the boat apart it was a good time review it all and make improvements. Re-planking and reframing the bottom revealed parts of the boat that had not been seen since she was built.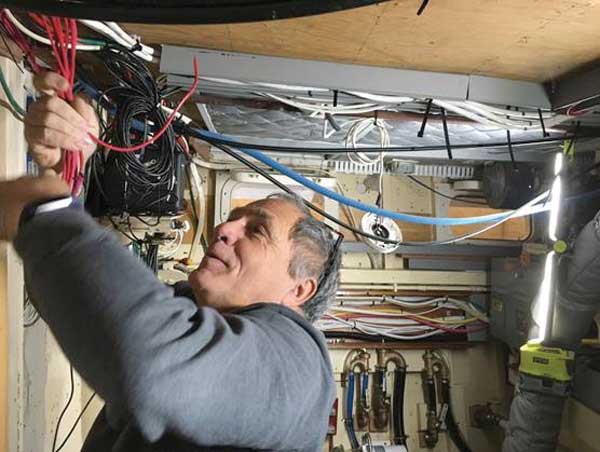 "Deteriorated hoses, tubing, and wiring of all voltages were removed or replaced as needed. All wiring previously run under the sole is now in conduits run fore and aft on both hull sides for better access and to keep it out of the bilge. It is not a code requirement, but we are following a good practice of running 110 V and 220 V DC wires in separate bundles and chases from the 12 V and 32 V DC wires. Another consideration in this rewiring is that heat in big bundles of wires can be a problem, so code calls for larger diameter wires in larger bundles. The larger the wire, the easier it is for the electrons to move and, therefore, less heat. We are following the code that requires wires to be supported, either continuously in chases or every 18 inches when not in chases. We are labeling each wire at each end, at the circuit breaker, at terminal strips, and at any junction bars. The color code for DC wiring is red for positive and black for negative. In AC wiring the code is black for positive, white for neutral, and green for ground. Since there are black AC and black DC wires that could be mixed up with a potential for bad things happening, we are using the code options of yellow for DC grounds. This boat uses 12 volts for engine and generator starters, electronics, and LED lights in parts of the boat. The 12 volt batteries for this are in the engine room. 
"The original D.C. system was 32 volt and much of the equipment is still 32 volts, supplied by two banks of eight-volt batteries located in the lazarette. Cabin lights, windlass, bilge pumps, and navigation lights are on the 32-volt system. There are also 110-volt and 220-volt AC systems onboard. Of note, 220-volt power is used to heat water in a boiler that circulates through radiators in each cabin to keep them warm in chilly weather. For ease of use, and to shorten large battery cable runs, we installed six remote battery switches at the helm that operate 12-volt and 32-volt battery switches at the battery banks. This avoids large wires running to the helm or someone having to go to the switches at the lazarette or engine room. 
"During the wiring upgrades done 20 years ago, manual engine gauges were removed and electric gauges were installed, but they did not look right: too modern. Fortunately the original gauges were in storage. These manual gauges are being rebuilt to be electric to keep the vintage look and operate with easier to handle wiring instead of cables and tubing. Rewiring a boat of this size is a major project. The amount of wires running through the engine room, where they are most easily seen, is impressive."
David Evans, Jr. has had a busy winter as well at Evans Boat Repairs in Crisfield, MD. "It's been interesting here at Evans. We have been super busy with restoration jobs! All of these jobs are for commercial guys. We took a wooden workboat and turned it into a glass over wood masterpiece. We are building a lot of cabins recently... Some basic refurbs on glass boats are coming in as well. We extended the cabin on one and did some intensive body working to give her a face lift. Plenty more happening here and we will keep you updated as we go."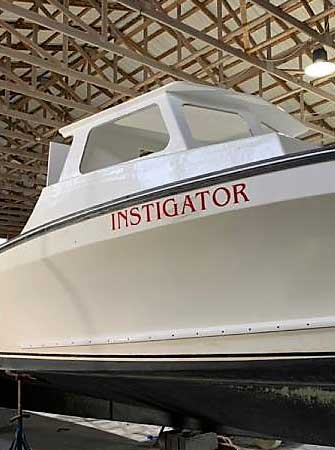 Speaking of plenty of things happening, Rob Hardy of Composite Yacht in Trappe, MD, has five boats under construction. The CY 55 is progressing slowly but surely. Rob says they will have the deck mold on hand shortly. Some design tweaks are being tried out on the hull tunnels. In the meantime construction is complete on the "oven," a 65- by 20-foot structure where the wet bagged hull will be heat cured. The new resin and materials are all on hand. 
A CY 26 hull is being laid up with the new materials and will be cured in the oven to make sure everything works as planned. The other new boat is the newly designed CY 46 walkaround designed by Lou Codega to meet Coast Guard inspection requirements. The boat is a walk-around convertible with a 16-foot beam which should be versatile and offshore capable. Planned power is twin 500-horsepower Cummins diesels.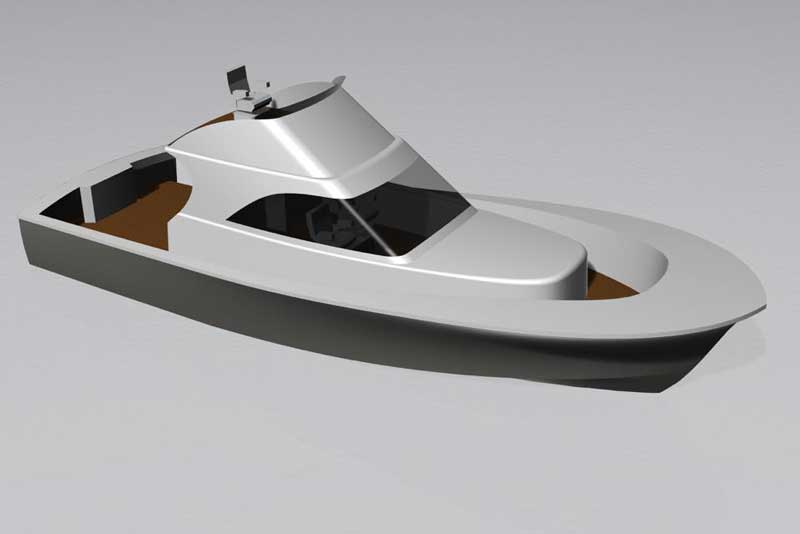 Chesapeake Bay Maritime Museum (CBMM) floating fleet Captain Christian Cabral reports that CBMM's floating fleet underwent an in-depth winter maintenance program this winter to get the historic vessels ready for spring and summer. The St. Michaels, MD, shipyard prioritized projects onboard the vessels. While working to uphold the highest standards of historical maintenance, CBMM also made efforts to enhance each vessel's ability to host on-the-water programming. The shipwrights' first priority was CBMM's busiest vessel, Winnie Estelle, whose maintenance program included rig, mechanical, and cosmetic projects.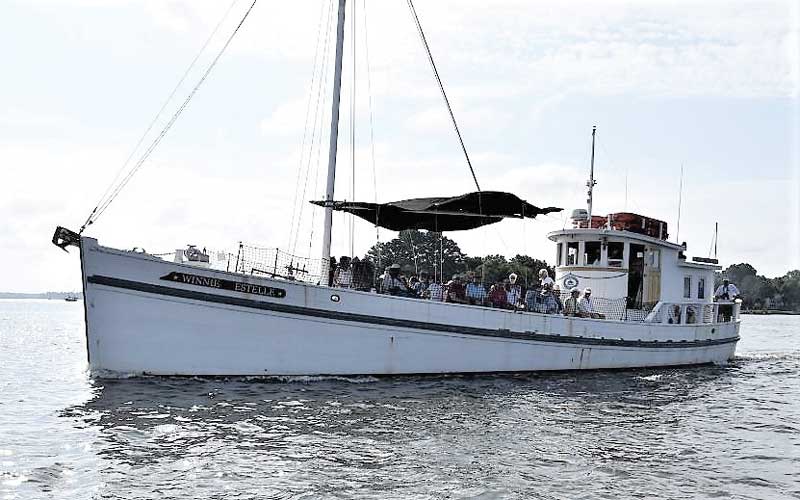 A renewed focus on the fleet as a whole should allow CBMM to offer a greater range of on-the-water experiences with multiple vessels in its floating fleet. CBMM is looking forward to increasing its opportunities for guests to enjoy this unique fleet of operational historic vessels. 
Speaking of the CBBM, we just received the following news release from Historic St. Mary's City. "CBMM has officially been selected to build a new Maryland Dove, a representation of the late 17th-century trading ship that accompanied the first European settlers to what is now Maryland. Maryland Dove is owned by the state of Maryland and operated and maintained by the Historic St. Mary's City Commission. 'HSMC and CBMM are natural partners in this project,' said Regina Faden, executive director at Historic St. Mary's City. 'It fulfills both our missions and delivers a new Dove to tell the story of (early) Maryland.'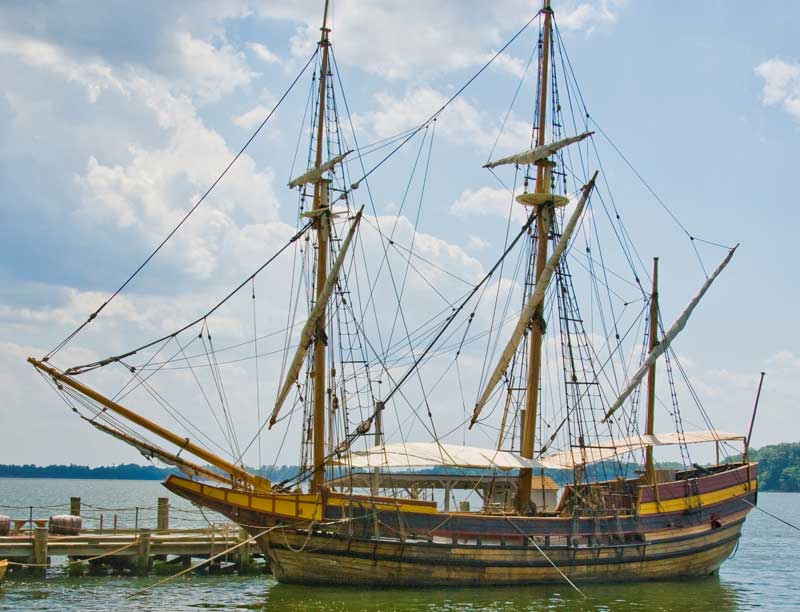 "Maryland Dove is Historic St. Mary's City's floating ambassador and one of its most popular exhibits. The goal of the new ship design is to be as close to the 1634 original as possible, including features that were not known when Maryland Dove was built in 1978. Ship design work will commence in January 2019, and construction is anticipated to begin at CBMM by mid-year. The launch of the new Maryland Dove is targeted for 2021. All work will be done in full public view, allowing the public to experience every stage of the project."
By Captain Rick Franke