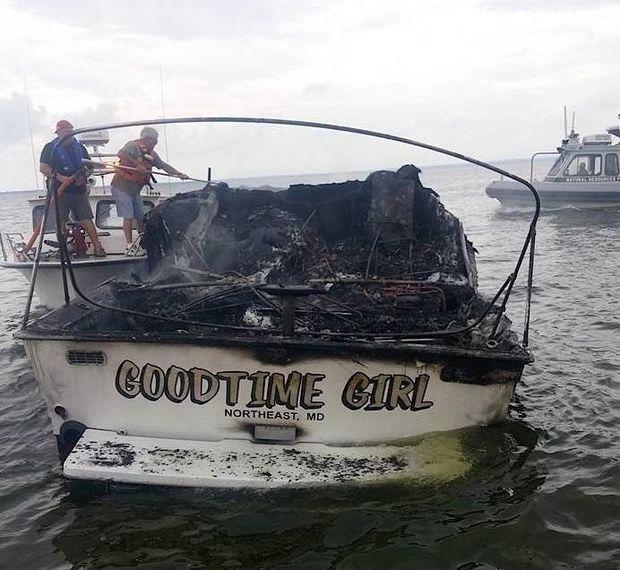 From C
arl Hamilton of the Cecil Whig
: A man and his dog were rescued from their burning boat in the Northeast River over the weekend — about an hour before the vessel sank, according to Maryland Natural Resources Police.
Investigators identified the rescued man as Douglas Shirk, of Elizabethtown, Pa. He and his dog were uninjured. The name of the boater who made the rescue was unavailable, as of Monday morning.
Shirk was onboard his 1968 36-foot Enterprise cabin cruiser, named "Good Time Girl," near Buoy 2 off Carpenter's Point about 12:30 p.m. on Saturday when his boat caught fire, prompting him to send out a Mayday call over the radio, according to Candy Thomson, a NRP spokeswoman.
"A good Samaritan boater went there, got the man and dog on his boat and took them to Hances Point Marina," said Thomson, who did not know if the boater responded from a distance after hearing the Mayday or if he had been close enough to see the burning boat.
At 1:06 p.m., Susquehanna Hose Company of Havre de Grace responded with a boat that is equipped to fight fires, police said. Then at 1:13 p.m., police added, a vessel owned by Sea Tow responded to pull the boat to shore, once the fire was extinguished. ...the boat started sinking at 1:26 p.m. and plunged below the surface near Buoy 4 off Cara Cove several moments later. The burning boat had been adrift southward during the incident, emergency officials noted.
The sunken boat will be pulled from the water, Thomson said. As of Monday morning, she did not know when the salvage project would occur.
"It has to be pulled up. It's a navigational hazard. I believe it's on the edge of a navigational channel," Thomson said, adding that the U.S. Coast Guard has marked that spot as a navigational hazard and it will be involved in the salvage operation.
Although the Sea Tow crew did not have the opportunity to tow Good Time Girl to shore, it was able to pull a floating 200-gallon fuel tank to the Charlestown Boat Ramp, according to Thomson, who reported, "The fuel tank had popped off the sinking boat."
The Maryland Department of the Environment also is involved in the case because the fuel tank – it is not clear if it leaked — had been in the water, police said.