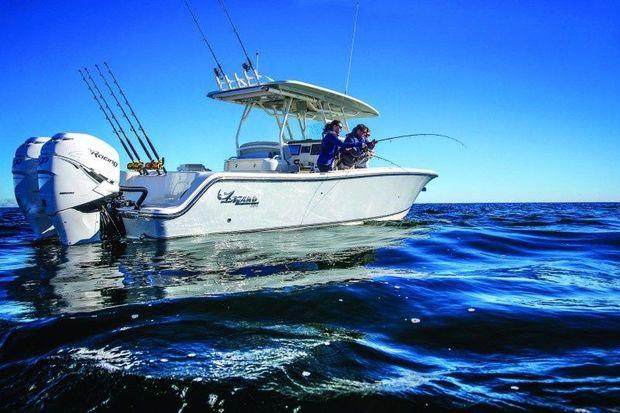 I'm walking down the docks at the Miami International Boat Show taking in the sight of hundreds of brand-spanking-new boats, when I see a sleek new fishing machine I don't recognize. It looks red-hot, with triple 350-hp Mercury Verados slung across the transom, a half-tower with a crow's nest and upper controls, twin livewells in the transom and—hold the presses! I can now make out the logo on the hullside, and it says Mako. Yes, Mako. This epic nameplate hasn't graced a new model in the over-30-foot class in decades; it's only introduced a handful of new models of any size or shape since the economic crunch, and it hasn't ever in its history splashed a hull that ran on triple Verado outboards totaling 1050 horses. Can I get a "yowza!"?
Seeing a boat like this coming from a builder like this gives pause: could it possibly live up to expectations? Never before building a boat of this nature, did they do their research and get it right? I can boil down the answer to these questions to one simple heart-warming word: yes.
Performance-wise, one ride on the boat tells you the entire story. Top-end is a raging 66.8 miles per hour, and a 4000 rpm cruising speed is in the mid 40s. Efficiency hovers right around 1.3 miles per gallon at this cruise. Construction-wise, the same ride tells the same story. The hull, supported by a single-piece molded stringer grid and capped off by a Coosa-cored transom, feels solid underfoot. There aren't any annoying vibrations or hollow thrumming sounds as the boat strikes waves, and the 24-degree deadrise deep-V hull chops through with the best of 'em.
Okay, so you probably guessed that with this much horsepower, the boat could hit highway-worthy speeds. And you may have also surmised that Mako can still build a solid boat. But when you start looking at the details, you'll realize that they incorporated a slew of features that are the domain of top-shelf center console builders. The huge 292-quart coffin box in the bow, for example, swings up on a hydraulic lifter at the press of a button to expose a gaping bulk-stowage compartment. It's capable of swallowing up everything from a brace of dive tanks to mutinous crewmembers. (Note: it also adds around $8000 to the boat's quarter-mil base price).
The twin 34-gallon livewells are oval, are fed by independent 2000 gph pumps, and they're finished off in baby-blue, so your live baits stay calm and happy inside. There's even a backup pump in case one fails while you're offshore, and all of these pumps plus the raw water washdown are fed by an electroplated sea chest.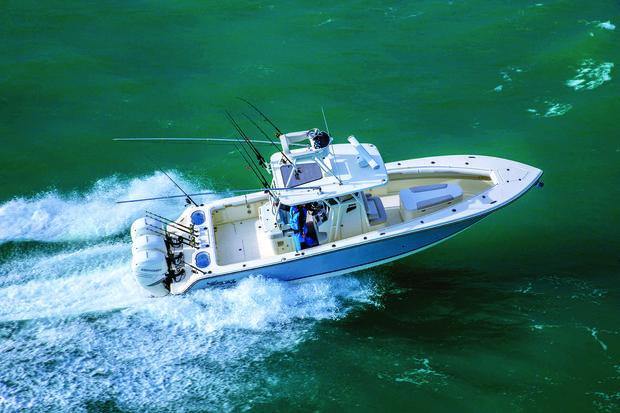 Now take a look at the 290-quart fishboxes in the deck. The hatches are closed-molded, so they're fully finished on both sides, supported by a gas-assist strut, guttered and gasketed, and evacuated by Gluper pumps. They won't choke on fish scales or even bones, and they have a much longer lifespan than the macerators commonly seen on more average fishboats. The fishbox hatches are also the one item I have a complaint with on this boat, because the single strut really isn't beefy enough for the hatch; they should use a bigger strut or add a second one.
By the way, if you catch so many fish that you fill up both deck boxes and the coffin box—that's a total of 218 gallons of capacity—you're officially a hazard to the oceanic environment. Start leaving a few fish out there for the rest of us, will ya? I'm not going to say Mako makes it easy to catch the fish, but the boat most certainly will help you boost your catch quite a bit. You'll discover perks like multiple tackleboxes built into the leaning post. You'll find dedicated leader spool-holders and knife/pliers racks that swing out from the inwales. And there are rodholders gracing not only the aft gunwales but also the transom and all the way up to the bow (I counted a total of 16 flush-mounted holders on the 334 CC being displayed at the show).
Just thinking about the 334 CC months after encountering it in real life, I have to remind myself to slow down and breath. Don't get over-excited… right? Aw, to heck with it—Mako has come out with a rockin' cool new center-console fishing boat the likes of which it's never built before. It's a grand-slam home run. I refuse to stay calm and treat it like just another new model. If you're a die-hard angler and you check this one out for yourself, I'll bet you get a little excitable, too. Especially when you envision yourself hitting 66.8 mph and then plugging the fishboxes.
Specifications
LOA: 33'4"
Beam: 9'10"
Draft: 1'9"
Displacement: 9,000 LBS
Max HP: 1,050
Fuel Capacity: 306 GAL.
by Lenny Rudow