When you live near and cruise the Chesapeake Bay, it is hard to imagine better cruising grounds. In fact, the Bay is a draw for cruisers around the world. The relatively protected waters, quiet anchorages, and quaint small towns bring visions of lazy afternoons, cold beer, and tasty crustaceans to many a skipper and crew. Still, the draw of distant shores, the urge for a different experience, hits us all at some point. For some of us it is the Southern Bay or the ICW south. For others it is points north, including Long Island Sound and New England.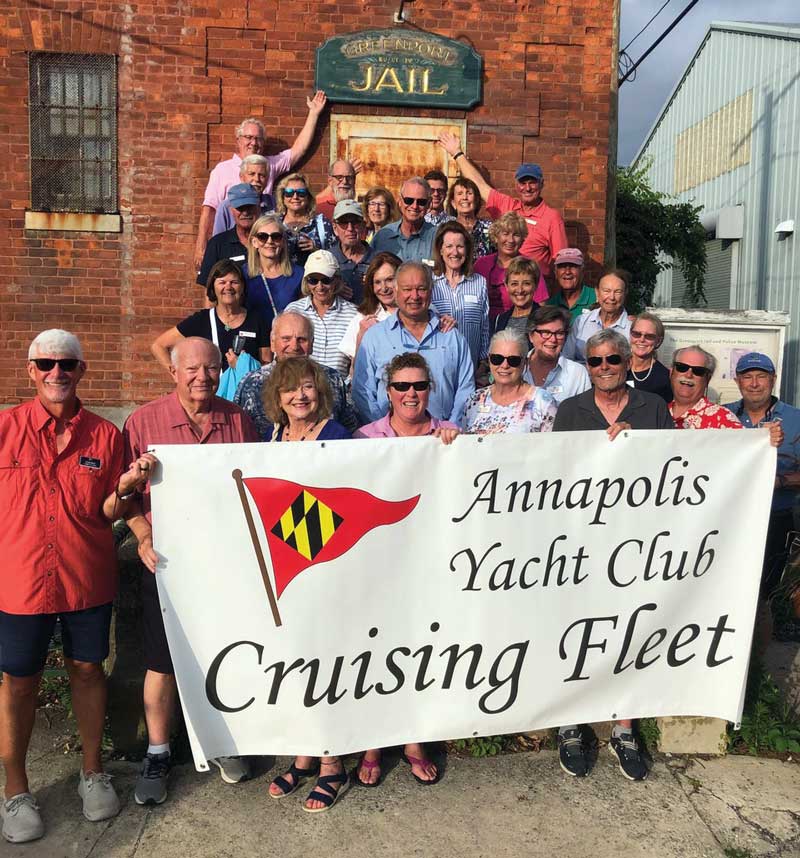 Seeking our own distant shore, 20 or so boats from the Annapolis Yacht Club headed north to Long Island Sound in early July. The fleet itinerary included six formal ports of call with planned gatherings of the crews. Our stops included yacht club visits in Oyster Bay, Shelter Island, and Rye, NY, along with Essex, CT.  
A host of recommended additional ports, with nothing formal planned, served as interim stops on this "circumnavigation" of Long Island Sound. This schedule allowed for a blending of faster and slower boats. The mixed fleet included a few sailboats (who, after the cruise, may be coveting powerboats).
Cruising in Company
Leaving the Bay can be a challenge for the first timer. Cruising in company can provide the comfort of "training wheels." And so it is that many a yacht club or cruising group schedules a cruise outside the Bay and welcomes fellow cruisers, neophyte and seasoned veterans alike.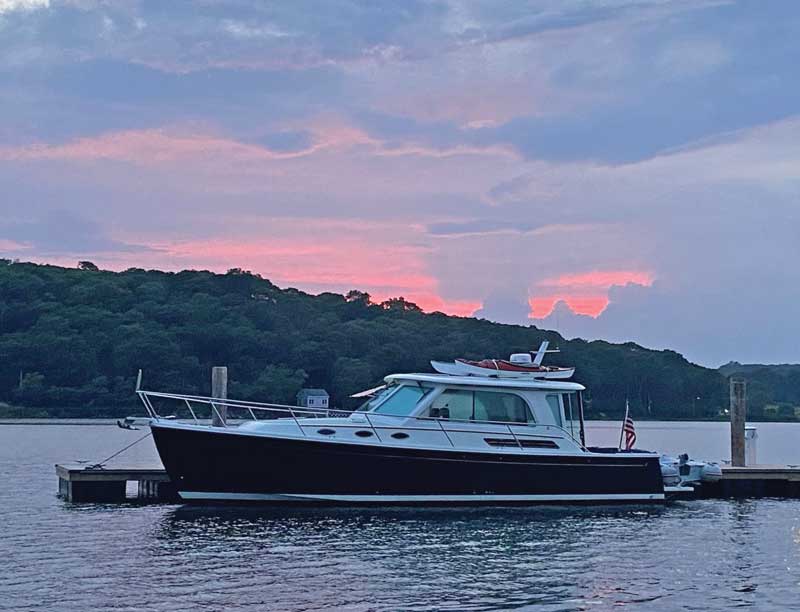 While a couple of our cruisers were first timers, others were Long Island Sound veterans. Chuck and Ginnie Hurley, for example, have been leaving the Bay and heading north almost every summer since 1980. They made their first trip in a Catalina 30 with their three young children aboard. Clearly memories were made. All the kids are qualified boaters, and one presently owns a cruising boat. That is how to raise your kids.
The Hurleys graduated from sail to power, as so many of us do. They keep a Sabreline 36 in Annapolis and have cruised it regularly to New England. This year, however, they had engine troubles which gave them pause.  
The old Sabreliners came with Detroit diesels. Getting parts and service for them has been increasingly difficult. The current engine issues with the boat kept them in port most of last season and again early this year.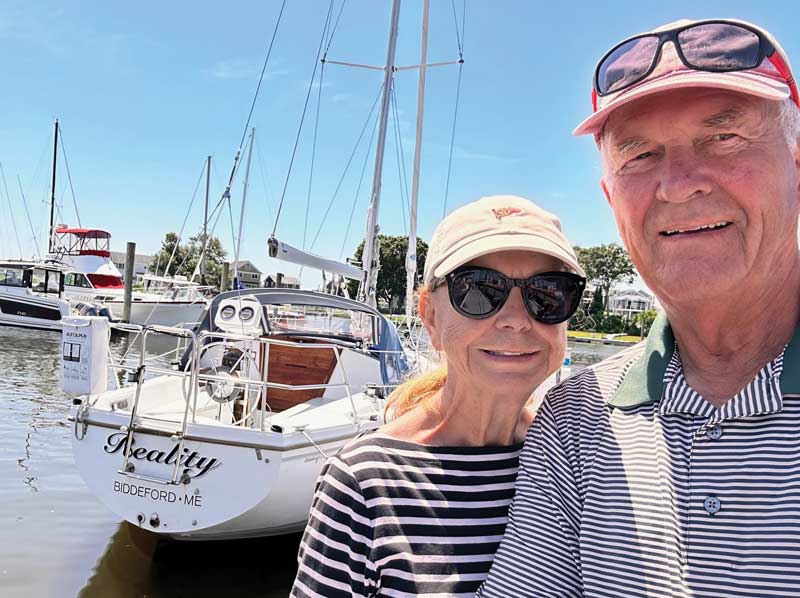 Their bond with Long Island Sound is so strong that they hatched a very different plan to get them to New England this year. As the summer approached, they purchased a used Catalina 30 in Maine. Their plan was to sail her from Maine through the Cape Cod Canal and into the Sound to join our cruising fleet as formal port stops began. At the end of the cruise, they would list her for sale. On the spreadsheet, the cost of a purchase and sale, coupled with months of use in New England, seemed better than any charter options they considered. The best laid plans… 
From Boat Repairs to Weather Delays
Of course, it was an old boat. Of course, it needed some work. Not long after leaving the purchase port in Maine, the engine overheated. It was a clogged seacock. It happened again in Massachusetts. Later, in Essex, CT, it was the raw water pump that gave up.  This kept the Hurleys in port for a week awaiting parts and repairs. Fortunately, if you must get stuck somewhere, Essex is not a bad place. 
Cruising in Long Island Sound and New England is a lot like cruising the Bay. There are small towns to visit and history to absorb and a different crustacean, lobster, in many forms, seemingly everywhere. There are some important differences, including more tide, fog, and occasional rocky bottoms.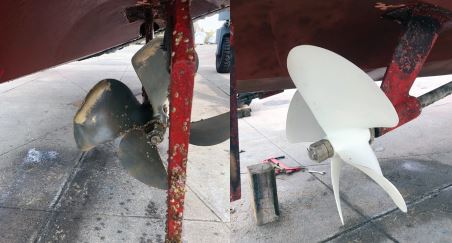 Among the seasoned cruisers with us were Neal and Collen Brown. Their current boat, a Sabre 42, found a bit of that rocky bottom on the way into the Mystic River. Besides the big "bump" that pleases no captain, they experienced reduced speed and increased vibration. There was no doubt in their mind that they had some prop damage. 
The Browns stopped at Noank Shipyard, just inside the entrance to the river. They arranged a short haul for a couple of days later and then proceeded upriver to our rendezvous stop at Mystic Seaport Museum. 
Any captain in this situation has a head filled with questions that include: how will I fix the problem? Can I get parts? And how long will it take? For the Browns, the answers came not long after docking.  
There was, as it happened, another Sabre 42 on the cruise. Captain Kevin Wild carried a set of spare props on his boat. After a quick discussion the spares were loaded on the Brown's boat and a day later expertly and quickly installed by the Noank Shipyard. Problem solved and no time lost!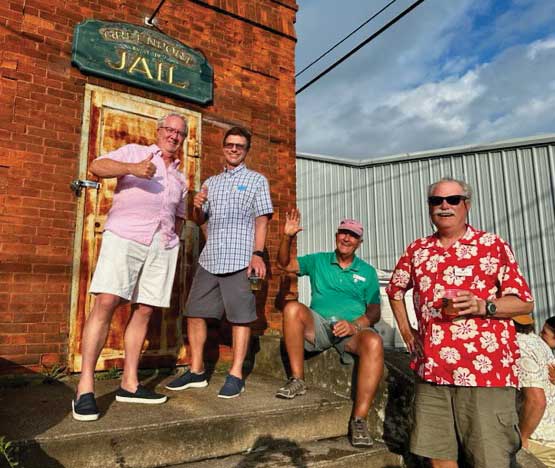 Over the course of the cruise, a 900-nautical-mile round trip from Annapolis, the boats and boaters had all kinds of other problems to solve. Besides raw water pump failures and rocky bottoms, we had dinghy lifts stuck down in the water, minor crew injuries, storm-launched floating debris to dodge, and more. Having friends with you along the way has numerous benefits.
The story of a cruise is not all about keeping the boat going. Weather delay days join boat/engine delay days as a reality of life on a longer cruise. Several of our cruisers had weather that delayed them, mostly the offshore leg from Cape May to New York City. However, neither weather nor boat issues kept them from joining the cruise at some point.  
Our exploration of the best of Long Island Sound included a stop in Greenport, NY. The fleet secured dockage at one of several marinas in Greenport and moorage a mile across the way at the historic Shelter Island Yacht Club.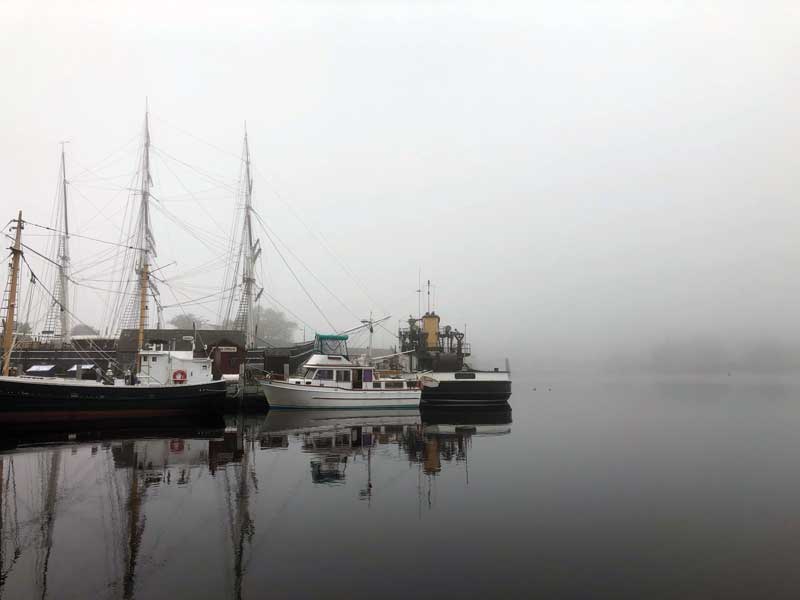 Writing part of this story, I sat in Greenport on a windy and rain-soaked lay day. The rain, from a sprinkle to a downpour, would ultimately span almost 24 hours. This storm came just days after a historic rainfall in the Hudson River Valley that caused flooding and so much debris floating down the Connecticut River that it put our plans for a stop in Essex, CT, in temporary jeopardy. 
There is one silver lining to a full day of rain. You can find all the rainwater leaks on your boat. I'm not saying you can find where they come from. That is a mystery known only to God. But for sure if you are onboard on a long rainy day, you can find the end results of all your leaks. 
Back to our first timers leaving the Bay. They did great! Among that group there were no boat issues, no navigation mishaps, and the pure joy of their discovery of life beyond the Chesapeake. If I may be so bold, their experience should serve as enticement to you. Whether you have never been out of the Bay, or it has been a while, there is a distant port calling you. Time to answer the bell!  
By Mike Pitchford
---