The South River Federation (SRF) has named Liz Buxton as its new executive director. A native of Tidewater, VA, Liz has more than 15 years experience leading conservation non-profit organizations and government agencies. She previously served as executive director of Scenic Maryland, Maryland Environmental Trust, and Valleys Planning Council in Baltimore County.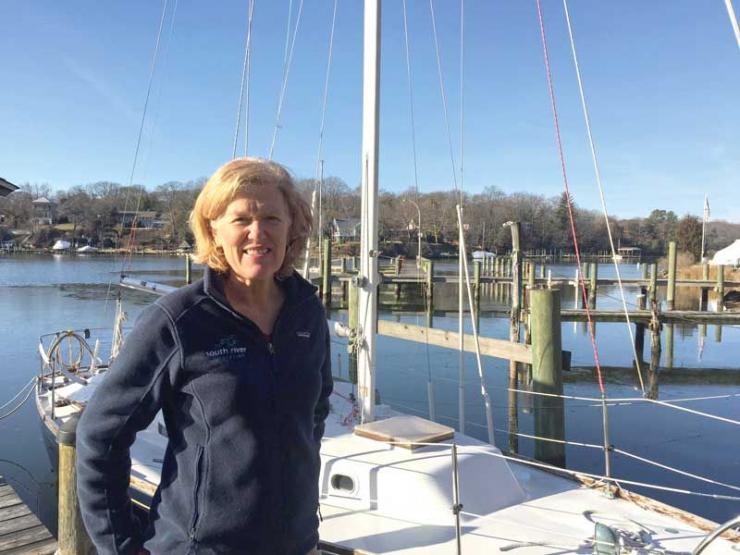 "This is my dream job because it brings together everything I care about," says Buxton. "As executive director at SRF I am connected to issues that impact the Chesapeake Bay, which I care about deeply and passionately. Having previously lived in Maryland, then spending time away to explore an opportunity in Kentucky, and now being back on the Chesapeake, I feel that I am coming full circle to a natural next step in my career. "The SRF has grown quickly in its 17-year history and has become a leader in stream restoration and living shorelines. The staff, which has grown from two or three to 10, has been successful in identifying sources of funding and managing large restoration projects. "I plan to build on that success while continuing to work closely with the West-Rhode Riverkeeper and strengthening our ties with the Magothy and Severn River Associations. I also hope to increase awareness and showcase the efforts of our staff and volunteers, whose work is sometimes done behind the scenes. Additionally, I'd like to encourage celebrations of our waterways and opportunities for people to grow oysters, kayak, sail, and participate in other activities that inspire them to be good stewards of the rivers." A graduate of the College of Charleston, Buxton is the mother of one teenager and one adult child. She lives in Severna Park, MD, with her black lab Raven. Although tennis is her go-to sport for stress relief, she looks forward to resuming all things Chesapeake, especially getting back on the water this spring. In the meantime Buxton is busy stepping into her new role and preparing for SRF's annual fundraiser,
South River on the Half Shell
, March 24.