Leonardtown Wharf Park, that almost hidden gem for boaters, in Breton Bay off the lower Potomac, has added a new sparkle to its shine. A new floating-dock pier has been built at the Wharf and is ready to welcome boating visitors for the 2020 season.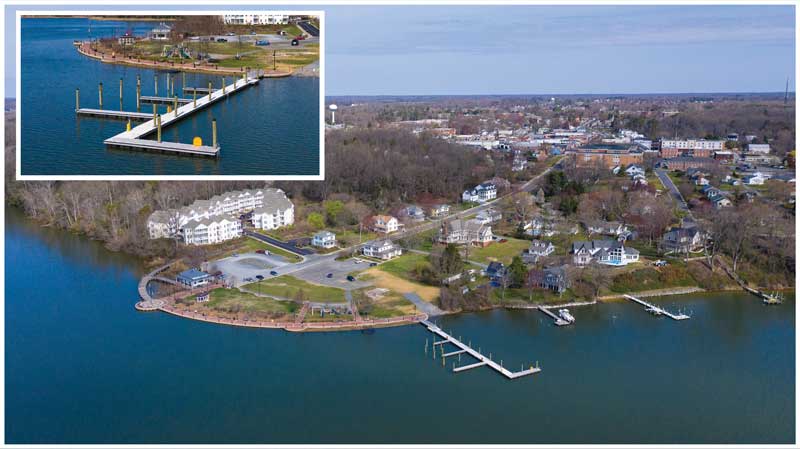 Phase One of construction is complete, and provides a beautiful and modern 160-foot floating-dock pier with a 35-foot "L" shaped head. Mean low water ranges from four feet close in to almost six feet at the head. One side of the pier is for open docking; the other side has floating finger piers for slips for boats from 30 to 40 feet, 12 to 17 feet wide.  
Initially, there will be no electric, no water, and no pump-out. There are large and clean public restrooms in the Wharf Park, behind the concession stand, but no showers. There will not be a dockmaster. Transient boats are simply welcome to tie up, and overnight visits are welcomed. 
In boating, there is the journey, but also the destination! And one of the most fabulous destinations on the Chesapeake Bay is Leonardtown, MD. From the new pier, a quick, five-minute walk up the hill brings you to the shops, the galleries, and the numerous fine restaurants. You will find delicious varieties of food to tempt and please every hungry palate. 
Phase Two, planned for the near future, will bring a 163-foot T-head, allowing much more space for larger boats. And there are future plans for electric, water, and pump-out. 
For more information, call (301) 475-9791, or visit: leonardtown.somd.com. To enjoy a bird's eye view of the new pier, Leonardtown Wharf Park, beautiful Breton Bay, and the quick walk up the hill, check out the vimeo video:
THE NEW LEONARDTOWN, MD, LEONARDTOWN WHARF PARK FLOATING-DOCKS PIER from Balance Productions LLC on Vimeo.
By Aram Nersesian. Aram Nersesian, through his company Panoplanning, is producing a 360-degree Virtual Discovery Tour for St. Mary's County Tourism.