Labor Day comes along when the water temperature on the Chesapeake Bay is as hot as it gets. Most of the fish will seek out deep water where they can find food, yet remain as close as possible to their preferred water temperature. They also tend to feed very early in the morning or late in the evening, especially in the shallows where they can trap small minnows against the banks.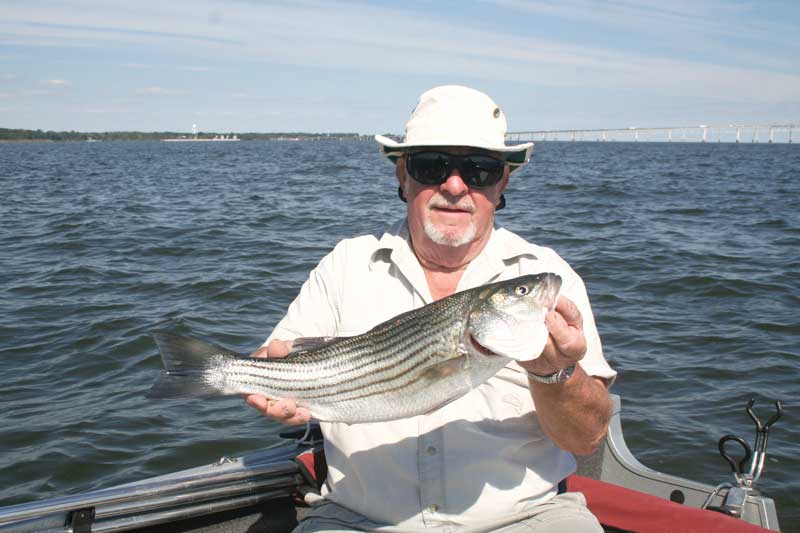 Keep in mind that seasonal high water temperatures and low oxygen can cause fish to become sensitive and stressed, with increased mortality during catch-and-release. The MD DNR urges anglers to practice safe catch and release fishing with these tips.
So far in 2018 chumming has been the top technique for catching rockfish. The usual suspects, such as Hackett's Bar, Podickory Point, Eastern Bay, and Love Point, have all given up good numbers of rockfish. As this was written in July, these locations were very productive, but since nothing is certain in life or fishing, the rock may decide to move to other locations without notifying the fishing public.
When planning a Labor Day fishing trip, nothing beats up to date information. Check Lenny Rudow's online fishing reports at fishtalkmag.com, and then call the tackle shop or marina where you do business. Use that information to set a couple of locations where the fish should be feeding. Always have a Plan A, B, and C depending on the weather and the tides. 
I know a few folks who still only fish one way—trolling, chumming or jigging—and while that may work some of the time, it is not going to work all of the time. It does not take a great deal of money to buy tackle for all three types of fishing, and then you are ready to set up for whatever works.
Last fall I was chumming with a friend at Hackett's Bar along with a few charter boats. The charter boats came and went between trolling and chumming. I kept an eye on them, and if they had started catching rockfish on the troll, we could have switched over in short order. My observation was they did not do anything while trolling, and they all came back to chumming. It is very important to be aware of what is going on around you and be willing to change tactics when called for.
I like to begin fishing before dawn. There are fewer people on the water, as most fishing starts around 10 a.m. after the anglers have a nice breakfast. Being on the water early is especially important during holidays. My observation is fewer fishermen show up on Labor Day than invade the Bay on Memorial Day or the Fourth of July. School is starting with football practice, band practice, and all sorts of other activities to keep parents and kids busy. Summer is over, and families are changing from water-related activities to those more centered near home.
Even under these conditions there will be plenty of boats around. Your best bet is to get to the fish before the rest of the fleet. There are no secret spots on the Chesapeake Bay, so those who arrive first have a better chance of catching fish.
I would suggest casting to breaking fish or to shorelines early in the morning. Rockfish like to feed in low light conditions and are most likely to be on the surface or along the shoreline before the sun gets too high.
Once that bite slows, try jigging the various bridge pilings. The Bay Bridge and the Key Bridge pilings are always popular as is the rock pile around the Bay Bridge. I have had good luck over the oyster beds between the Bay Bridge and Love Point.
Chumming can be the first or last stop of the day. Choose a location with deep water and set up early or late.
Rockfish are not the only fish in the Bay. Blues and Spanish mackerel should be available from the Bay Bridge south to Point Lookout. While it is possible to cast metal lures to these fish if you find them feeding on the surface, I have had much better luck trolling metal lures. Drone or Clark spoons are the most popular and should be pulled behind a one to three-ounce torpedo sinker or a #1 planer. My most successful set up is a 0 Drone behind a one-ounce sinker and a second 0 Drone behind a planer. It's hard to beat silver, but on occasion I have had good results with red and yellow spoons.
Spot and croaker should also be available. The mouth of the Chester River and any rough bottom in the Bay will attract these fish that just love bloodworms. 
By Eric Burnley