When I proposed this article last fall, I had no idea we would have the winter from the coldest part of Hell that carried well into spring. Everything has been late, and I can only hope conditions improve before summer.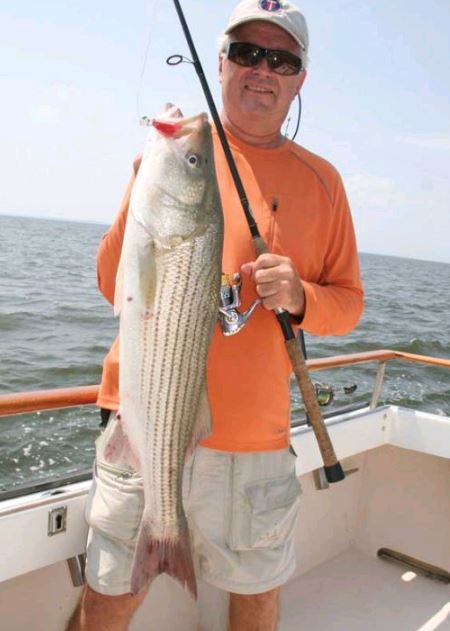 Striped bass season in the entire Bay and all of its tributaries opens in June, and this is the season I most enjoy. There's nothing wrong with cranking in big rockfish during the trophy season, but I still would rather use light tackle and catch smaller fish.
No matter what type of fishing you enjoy, they all work in June. Many anglers will troll various baits including plugs, umbrella rigs, double bucktails, and spoons. Last year hoses made a comeback, and these will work on rock and blues.
I enjoy chumming for rock and using light tackle with bunker chunks for bait. If the proposed new rules do get passed, you must use non-offset circle hooks when chumming. Why you would use anything but offset circle hooks when fishing with any type of bait is something I don't understand. Circle hooks set themselves and seldom get lodged in the gills or stomach. This makes for easier catch and release as we all have to do since we have size limits on just about every fish we go after.
Last year, live lining was hampered by a lack of bait, small spot in particular. I have no idea if this will change in 2018, but if you do go live lining, you will once again have to use non-offset circle hooks.
Early morning anglers should find decent action casting to the shoreline in Eastern Bay, the Chester River, and other areas. Top water plugs will bring exciting strikes, but on some days the rockfish and blues only want sub-surface lures. Fly fishermen may also get in on this action. The bite usually turns off around 7 a.m.
Speckled trout move into the marshes by June and can be taken on plugs and bait. The ever-popular MirrOLure is my first choice when attacking specks. The D.O.A. Shrimp is another good choice. Peeler or soft crab are without a doubt the top baits, followed by live minnows or small bunker.
Blues did not make much excitement in 2017, but with fish, every year is different. As a general rule, the Lower Bay is a better choice for larger blues, but that said, they can show up anywhere. Here, too, trolling is going to be very popular. Small to medium spoons are always a good choice, as are plastic shads. The spoons will last considerably longer that the soft plastics. If you can find blues working on the surface, casting bucktails and metal lures into the schools will usually produce a strike. Spanish mackerel are a bycatch when trolling for blues, but since the water was so cold in the spring, the Spanish may not arrive in June.
Bottom fishermen should find spot, croaker and white perch available from one end of the Bay to the other. Bloodworms are always the first choice for these fish with strips of squid, various types of Gulp!, and cut bait also proving effective. I have caught both croaker and white perch on small Stingsilvers. These fish will feed on all stages of the tide and either day or night. In the Lower Bay the largest croaker are caught over shellfish beds after dark. This type of bottom structure is always a good bet for spot and white perch, as well.
Big black drum may come into the Bay and stage around Sharps Island Light. Peelers and soft crabs have been the best bait. Red drum were caught last year along the Eastern Shore by trolling big spoons.
With this wide variety of fish in the Bay during June, all we need is some good weather. Heaven knows we had very little good weather during the spring, but while not unheard of, nor'easters are not that common in June. I have no doubt that we will have some nasty weather during the month, but let's hope we get an unusual amount of picture perfect days so we can get out on the water and catch these fish.
By Eric Burnley